Charles Newell to Transition Out of his Role as Court Theatre Artistic Director in Summer 2024

After a thirty-year tenure at Court Theatre, the professional theatre of the University of Chicago, Charles Newell has decided to transition out of his role as Marilyn F. Vitale Artistic Director in June 2024. Newell will program the 2024/25 season, in which he will direct the premiere of an original work, and he will then assume the role of Senior Artistic Consultant through June 2025. As Senior Artistic Consultant, Newell will bolster fundraising initiatives, foster creative innovation, empower developing leaders, and cultivate relationships across the University. The Office of the Provost at the University of Chicago will lead a comprehensive international search for Court Theatre's next Artistic Director in the coming months.
University of Chicago Provost Katherine Baicker thanked Charlie for his artistic leadership: "In my time at the University, I have had the good fortune to witness the monumental impact of Charles Newell's work," she remarked. "He has played a vital role in Court Theatre becoming the nationally recognized, Tony Award-winning cultural institution that it is today. His contributions have been instrumental in defining the University of Chicago's place within the creative ecosystems of both Hyde Park and the greater Chicago area. Charlie leaves an enduring legacy of artistic excellence."
"Congratulations to Charlie on his amazing thirty-year career at Court," added Court Theatre Board Chair Gustavo Bamberger. "Charlie is an accomplished artist and a thoughtful leader whose extraordinary vision has shaped how Court is redefining classic theatre. Court received the 2022 Regional Theatre Tony Award for its 'continuous level of artistic achievement,' confirming what its patrons have known for years: Court is an institution unlike any other. That is in no small part thanks to Charlie Newell."
Executive Director Angel Ysaguirre joined Court Theatre in 2018 and has worked alongside Charlie for the past five years. Reflecting on this relationship, he said, "Charlie is the closest collaborator I've ever had. It's always been a joy to think with him, to consider what Court Theatre is and where it's going. His care for the plays we produce has led to consistently high-quality work and his quiet spirit of adventure is exciting. While his relationship with Court will change, I am pleased that he'll remain a vital part of the theatre and the arts community at large."
Statement from Charles Newell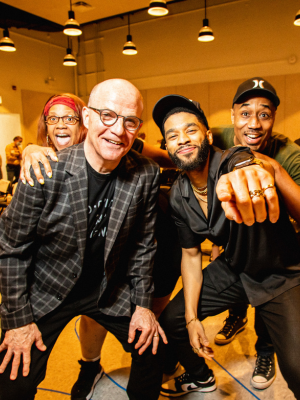 "Court Theatre and the University of Chicago have been my artistic home, a sanctuary of creativity, and a well of inspiration for more than three decades. I will be forever grateful to Founding Artistic Director Nicholas Rudall for generously welcoming me to Court in 1993 and providing me with what would be the opportunity of a lifetime.
Court has irrevocably changed me, while affirming my core belief in collaboration. The unwavering commitment of the staff, the boundless creativity of the artists, the intellectual passion of University scholars, and the remarkable relationship with our audiences have confirmed my faith in theatre's power to confront humanity and connect us as people.
I have put considerable thought into this transition and its timing. There is almost never an ideal moment for a change like this. However, as we build back from the pandemic, we find ourselves at a unique inflection point. We are emerging stronger and more resilient with the addition of talented new staff members, the establishment of a new Engagement division, and a closer relationship to Chicago's South Side. It has been my life's honor to lead Court Theatre to this point and I eagerly anticipate welcoming a new Artistic Director who will lead us into the future.
In the meantime—much like Court—I, too, am at an inflection point. I am thrilled to be planning Court's 2024/25 season with my colleagues, and I look forward to supporting the theatre and the University of Chicago as Senior Artistic Consultant. Additionally, I'll be able to pursue artistic projects that were previously impossible, given my steadfast devotion to Court. I look forward to new opportunities as I look back on the past thirty years with deep gratitude.
Thank you, Court Theatre, for being my home to explore, create, and contribute for most of my career. Thank you to our audiences for your support throughout this journey. Thank you to the South Side community; thank you to the Board, our donors, and our partners; thank you to the vibrant Chicago theatre community; and thank you to the University of Chicago.
I have no doubt that Court will continue to flourish and impact the lives of many, just as it has done for me."
– Charles Newell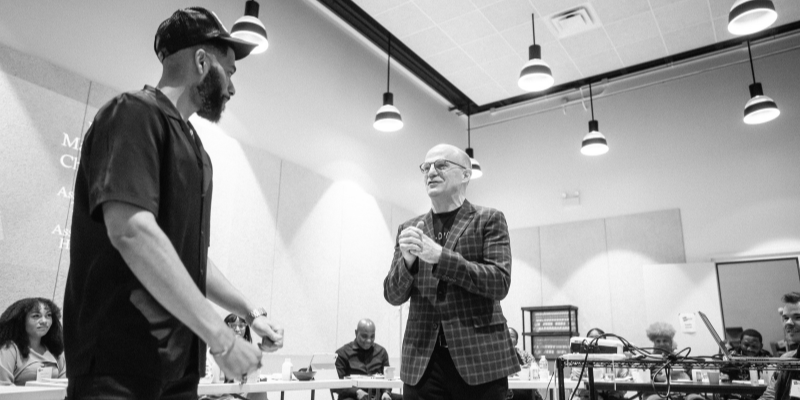 A History of Creative Evolution
In 1993, Charles Newell made his unforgettable Court Theatre debut with The Triumph of Love. This production went on to win the Joseph Jefferson Award for Best Production, a recognition that would be the first of many for Charlie. Since then—and since his appointment as Artistic Director only a year later in 1994—Court Theatre has prospered.
Under Charlie's leadership, Court has pushed the boundaries of producing classic texts. Where the definition of a classic was once narrow and limiting, over the course of several decades, Court conceptualized a richer and broader view. The theatre's interpretation now spans cultures, defies genre, and gives voice to those who have previously been excluded from—or marginalized within—the theatrical canon.
For six seasons after Charlie's initial debut, the theatre performed plays in rotating repertory, putting works in dialogue with one another to illuminate fresh perspectives. He made Court a hub where groundbreaking artists like JoAnne Akalaitis, Anne Bogart, and Christopher Bayes could challenge audiences with their radical interpretations of classics. In addition, almost twenty years ago, Charlie began an artistic collaboration with Ron OJ Parson, who soon became Court's Resident Artist. This partnership between Charlie and Ron expanded Court's audience and invigorated the conversation about what constitutes a classic and who determines that distinction. Deep and meaningful artistic collaborations such as these are a hallmark of Charlie's legacy.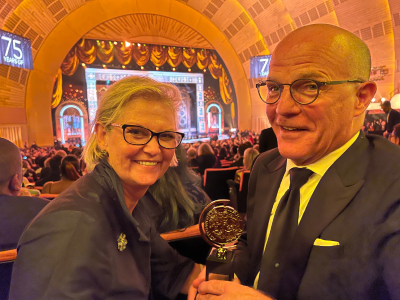 With Charlie at the helm, Court began not only interrogating classics, but also reimagining musicals, and commissioning new works and adaptations like Invisible Man, Native Son, Man in the Ring, and The Adventures of Augie March. Charlie devoted himself to long-term, deep explorations of acclaimed playwrights—notably Tom Stoppard—by consistently mining their bodies of work for new resonances. He developed a close working relationship with University of Chicago faculty and honed his signature directorial style grounded in rigorous dramaturgy and emotional complexity. Charlie's contributions to Court are characterized by evolution, and this evolution reached new heights when he and Executive Director Angel Ysaguirre accepted the 2022 Regional Theatre Tony Award on behalf of the entire Court Theatre community.
Court's mission to redefine classic theatre and Charlie's tireless advancement of that goal have not gone unnoticed. The late Wall Street Journal critic Terry Teachout proclaimed that Court was "the most consistently excellent theatre company in America" and Charlie has personally received numerous accolades, including the SDCF Zelda Fichandler Award, TCG's Alan Schneider Award, the League of Chicago Theatres' Artistic Achievement Award, four Joseph Jefferson Awards, and seventeen nominations for directing.
Alongside his commitment to Court Theatre and the University, Charlie is equally dedicated to Chicago's Hyde Park neighborhood, where he currently resides. Together with Joanie Friedman, Harry Davis, and Gabrielle Randle-Bent, he is a co-founder of the Civic Actor Studio, a program that creates space for South Side community members to practice the embodiment of civic leadership. Charlie plans to continue serving the South Side for years to come through both artistic endeavors and civic engagement.
Newell has directed more than sixty productions at Court Theatre, including:
The Gospel at Colonus (2023, co-directed with Mark J.P. Hood, Court and the Getty Villa)
The Tragedy of Othello, the Moor of Venice (2021, co-directed with Gabrielle Randle-Bent)
An Iliad (2020, revival at the Institute for the Study of Ancient Cultures)
Oedipus Rex (2019)
The Adventures of Augie March (2019, world premiere)
All My Sons (2018)
Iphigenia in Aulis (2017, revival at the Getty Villa)
The Hard Problem (2017, Chicago premiere)
Man in the Ring (2016, world premiere)
One Man, Two Guvnors (2016, Chicago premiere)
Satchmo at the Waldorf (2016, Midwest premiere)
Agamemnon (2015)
The Secret Garden (2015)
Iphigenia in Aulis (2014)
M. Butterfly (2014)
An Iliad (2013, revival)
Tartuffe (2013)
The Misanthrope (2013)
Proof (2013)
James Joyce's "The Dead" (2012)
Angels in America (2012)
An Iliad (2011)
Porgy and Bess (2011, Jeff Award: Director – Musical)
Three Tall Women (2011)
The Illusion (2010)
The Year of Magical Thinking (2010, Chicago premiere)
The Wild Duck (2009, world premiere translation)
Caroline, or Change (2008, Chicago premiere, Jeff Award: Production – Musical, Director – Musical)
Carousel (2008)
Titus Andronicus (2008)
Arcadia (2007)
Uncle Vanya (2007)
Raisin (2006)
The Glass Menagerie (2006)
Man of La Mancha (2005, Jeff Award: Production – Musical, Director – Musical, Ensemble)
Travesties (2005)
The Importance of Being Earnest (2004)
Who's Afraid of Virginia Woolf? (2004)
Cyrano (2004, world premiere translation, co-directed with Jim Lasko)
Guys and Dolls (2004)
James Joyce's "The Dead" (2003, revival)
The Romance Cycle – Pericles (2003)
The Romance Cycle – Cymbeline (2003)
James Joyce's "The Dead" (2002, Chicago premiere)
Hamlet (2002)
Piano (2001, American premiere)
The Invention of Love (2000, Midwest premiere)
The Learned Ladies (2000)
Fair Ladies at a Game of Poem Cards (2000, American premiere)
La Bête (1999)
The Little Foxes (1999)
Nora (1998)
An Ideal Husband (1998)
The Cherry Orchard (1998)
The Philadelphia Story (1997)
Travels with My Aunt (1996)
The Barber of Seville (1996)
King Henry IV: The Shadow of Succession (1996)
Celimene and the Cardinal (1995, Jeff Award: Director – Play)
Travesties (1994)
The Misanthrope (1994)
Once in a Lifetime (1994)
The Triumph of Love (1993, Jeff Award: Production – Play)