You are welcome here
We tell bold stories on stage and we want you to feel a bold welcome. Whether you're a season ticket holder or this is your first time through our doors, you are welcome here. We will treat everyone with respect, kindness, and understanding. We also expect you to embrace these values. Below are some items to help you navigate your visit. If you have any additional questions or need any help please call the Box Office at (773) 753-4472. 
Find information on accessibility here. If you need further assistance, please call our Box Office at (773) 753-4472.
Jump to: Box Office Hours, Dress Code, Dining, Parking, Getting Here, When You Arrive, Restrooms, Late Arrivals, Photography/Video
Know before you go
Box Office Hours
Non-performance days:
Monday – Saturday: 12:00 p.m. – 5:00 p.m.
Sunday: Closed
Performance days:
12:00 p.m. – Start of show
Box Office is closed: New Year's Day, Martin Luther King Jr. Day, Memorial Day, Juneteenth, Independence Day, Labor Day, the day before Thanksgiving, Thanksgiving Day, and the week between Christmas Day and New Year's Day. 
If there is an emergency and you need to contact someone – either a member of Court staff or a patron in the theatre – please call the following number (during performances only): (773) 795-7884
For our most up-to-date COVID policies, please consult our COVID-19 Response page. 
The Neighborhood
We're located in the neighborhood of Hyde Park on the gorgeous campus of the University of Chicago. Hyde Park has a vibrant arts and culture scene, as well as many locally owned businesses and restaurants. 
Dress Code
We have no dress code! Come as you are. We do ask you to wear clothes though! Our audiences are diverse and that is reflected in their attire. Some people come dressed to the nines, while others arrive in athletic shoes and shorts. We want you to feel comfortable at Court.
Dining Before or After the Show
We are proud to recommend Hyde Park restaurants. 
Getting to Court Theatre is easy.
Court Theatre is located at 5535 S. Ellis Ave. The theatre is across the street from the Gerald Ratner Athletic Center at the University of Chicago, just south of 55th Street. Our entrance can be found on the south side of the building just east of Ellis Ave. Our front door opens toward a small parking lot.  If you have found the Smart Museum, you are very close! There is an usher posted at Court's front door so you'll know you're at the right place. Check out the Google map for the specific location.


Parking at the Theatre
There are three easy parking options — and all are free!
You may park in the covered parking garage at the corner of 55th and Ellis. There are accessible parking spaces within the garage. Upon arrival, the gate will be down. Please pull up to the gate arm, and the gate will raise to allow entry. You do not need to pull a ticket. Upon exit, the gate will be down. Please pull up to the gate arm, and the gate will raise to allow exit. You will not need a voucher or ticket to exit. Should you have any issues, please press the call button for assistance.

You can park in the small lot right outside of the entrance doors. It's free from 4pm – 6am and all day on Saturdays and Sundays. Please note that these spots fill up fast. There are two accessible parking spots. 

Limited street parking is free around the theatre! Since we are located on a college campus, there may be other events happening around the theatre. Make sure to plan ahead if you intend on utilizing the free street parking.
CTA
The #55 Garfield bus stops on 55th Street at S. Ellis Avenue. From the Loop, patrons can transfer from the Garfield Red Line train or the #6 Jackson Park Express. For more public transportation options, please visit TransitChicago.com.
Running Time
We do not know the length of a performance until the week of the first preview.  As soon as we that information, we will post the information on the production page of our website, or you may call the Box Office at (773) 753-4472.
Content
Court Theatre does not publish broad content warnings about productions, as sensitivities vary from person to person. Contact the Box Office with questions.
Children
Court Theatre cannot accommodate children under the age of 5, and our productions are not generally appropriate for children under 8.
When you arrive
Court Staff are Available to Assist You
We have many people here to help you during your visit. There are ushers to help you find your seat, Box Office staff to check you in, a bartender at our lobby bar, and a House Manager who helps make sure you have a great experience.  
Court Lobby
The lobby is a cozy space where you can check your coat, pick up your tickets at the Box Office, use the restroom, purchase a snack or beverage, and mingle before the house opens. We also have benches for patrons who need to sit. Please be respectful if you see someone that needs to sit down. 
Box Office/Ticketing
Simply show the mobile ticket on your phone or printed ticket to the usher at the house doors. Forgot your ticket at home or having trouble with your mobile ticket? Our Box Office can reprint your ticket and answer any questions you might have. 
Abelson Auditorium Seating Chart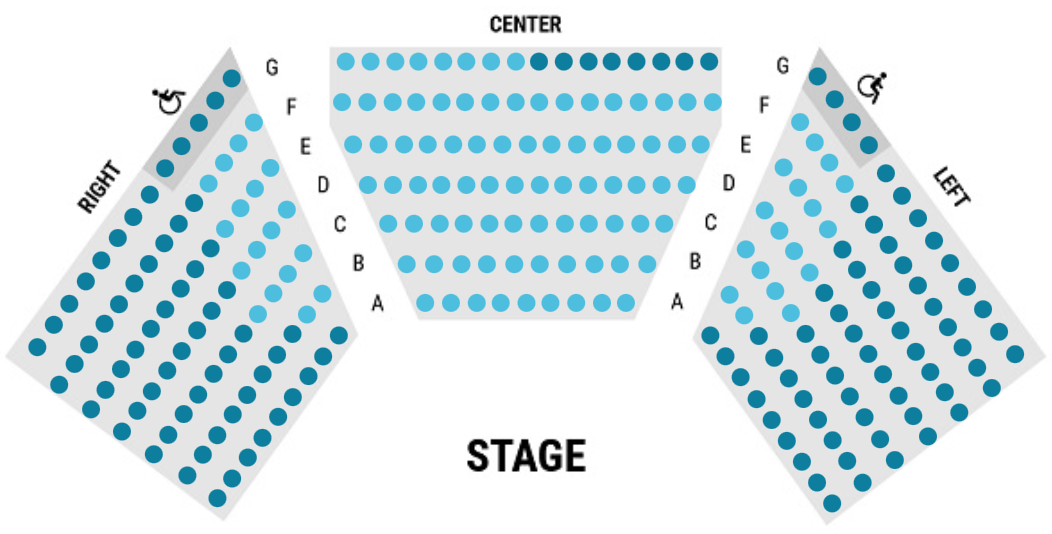 Lobby Bar
Featuring a variety of snacks and drinks (including alcoholic and non-alcoholic beverages), the lobby bar is your go-to for refreshments. Look for our Signature Cocktail that complements the themes of each production!
Restrooms
We have restrooms located in the lobby by the Box Office. There is an accessible stall in each restroom. Gender diversity is welcome here; please use the restroom that best fits your gender identity or expression.
Drinking Fountains
Our drinking fountains are located between the two restrooms by the Box Office and include a bottle refill station!
Late Arrivals
Life happens. We get it, but please make every effort to arrive on time. Out of respect to your fellow patrons and the artists and for everyone's safety, please give yourself enough time to be in your seat by show time. If you arrive late, we have a monitor in our lobby you can watch while you wait for our House Manager to find a safe time to seat you. You will be seated in alternative seats and will be able to move to your ticketed seat at intermission, if there is one. We may be unable to seat you later than 30 minutes after the start of the performance.
During the performance
We are all in the same room together as a collective group as we experience the performance. We welcome vocal reactions (laugh, gasp, weep) and discourage behavior that would distract others (conversations, using your phone, shushing your neighbor, etc). 
If you need to use the restroom or leave the auditorium, please be respectful and quiet when leaving your seat. Please keep in mind the rows and aisles will be dark and that artists may be using the aisles. If you leave the house, you may be instructed to wait to re-enter the house until it is safe. 
Thank you in advance for your consideration. 
Photography and Video
The use of photography and video of any kind is not permitted inside the auditorium while the performance is in progress. While there is no photography or recording of the performance itself allowed, you are welcome to take photos before or after the show, during intermission, or in the Court lobby. We love seeing your images! Please remember to tag Court Theatre in any photos so that our amazing designers get credit. 
Lost & Found
If you lost something at one of our performances, there's a chance that we found it. If you lost something, please call our Box Office at (773) 753-4472. Found something that's not yours? Please drop that item off at the Box Office and they'll take it from there!
House Manager Phone
During performances only, a phone line is answered by the House Manager. If a patron in the theatre must be contacted, please call (773) 795-7884.
Questions or concerns ? Email us 

or call the Box Office at (773) 753-4472