Your gifts are the foundation of Court's philanthropic support. Donations from you and other theatre supporters comprise 45% of gifts to Court every year. You play a starring role each year to ensure that Court continues to produce the work you value.
Our community includes thousands of artists, educators, students, and audience members. Court Theatre is now the largest performing arts organization on the South Side of Chicago. Your support enables us to produce seasons filled with fresh interpretations of classic texts. And your support enables us to empower our students in classrooms across the South Side. Your gift ensures these partnerships, programs, and productions will be available for years to come.

Help us continue the work of creating ambitious productions with lasting impact by making your gift today. The impact of your support is substantial. Your gift is an investment in excellence onstage, in your neighborhoods, and in your schools.

Make a secure gift online right here on the website.
Give by phone at (773) 834-3563.
Give in Person or by Mail:

Court Theatre Development Department
5535 S. Ellis Ave.
Chicago, IL 60637

Give through your Donor Advised Fund by directing your gift to:

Court Theatre Fund
5535 S. Ellis Ave.
Chicago, IL 60637

Charity Tax ID:   36-3203660
Charity Type:     Arts and Culture

Make a transfer of stock. Please note: you will be redirected to the University of Chicago's website. 
For more information, contact:
Lauren Sheely | Development Assistant | (773) 834-3563 | Email
Donor Benefits
Court's donors are the most loyal patrons and audience members. As a donor, you receive special benefits and recognition in thanks for your generosity. Read below to explore the different giving levels and donor benefits that will reward, acknowledge, and engage you even further with Court Theatre. (All invitations are for two.)
ASSOCIATE: $150 – $249

Yearlong donor recognition in the Court Theatre program
Subscription to members-only e-newsletter
Complimentary parking at all Court productions
Dine at one of Court's partner restaurants to receive a special offer when you display your Court tickets the day of your performance
CONTRIBUTOR: $250 – $499
All the benefits above, plus:
Invitation to five First Rehearsal Events: experience this unique opportunity when the cast and crew gather discuss the script and designs.

Bonus: you can bring your friends!  Invite up to two guests to one First Rehearsal Event during the season.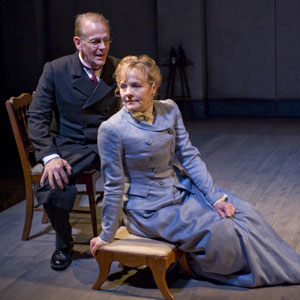 SUPPORTER: $500 – $999
All the benefits above, plus:
Invitation to one First Preview Event
LEADER: $1,000 – $2,999
All the benefits above, plus:
Invitation to all five First Preview Events
Interested in making a gift of $3,000 or more? Court's Producers Circle is our premiere donor society. Membership in the Producers' Circle comes with additional benefits, including invitations to three exclusive Producers' Circle Events featuring Court Theatre artists and University of Chicago Scholars, ticket concierge services, and more.
Learn More about the Producers' Circle
Top photo: Jessie Mueller, Johanna McKenzie Miller, Jess Godwin, Carol Feiger, and Laura Scheinbaum in Carousel;  Right photo: Philip Earl Johnson and Susie McMonagle in James Joyce's "The Dead" (Brosilow)