The Court Education Initiative team consists of experienced artist-educators with years of classroom experience. Our team includes actors, writers, directors, designers, certified teachers, cultural workers, activists, among many other designations and skills.
Learn more about our team below!
Director of Education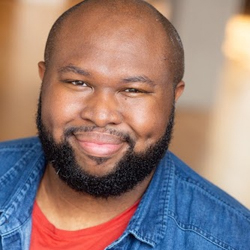 Jarrett King (he/him) has held positions with several Chicago organizations, including Steppenwolf, Chicago Shakespeare Theater, Chicago Public Schools, and American Theater Company, where he oversaw the in-school residency program American Mosaic. He's an Adjunct Professor of Theatre at Loyola, teaching Acting, Teaching Artistry, and Theatre Appreciation. He's an award-winning actor and writer and is a playwright-in-residence at Goodman Theatre as part of the 2022/2023 cohort of the Goodman Playwrights Unit. 
What excites you about working with young people?
I feel invigorated by the passion and curiosity that young people naturally possess. Their boundless creative energy has encouraged me to continue to reinvest in my artistry.
Education Programs Manager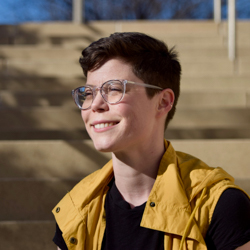 Kate Wiseman (she/her) moved from Nashville to Chicago to teach high school English on the Southeast side in 2015. After five years in the classroom, she began working as both a curriculum writer and teaching artist, writing for the Chicago Public Schools Skyline Curriculum and teaching improv and drama to students. Kate spent a year as a Teaching Artist with Court before transitioning to her current role as Education Programs Manager. She studied English and Theater at Swarthmore College and holds a Masters in Teaching from Dominican University.
What excites you about working with young people?
My favorite age group to work with is high school, hands down. Teenagers are brilliant and complex, and I love walking through the process of discovery alongside young adults.
Education Coordinator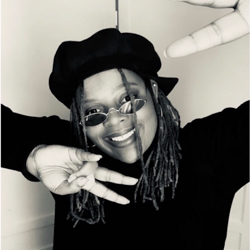 Sade' May (she/her) is a director, theatre educator, and arts administrator from Chicago. Her most recent directing credits include Sister Act (Metropolis) and Legally Blonde (AD, Beverly Theatre Guild), and an Illinois state-winning devised work of the Tomi Adeyemi novel Children of Blood and Bone. Outside of directing, she's a Teaching Artist for Facets (Film), Mudlark Theatre, Governors State University, Northwestern NHSI, and Writers Theatre. She plays over ten instruments, and works with on-the-rise Chicago artists in her spare time!
What excites you about working with young people?
Working with students helps keep my love for the arts grounded and rooted in imagination.
Teaching Artists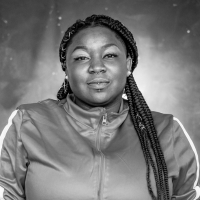 India Nicole Burton (she/her) received her MFA in Creative Writing and founded Ma'Sue Productions, an African American theatre company. Directing credits: for colored girls who have considered suicide/when the rainbow is enuf (Heads Up Productions); Fire on the Water (Cleveland Public Theatre); and others. India received a National New Play Network Rolling World Premiere for her choreopoem Panther Women: An Army for the Liberation. She was also a cast member of American Dreams, which was nominated for a Drama League Award.
What excites you about working with young people?
I love working with young people because they are the future. They are the people that will be leading this country when I am no longer able-bodied. It is important to me to be a part of the village that incubates them, champions them, and molds them into leaders.
---
Monet Felton (they/them) is a teaching artist, director, producer, writer, and company member at Jackalope Theatre. Monet earned their BFA in Acting at the University of Illinois at Chicago, where they're currently an Adjunct Professor for the non-majors Theatre class. They're currently studying on a scholarship to be certified in the Alexander Technique. They've been teaching for the last five years and have taught at theatres such as Adventure Stage Chicago, Congo Square, Raven, TimeLine, Walkabout Theatre, and Steppenwolf for Young Adults.
What excites you about working with young people?
I love the joy and the risks young people are capable of taking when you've earned their trust. Their comedy, and the ways they see the world, and their questions make me very happy.
---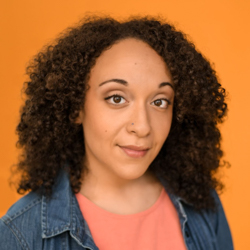 Sonia Goldberg (she/they) is a Jeff-nominated actress, writer, musician, and teaching artist. They're a queer, Black Chicago native. She has worked with Chicago Shakespeare Theater, Northlight, Chicago Children's Theatre, and Montana Shakespeare in the Parks. Sonia's a frequent collaborator with Filament Theatre, where her play Think Fast, Jordan Chase! will premiere. She's a company member with Playmakers Lab. They have a BA in Theatre from Butler University, and certificates from LAMDA and The Moscow Art Theatre School.
What most excites you about working with young people?
Many elements of being a young person are restricting. Some adults may give students the feeling that they won't be taken seriously until they're an adult, or that grades and following the rules are the most important aspects of their selfhoods. I love showing young people, through the exploration of theatre, that their ideas and instincts are valid RIGHT NOW. Every residency I look forward to encouraging them to take risks and follow the thread of what excites them.
---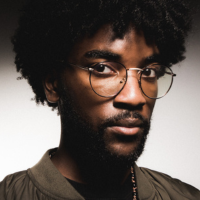 Willow James (he/him) is an artist, arts educator, and DJ who centers his work around exploring Black identity, new works, and theatre as activism. He is Co-Artistic Director & Resident Sound Designer at Artemisia Theatre, and is represented by Dream Team Talent Agency. Selected credits: Chlorine Sky (Steppenwolf); Fairview (Definition Theatre); Black Book (NAATC); How Blood Go (Congo Square); The Magnolia Ballet (Alleyway Theatre, Phoenix Theatre Indianapolis). He is a proud member of TSDCA & IATSE Local 2.
What excites you about working with young people?
I love how imaginative and ambitious young people are, and how they bring those qualities into the rooms they occupy. It's a joy watching them create, discover, and explore to grow into who they want to be in the world.
---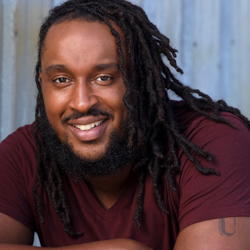 Jamaque Newberry (he/him) is an educator and actor from Fort Lauderdale. Before receiving his MFA in Acting at Northern Illinois University, he taught various subjects, such as film production, creative writing, and acting techniques on the 6th-12th grade level. He was also the Assistant Director of Forensics for a nationally renowned Speech and Debate program. Since transitioning to acting, he has worked on educational programming at theatres across the city. He now lives in Chicago to deepen his love for education and performance for generations to come.
What excites you about working with young people?
What excites me most about working with young people is the opportunity to build confidence. I love seeing students craft an idea they think can add to an environment, and being able to help them stand firm in their expression as they begin to execute and bring the ideas they built to life.