Meet Teaching Artist, Sonia Goldberg!
We're highlighting the incredible teaching artists who contribute their skills, energy, and enthusiasm to Court's Education Initiative. These artists have a wealth of experience in both education and theatre, and we feel honored to partner with them for our Artists-in-the-Schools program. For this inaugural post, we're featuring Teaching Artist Sonia Goldberg!
---
When did you know you wanted to work in theatre? At what age did that become clear?
I've been invested in theatre for my entire life. Even when I was too shy to show it, I was HOOKED. Growing up, my local Chicago Park District summer camp was at Indian Boundary Park. The camp put on a musical every summer, and I was a camper every year, starting at 6 years old. When I aged out, I studied theatre through After School Matters's Gallery 37 apprentice program. Theatre is the chief thing that guided me to be bold, to be myself. It's always been my passion.
Was there a teacher, teaching artist, or mentor that helped you find your love of theatre? Tell us about them and how their guidance still helps you today.
Mr. Winkler! He's the drama teacher at Whitney M. Young Magnet High School. Whitney's theatre group is called The Young Company, and it continues to be a home for young theatre artists. Mr. Winkler was just as invested in the quality of the productions as we were. No babying, no shrugging and saying, "Good enough!" He gave us consistent, actionable notes and tracked the development of the shows overall. In other words, he was treating us like professionals. This set my standards for myself quite high, which has only worked to my benefit.
I aim to honor my students with that same experience of professionalism. I hold my students to high standards because I know what they're capable of. My goal is for them to surprise themselves with their own ability – and we all have fun along the way, too!
Why did you want to become a teaching artist? Has it changed how you view theatre, more generally?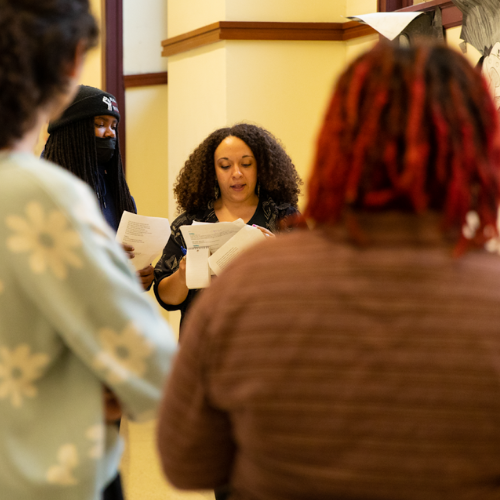 I went from being a very shy and sensitive kid, to a boisterous and confident one. I've had a hunger to learn more about theatre for my whole life, and I've been blessed with teaching artists who've challenged me and supported me. Passing on your love and understanding of art is the gift that keeps on giving! It is an honor to teach theatre to Chicago youth; I see myself in them every day.
Towards the beginning of my serious study of theatre, it felt like I could never learn enough, and that was a bit discouraging. What felt daunting before, is liberating to me now – the exploration never stops. How cool is that! When I was really struggling with stage combat at the London Academy of Music and Dramatic Art (LAMDA), a tutor told me, "It's called learning, not knowing!" and that was a real lightbulb moment. As a teaching artist, I want to stoke the flame in my students, while guiding them to be flexible, lifelong learners!
What's your favorite thing about being a TA at Court, specifically?
SEVERAL factors that all meld together: We get to build original curriculums based on our own interests and strengths. We are partnered with one school long-term, and can develop an understanding of what our students would like to explore. This allows for a meaningful community to form, with the opportunity for ongoing mentorship and collaboration. Each class feels like an ensemble, and that's special!
What play, or character from a play, best describes you?  
I'm going to go with a combo. Olga from Three Sisters – she's incredibly caring and attentive, often placing others before herself (for better and for worse). And Mercutio from Romeo and Juliet – I'm vibrant, intelligent, social, a bit goofy, and benefit from the grounding of my friends and loved ones.
---
Sonia Goldberg (she/they) is a Jeff-nominated actress, writer, musician, and teaching artist. They're a queer, Black Chicago native. She has worked with Chicago Shakespeare Theater, Northlight, Chicago Children's Theatre, and Montana Shakespeare in the Parks. Sonia's a frequent collaborator with Filament Theatre, where her play Think Fast, Jordan Chase! will premiere. She's a company member with Playmakers Lab. They have a BA in Theatre from Butler University, and certificates from LAMDA and The Moscow Art Theatre School.