Meet Court's New Director of Education, Jarrett King
For Jarrett King, the connection between the arts and arts education is clear: "Art has a unique ability to synthesize the human condition. Education transforms that synthesis into a shared experience."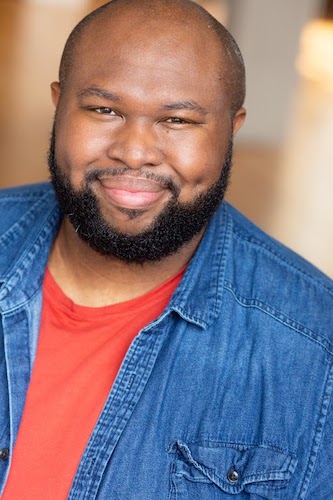 And, as Court Theatre's new Director of Education, he has the opportunity to bring those shared experiences to young people and audiences across Chicagoland.
"As a longtime educator and storyteller, I see much alignment between Court's mission to innovate and expand the theatrical canon and my mission to awaken the need for artistic contact through education," says King. "So often, learning is seen as a one-sided interaction: someone teaches and, hopefully, someone else learns. I see that exchange as very much two-sided, where both parties impart gifts of knowledge to the other in an open system."
That collaboration will be paramount. In his new position, King will lead Court's partnership with Chicago Public Schools, create and maintain quality theatrical programming for young people, and implement education outreach efforts. He will also work closely with Court's new Director of Engagement, Kamilah Rashied.
Rashied, for one, can't wait to get started: "Jarrett brings with him a great wealth of insight and experience as our new Director of Education, having an extensive background in youth-focused arts outreach and teaching. What really sets him apart, in my opinion, is his experience working within organizations to advance change and develop new programs with core values at the center. I have confidence that with his skills, in addition to the pool of incredible talent in our department, we will advance our work in the community with a blueprint that is more intentional and integral to Court's mission than ever before."
Executive Director Angel Ysaguirre echoed her sentiments, saying: "Court Theatre has made great strides in gaining understanding of the needs and talents of the young people we serve and in making our programs more effective in order to contribute to their success. As Kamilah Rashied moves to the role of Director of Engagement, Jarrett will bring a great depth of knowledge as an educator and a youth development expert to further grow our program."
"To build upon what both Kamilah and Angel have said, I am thrilled to welcome Jarrett as a member of Court staff," added Marilyn F. Vitale Artistic Director Charles Newell. "Jarrett comes to us with a vast breadth of skills. He has served as an educator, a performer, and a playwright, and his nuanced understanding of theatre and pedagogical practice is formidable. Jarrett will play an integral role in shaping Court's educational programming, and, with his involvement, I'm sure our Education department will not only grow, but flourish. I, for one, feel very lucky that he has joined us."
Jarrett King's background is rich and varied, his qualifications immaculate. His myriad skills are important, without question, but King also understands that those skills in isolation aren't enough; the key to this work lies with the young people of Chicago. Framing them as co-creators, King believes that young people are central to Court's work as a classic theatre company. They're why he does what he does in the first place: "I look forward to learning from teens in our residencies, our post-show discussions, and other initiatives where our work can cross the age divide and invite more voices into the conversation.
"Particularly as a classics theatre company, we have a responsibility to enliven new lifelong art appreciators by enriching our work with their stories. As Director of Education, I'm honored to serve the South Side, to work to remove learning barriers, and, crucially, to listen deeply to our audiences. By tuning classic theatre to the frequency of often overlooked constituents, we can create work that is not only timeless, but eternal. I'm excited to steward this exchange."
---
Jarrett King (he/him) has held a variety of administrative and educational positions with several Chicago organizations, including Steppenwolf Theatre, Chicago Shakespeare Theater, Silk Road Rising, Vagabond School of the Arts, Auditorium Theater, Hearts to Art, Unsilence, Bravo Performing Arts Academy, Chicago Public Schools, and American Theater Company, where he oversaw the in-school residency program American Mosaic. He is an Adjunct Professor of Theatre at Loyola University, teaching courses in Acting, Teaching Artistry, and Theatre Appreciation. Throughout 2020 and 2021 he directed Black Teen Lives Matter with Silk Road Rising, a four-part virtual showcase of plays written by Black teens. He is the Associate Artistic Director at Penfold Theatre Company in Austin, Texas, where his award-winning play A War of the Worlds premiered in summer 2022. He is part of the 2022-2023 cohort of the Goodman Playwrights Unit, and his play Box, based on the life of Henry Box Brown, will premiere in summer of 2023. Learn more at iamjarrettking.com.