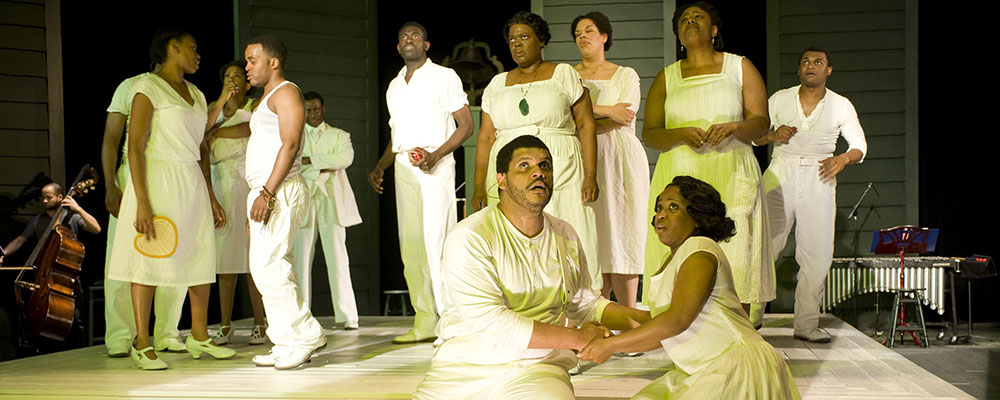 Extended through July 3!
Porgy & Bess
by George Gershwin, DuBose and Dorothy Heyward, and Ira Gershwin
Directed by Charles Newell
Music Direction by Doug Peck
Artistic Consultant Ron OJ Parson
May 12, 2011 — Jul 03, 2011
"Mr. Newell's new version is so emotionally true to the spirit of the piece that any lingering reservations you may have about its modest scale will quickly be swept away… a genre-transcending theatrical experience … an irresistibly gripping human drama whose implications are both universal and permanent… you'll find it revelatory … the power to change the way you feel about a much-loved show that you thought you knew well." —Wall Street Journal

"… if you seek out revelations of the heart and soul, it is one well worth making… a consistent, intimate aesthetic: Peck creates a reduced but intensely theatrical orchestration, Culbert designs a sparse, simple environment evoking the essence of the setting but eschewing the traditional signposts of time and place … Many in this cast are, I think, doing the best work of their creative lives." —Chicago Tribune

"… remarkable production… less a 'revival' than a deeply brilliant 'reinvention'… the perfect mix of director (Charles Newell) whose uncanny instincts, extraordinary storytelling skills and deeply original sense of casting never fail to leave an indelible mark; musical director (Doug Peck) who can expose the skeleton of the most complex score; 15 performers who fearlessly expose their souls in the blinding light … and an inspired design team" —Chicago Sun-Times

"an aching, resounding success… If you come in unconvinced of Porgy and Bess's place in our theatrical canon, you'll leave Hyde Park possessed with its strange and somber beauty." —5 Stars, Time Out Chicago

"Court Theatre's magnificently re-imagined revival of "Porgy and Bess" is like a banquet… Kryger and Rogers' transcendent performance suggested that paradise — for Gershwin lovers at least — could be found at a theater in Hyde Park" —Daily Herald
Porgy and Bess remains George Gershwin's magnum opus, with an unforgettable score that includes songs ("Summertime," "It Ain't Necessarily So") later recorded by popular musicians from Billie Holiday to Ella Fitzgerald. Coming off their 2008 Jeff Award-winning production of Caroline, or Change, Charles Newell and Doug Peck come face-to-face with one of the greatest—and most controversial—pieces of American music theater ever created. Often denounced as a racially insensitive portrayal of black southerners, Newell and Peck, in collaboration with Resident Artist Ron OJ Parson, will present a thoughtful, never-before-seen retelling of Gershwin and Heyward's "folk opera" Porgy and Bess, a classic but contested piece of American theater history.
About the Play: Porgy and Bess is a 1935 American "folk opera" that depicts the lives of African Americans in the Charleston, South Carolina community of Catfish Row in the early part of the twentieth century. The opera, composed by George Gershwin, was based on the 1925 novel Porgy written by a white Southern writer, DuBose Heyward. After writing a dramatic version of the novel for Broadway in 1927, Heyward and his wife, Dorothy, collaborated on the libretto for Porgy and Bess, with assistance from lyricist Ira Gershwin, George's brother. The characters of Porgy and Bess speak in a dialect based on the Gullah language of South Carolina, a hybrid language that combines elements of American English and West African. Because it is written in operatic form, all these words are sung either in song or recitative, a musical term for sung speech. In composing his opera, Gershwin was influenced not only by classical composers but by African American spirituals, blues and jazz rhythms, and the traditional music of his own Jewish roots. While its authenticity as a true opera has been questioned by opera critics, Porgy and Bess is now widely considered to be the first American opera. Many of the songs in Porgy and Bess have been recorded by pop, blues, and jazz artists, including "Summertime," "I Loves You Porgy," and "It Ain't Necessarily So."
Sponsored by
Videos
Photos