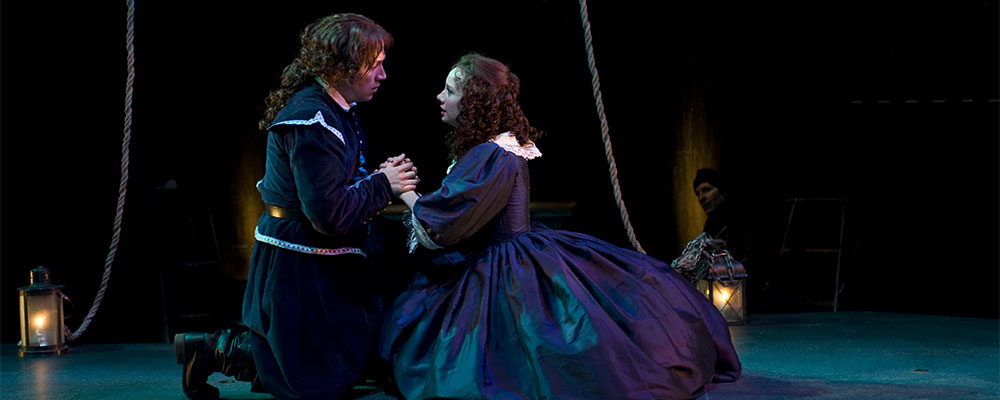 The Illusion
by Pierre Corneille
Freely adapted by Tony Kushner
Directed by Charles Newell
Mar 11, 2010 — Apr 11, 2010
"uncommon intellectual and aesthetic pleasures" -Chicago Tribune

"The work here is so good on every front (with Kushner's take at once cutting, poetic, musical and shrewd) that you wish it could be airlifted whole onto the stage of the Comedie Francaise." -Sun-Times

"… Newell's cast hits every note perfectly… They make Kushner's vision a must-see." -Time Out
Tony Kushner brings his sophisticated style and breathtaking language to the French Baroque's most powerful romance. A father's attempt to find his estranged son raises the curtain on a world of theatrical magic, outrageous humor, and true, complicated love.
The Illusion, "freely adapted" by Tony Kushner from French-Baroque playwright Pierre Corneille's L'Illusion comique, follows Pridamant, a lawyer, as he searches for the son (Clindor) he banished 15 years earlier. At the opening of the play, Pridamant's friend Dorante takes him to the cave of Alcandre, a mysterious yet powerful magician who claims he can conjure the image of Pridamant's son. Throughout the play, Alcandre presents three different versions (or illusions) of Clindor's life, all featuring the same two women and three men, but each referring to them by different names and depicting them in different locations; although Pridamant recognizes his son in all three visions, Clindor is never referred to by his real name. As the conjured images become more and more sinister, so Pridamant becomes increasingly anxious to rescue his son from what appears to be certain peril. In the end, much of what Pridamant sees turns out in fact to be an illusion, but the journey he has been on is nevertheless incredibly real.
Sponsored by
Photo of Michael Mahler and Hillary Clemens by Michael Brosilow.
Videos
Photos