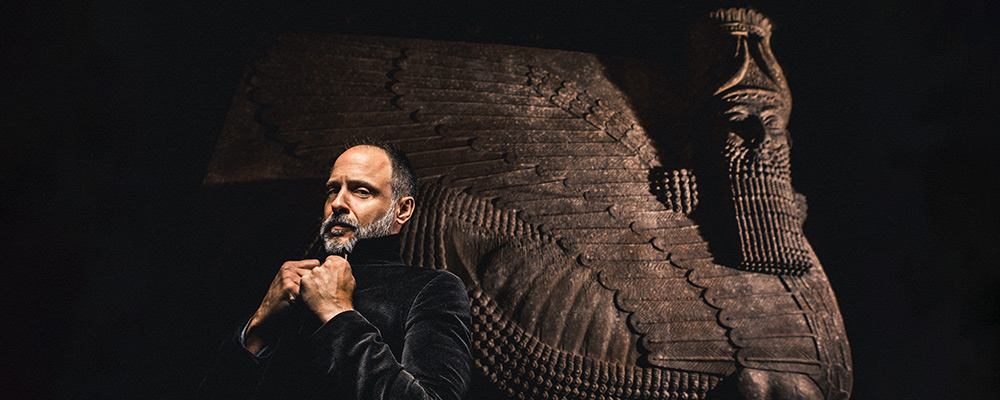 "A masterpiece" -Chicago Tribune
An Iliad
by Lisa Peterson and Denis O'Hare
based on Homer's The Iliad, translated by Robert Fagles
Directed by Charles Newell
Featuring Timothy Edward Kane
Feb 26, 2020 — Mar 29, 2020
Tickets
Regular admission tickets to An Iliad are currently sold-out. To be added to the waiting list, please call the Box Office at (773) 753-4472.
Simulcast tickets for UChicago students only are still available. Click here for options.
Court reimagines its electric production of An Iliad, the one-man adaptation of Homer's Iliad, in a groundbreaking site-specific performance not to be missed. Combining promenade-style elements throughout the Oriental Institute's galleries, as well as a seated portion performed in the OI's Persian Gallery, this explosive combination of theatre and history brings the epic poem to life in a thrilling new way. This partnership with the OI will add environmental and thematic context to Lisa Peterson and Denis O'Hare's one-man adaptation of Homer's Iliad.
Directed by Court's Marilyn F. Vitale Artistic Director, Charles Newell, and starring Timothy Edward Kane as The Poet, Court's production of An Iliad was heralded as "one of the most remarkable performances of the theatrical year" by Chris Jones of the Chicago Tribune. 
Please note: The beginning portion of the performance will require audience members to walk through the museum before being seated in the Persian Gallery.
An Iliad is sponsored by 

Tickets
Select a Performance Date/Time

Calendar of Events
Calendar of Events

| Sunday | Monday | Tuesday | Wednesday | Thursday | Friday | Saturday |
| --- | --- | --- | --- | --- | --- | --- |
| 26 | 27 | 28 | 29 | 30 | 31 | 1 |
| 2 | 3 | 4 | 5 | 6 | 7 | 8 |
| 9 | 10 | 11 | 12 | 13 | 14 | 15 |
| 16 | 17 | 18 | 19 | 20 | 21 | 22 |
| 23 | 24 | 25 | | | | |