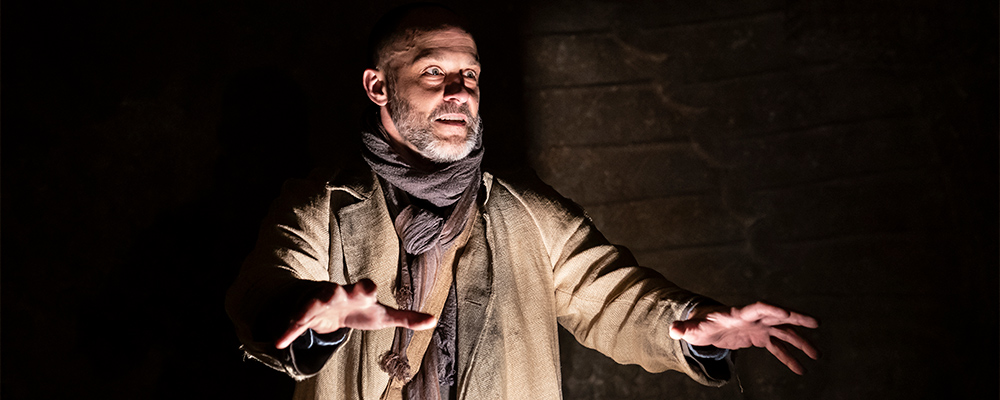 "A MASTERPIECE" -CHICAGO TRIBUNE
An Iliad (Streaming)
BY LISA PETERSON AND DENIS O'HARE
BASED ON HOMER'S THE ILIAD, TRANSLATED BY ROBERT FAGLES
DIRECTED BY CHARLES NEWELL
FEATURING TIMOTHY EDWARD KANE
Mar 03, 2021 — Mar 31, 2021
No longer available.
Remounted three times across Court's history, Artistic Director Charles Newell's production of An Iliad showcases the power of classic theatre to speak to our current moment. Interrogate how rage and division reverberate throughout civilization in this streaming release of our limited-engagement, site-specific production of An Iliad at the Oriental Institute. Actor Timothy Edward Kane takes audiences on a journey through ancient societies and cultural artifacts in a thrillingly visceral performance. This professionally-captured, multi-camera stream of the play allows you to experience this one-of-a-kind production at home, which Rick and Brenda McCain of Chicago Now hailed as "a superb collaboration of theater and history in a site-specific platform that is sure to bring chills to the historian that resides in all humanity."
Streaming tickets are on sale now for digital viewing March 3 – March 31, 2021. All 2020/21 season subscribers will have access to the stream at no additional charge–you'll receive an email with details before March 3. Patrons who purchased tickets to the original site-specific production last March/April of 2020 will have special access to an exclusive behind-the-scenes live online event about the making of this unique production–look for an email in early March.
Visit our streaming FAQ page for more information.
An Iliad was sponsored by