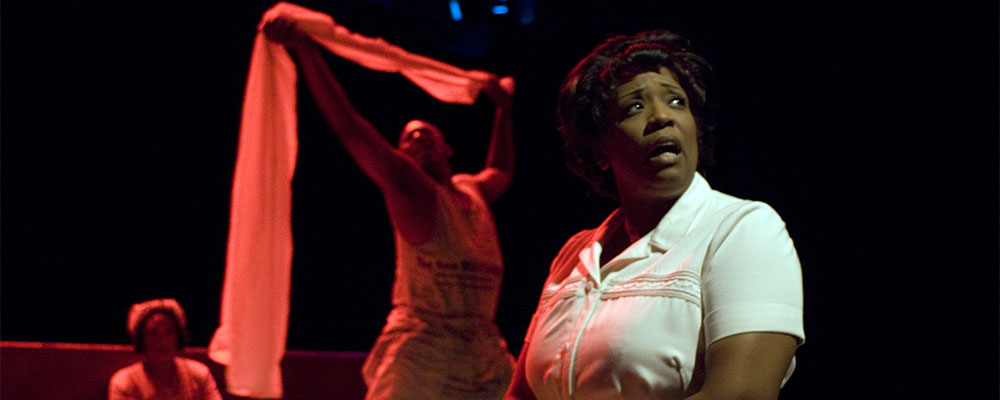 Chicago Premiere | Extended Through October 26!
Caroline, Or Change
Book & Lyrics by Tony Kushner
Music by Jeanine Tesori
Directed by Charles Newell
Music Direction by Doug Peck
Sep 11, 2008 — Oct 26, 2008
"Not only were so many people trying to get inside Court's auditorium that the curtain was delayed by 20 minutes, but the conclusion of director Charles Newell's emotionally unstinting and thoroughly gripping four-star production was greeted by a bigger roar of approval than I've heard in 15 years of shows … Extraordinary performance in the central role from E. Faye Butler … when produced at this level, I find this show to be inestimably powerful and moving." –Chicago Tribune

"…something wholly transformative has taken place at Court Theatre, where that masterful director, Charles Newell, with his uncanny gift for unlocking a show's secrets, has unleashed something not visible in that earlier 'Caroline.' Working with muiscal director Doug Peck, his incomparable creative partner, and with a cast of blinding luminosity and palpable heat, Newell has revealed the show's heart. Leading the way in the title role is E. Faye Butler … Hers is a landmark portrayal… breathtaking." –Sun-Times

"E. Faye Butler combines vocal virtuosity with deep inner life as Caroline… she brings volcanic power and impeccable musicianship to bear on a character of both towering strength and weary weakness… a richly textured ensemble work, beautifully played by a superb supporting cast." –Chicago Reader

"Charles Newell's steely, graceful production blows a hole through the heart… Doug Peck in an early career high, floods the intimate Court space like a rhythm-and-blues hurricane tearing clean through a dam. Nothing else like it in American musicals has ever been successfully rendered… I'd like to tell you about Butler's historic, humbling accomplishment as the titular character … but instead I must offer an apology. I don't have any words." –Time Out

"directed with a tremendously sharp eye and a superlative cast to create the season's first must-see show… As Caroline, E. Faye Butler—a treasure—is a bedrock of voice and character in her greatest performance yet… Caroline, or Change is complex and profound musical theater given a mesmerizing local premiere." –Windy City Times
Playwright Tony Kushner (Angels in America) and composer Jeanine Tesori (Thoroughly Modern Millie) have elegantly crafted this bold and uniquely poignant musical. Kushner brings his remarkable literary talent to his first musical—there are no easy choices for the characters to make, and each role is fully realized, complicated and deeply human. The thunder of the civil rights movement and John F. Kennedy's death reverberates deeply through the script, provoking all characters to see their lives in a new light. The coins that 8-year-old Noah leaves in his pockets are more than spare change to an African American housekeeper working in a Louisiana laundry room in 1963. This deeply personal story blends blues, gospel and traditional Jewish melodies in a breathtaking score.
Sponsored by

Videos
Photos