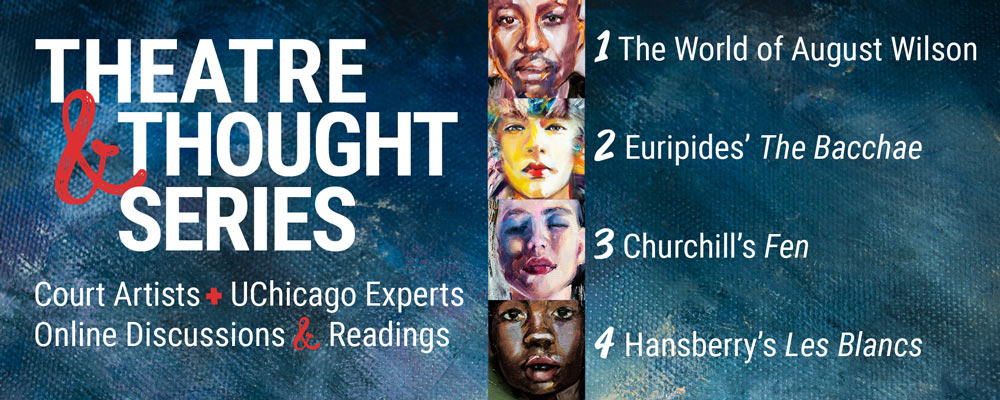 The Reimagined 2020/21 Season
Sep 08, 2020 — Feb 03, 2021
Court's Theatre & Thought series connects audiences to expert insights from University of Chicago faculty about the historical context, thematic relevance, and artistic possibilities surrounding classic works. Each Theatre & Thought topic will feature a different play and include virtual meetings with University scholars to discuss the ideas underpinning these classic texts.  

Court's remote, digital experiences are produced in partnership with the University of Chicago Graham School's Arts@Graham series.
The World of August Wilson + The Black Creative Voice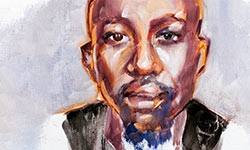 Featuring the Scholarship of Professor Kenneth Warren
in Conversation with Resident Artist Ron OJ Parson
Online September 8, 15, 22, and 29, 2020 at 7pm
Dr. Kenneth Warren, the Fairfax M. Cone Distinguished Service Professor in English at the University of Chicago, and an expert on American and African American literature from the late 19th century through the middle of the 20th century, shares insights about the Black creative voice. Court's Resident Artist Ron OJ Parson, a leading interpreter of Wilson's work, will join Dr. Warren in this conversational, intimate look at the American Century Cycle and one of America's most essential classic playwrights, examining excerpts of Wilson's work and their impact on generations of Black artists. Learn more →
Euripides' The Bacchae + Contemporary Adaptations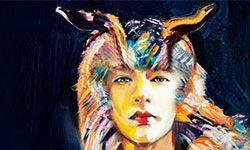 Featuring the Scholarship of Professor Sarah Nooter
Reading Directed by Monty Cole
Online October 7, 14, 21, and 28, 2020 at 7pm
The extant Greek plays continue to speak to contemporary cultures, fueled by a myriad of creative retellings and adaptations by contemporary playwrights. Euripides' ancient Greek tragedy explores the consequences of mixing the personal and political and the importance of listening to the will of the people. Sarah Nooter, renowned author and faculty member of the Department of Classics and the College, shares insights about the dramatic elements that make Euripides' tragedy ripe for adaptation, including a discussion of Wole Soyinka's The Bacchae of Euripides. A translation of The Bacchae by Court's Founding Artistic Director, Nicholas Rudall, a premier translator of Greek texts, will form the foundation for these discussions. The inventive Chicago-based director Monty Cole will lead a reading of The Bacchae during one session, its themes reverberating with uncanny resonance in 2020. Learn more →
The digital reading of Euripides' The Bacchae will feature actors Adia Alli, Cheryl Lynn Bruce, Atra Asdou, McKenzie Shinn, Stephanie Diaz, Kirsten Fitzgerald, Jennifer Latimore, Karissa Murrell Myers, and MJ D. Rawls.
Caryl Churchill's Fen + The Dramaturgical Process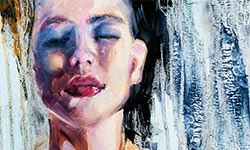 Featuring the Scholarship of Dramaturg Derek Matson
in conversation with Director Vanessa Stalling
Online November 30, December 2, 7, 9 at 7pm
Employing astonishing theatrical imagery, Caryl Churchill's Fen interrogates issues of gender, class, and exploitation with grace, humor, and anger. Dramaturg and University of Chicago lecturer Derek Matson (Photograph 51, The Mousetrap) digs into the multitudinous themes and histories that make Churchill's play tick, offering insight into how this type of research informs the creative process and how dramaturgy is conducted in the theatre. Jeff Award-winning director Vanessa Stalling (Photograph 51) will join Matson in these conversations to discuss how dramaturgy fuels her own work as an artist. Learn more →
Lorraine Hansberry's Les Blancs + Racial Injustice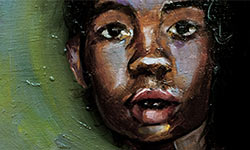 Featuring the Scholarship of Professor Tina Post
in conversation with Court's Inaugural Research Fellow, Gabrielle Randle-Bent
Online January 13, 20, 27, and February 3, 2021 at 7pm
Widely considered to be Hansberry's last and perhaps most important work, Les Blancs explores issues of coloniality, Black nationalism, and imperialism in a fictional African country that stands in for Black freedom struggles across the diaspora. Tina Post, Assistant Professor in English at the University of Chicago, will explore the play's portrayal of racial injustice and black resistance in conversation with Gabrielle Randle-Bent, a Hansberry director who was Court's Inaugural Research Fellow. Learn more →
---
Interested in learning more about the plays in our reimagined 2020-2021 Season? Consider reading the scripts before, during, or after our fall series of events! Seminary Co-op is excited to partner with Court Theatre to offer a simple way for you to purchase the scripts and have them shipped right to your front door. This optional way to further engage with our season helps support a local bookstore and gives you some new reading material while you quarantine!