Theatre & Thought: Lorraine Hansberry's LES BLANCS + Racial Injustice

Widely considered to be Hansberry's last and perhaps most important work, Les Blancs explores issues of coloniality, Black nationalism, and imperialism in a fictional African country that stands in for Black freedom struggles across the diaspora. Tina Post, Assistant Professor in English at the University of Chicago, will explore the play's portrayal of racial injustice and black resistance in conversation with Gabrielle Randle-Bent, a Hansberry director and was Court's Inaugural Research Fellow.
Register for the Seminar
---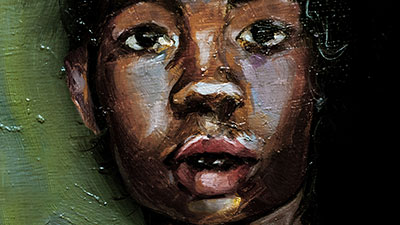 The World of Les Blancs: A Primer
January 13, 2021 | Featuring Tina Post and Gabrielle Randle-Bent
Tina Post and Gabrielle Randle-Bent will provide an overview of Lorraine Hansberry's body of work and Les Blancs specifically. In addition to providing an overview of the play, they will discuss Les Blancs's portrayal of Africa, and the ways it reflects racial and political tensions in the United States.
---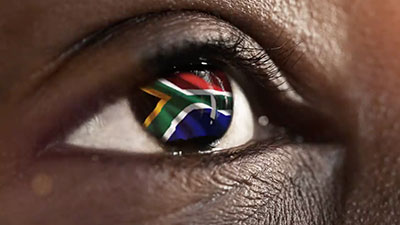 The Woman, A Character Study
January 20, 2021 | Featuring Tina Post and Gabrielle Randle-Bent
Les Blancs has one Black female character. Remarkably, given the play's authorship, this character does not speak, but rather appears throughout the play as an embodied presence. Tina Post and Gabrielle Randle-Bent will discuss The Woman as a figure in the play and their respective interests her. The discussion illustrates black feminist approaches to theatrical movement and choreography.
---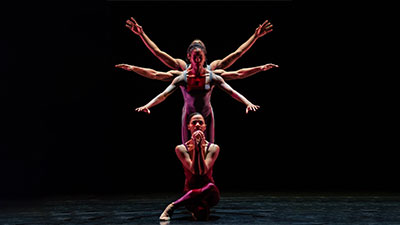 The Woman, A Movement Study
January 27, 2021 | Tina Post, Gabrielle Randle-Bent
---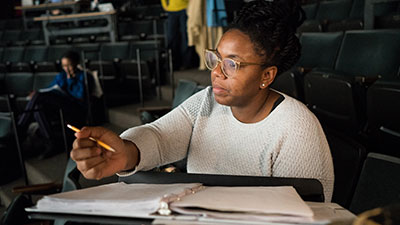 Process
February 3, 2021 | Tina Post, Gabrielle Randle-Bent, and choreographer Nicole Clarke-Springer
A discussion of the process of creating and staging movement, including considerations raised by dramaturgy, choreography, and direction. Audience participants will be invited to ask questions of the creative team and experiment on their own.
About the Scholars and Artists
Tina Post is an Assistant Professor of English and Theater and Performance at the University of Chicago, where she is also affiliated with the Center for the Study of Race, Politics, and Culture. Her first book project, Deadpan, examines expressionlessness and affective withholding in Black cultural production. Her scholarly work has appeared in Modern Drama, TDR: The Drama Review, International Review of African American Art (IRAAA), and the edited collection Race and Performance after Repetition (Duke University Press, 2020). Her creative work can be found in ImaginedTheatres.com, Stone Canoe, and The Appendix.
Gabrielle Randle is a scholar, director, and dramaturg. She has a dual BA degree in drama and sociology from Stanford University and an MA degree in performance as public practice at The University of Texas at Austin. Her recent collaborations include co-directing We are Proud to Present a Presentation…, by Jackie Sibblies Drury, at Steppenwolf for Young Adults. She served as the dramaturg and AD for Court Theatre's production of Oedipus Rex and dramaturg For Colored Girls Who Have Considered Suicide / When the Rainbow is Enuf directed by Seret Scott. In Chicago, she has dramaturged and directed for Sideshow Theatre, where she is also a company member, Victory Gardens, Chicago Dramatists, Northlight and the Wirtz Center for the Performing Arts. Gabrielle is an active member of the Black Theatre Association Focus Group for the Association for Theatre in Higher Education and has served two terms as its graduate representative. She was featured in American Theatre Magazine's Role Call: People to Watch. She is a 5th year PhD candidate at Northwestern University. Her ongoing dissertation project is titled "On the Possibility of Blackness and the Inevitability of Revolution: How Black Feeling Changed the World." In September 2020, she completed a fellowship year at the University of Chicago where she was the inaugural Court Theatre Research Fellow.
Nicole Clarke-Springer began formal training under the guidance of Claudette Soltis  (Ballet Russe de Monte Carlo and Joliet Ballet Society) and the Indianapolis Ballet Theatre under Dace Diodonis. She received her B.S. in arts administration-dance from Butler University in Indianapolis, where she was honored as Butler Ballet's Outstanding Performer.  Shortly after graduating from Butler, Clarke-Springer found her dance home within the Deeply  Rooted Dance Theater family as an apprentice and later a company member. As a member of DRDT, she had the opportunity to perform with Roberta Flack in Kevin Iega Jeff's Flack, as well as Jennifer Holiday in the world-renowned Penumbra Theatre's Black Nativity. After leaving the company she taught as an adjunct professor in  Western Kentucky University's Dance Department. While there, she was asked to join the Clifton Brown Dance Company, performing on its tour to Istanbul. Clarke-Springer returned to the Deeply family as Dance Education director and Artistic Team member in 2007.  She has presented her choreography in Durban, South Africa, and Sophia, Bulgaria. She teaches and choreographs throughout the country and has been on faculty as an adjunct professor at Chicago State University and Western Kentucky University and is currently on staff at Northwestern University. Crediting the Deeply Rooted mission, Clarke-Springer works to create an environment where artists participate in a process that is not only spiritually affirming but requires open and honest dialogue that leads to self-reflection, constructive feedback, and accountability to the work required. Nicole was appointed Artistic Director of Deeply Rooted Dance Theater in September 2019.
Lorraine Hansberry: When Lorraine Hansberry's (1930-1965) A Raisin in the Sun appeared on Broadway in 1959, the artist became, at twenty-nine, the youngest American playwright, the fifth woman, and the only African American to date to win the New York Drama Critics Circle Award for Best Play of the Year. The play represented a landmark. In its authentic depiction of Black American life, and the vivid demonstration of so gifted a creator, cast, and director, it made it impossible for the American stage to ignore African American creativity and subject matter thereafter. In 1961, the film version won a special award at the Cannes Film Festival and was nominated for a Screen Writer's Guild Award for Hansberry's screenplay. 
In 1965, Lorraine Hansberry died of cancer at age 34. As if prescient, in the six years she had between the triumph of her first play and her death, she was extraordinarily prolific. Her second play to be produced on Broadway, The Sign in Sidney Brustein's Window, was in its early run, to mixed reviews, when Hansberry died; the curtain came down on that date. To Be Young, Gifted, and Black, an autobiographical portrait in her own words adapted by her former husband and literary executor Robert Nemiroff, was posthumously produced in 1969 and toured across the country. In 1970, Les Blancs, her play about the inevitability of struggle between colonizers and colonized in Africa, and the impending crisis that would surely grow out of it, ran on Broadway to critical acclaim.
During her career as a playwright, Hansberry wrote many articles and essays on literary criticism, racism, sexism, homophobia, world peace, and other social and political issues. At her death, she left behind file cabinets holding her public and private correspondence, speeches and journals, and various manuscripts in several genres: plays for stage and screen, essays, poetry, and an almost complete novel.
---
Court's Theatre & Thought series connects audiences to expert insights from University of Chicago faculty about the historical context, thematic relevance, and artistic possibilities surrounding classic works. Each Theatre & Thought topic will feature a different play and include virtual meetings with University scholars to discuss the ideas underpinning these classic texts.  

Court's remote, digital experiences are produced in partnership with the University of Chicago Graham School's Arts@Graham series.
Photo of Deeply Rooted Dance Theater dancers by Michelle Reid.
Photo of Gabrielle Randle-Bent in rehearsal for OEDIPUS REX by Joe Mazza.