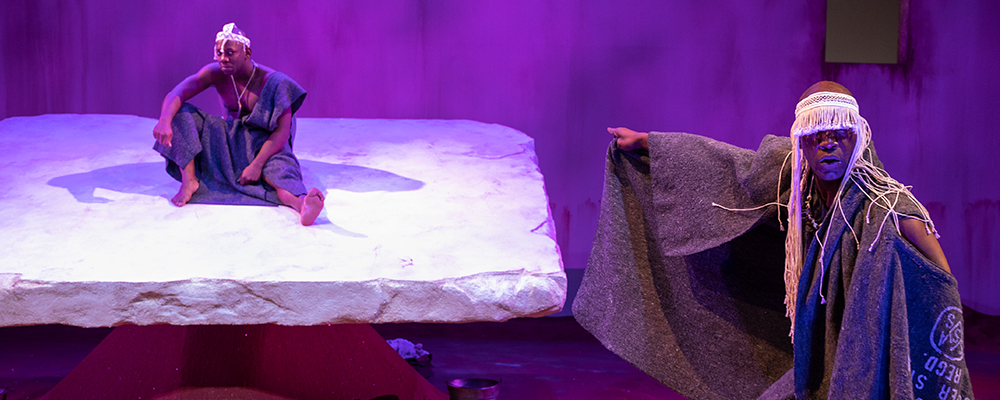 ★★★½ "POWERFUL" -Chicago Tribune
The Island
by Athol Fugard, John Kani, and Winston Ntshona
Directed by Gabrielle Randle-Bent

Nov 11, 2022 — Dec 04, 2022
★★★½ "The note of hope in this play, and it is rightly centered in this unpretentious and POWERFUL PRODUCTION, is that the human spirit is far harder to defeat than the body." -Chicago Tribune

★★★½ "PROFOUNDLY MOVING… Randle-Bent propels the dialogue with a clarity that shines like a knife and an urgency that can't be denied." -Sun-Times

Reader Recommended "The Island is a RIVETING, philosophically sophisticated play that is a MUST-SEE for fans of meaty theater." -Chicago Reader
John and Winston are political prisoners on South Africa's infamous Robben Island, spending their days toiling at grueling, futile tasks in the prison's quarry. At night, they secretly rehearse a two-man version of Antigone and find solace and strength in their burgeoning friendship. The Island is at once a sobering glimpse into the social, physical, and psychological wounds of Apartheid; a lesson in the complex work of liberation; and a testament to the transformative power of theatre.
Associate Artistic Director Gabrielle Randle-Bent makes her solo directorial debut at Court, bringing her vision of resistance and resilience to the stage, featuring actors Ronald L. Conner and Kai A. Ealy.
Running Time: Approximately 105 minutes
Accessible performances:
December 3, 2022 at 2:00pm/Touch Tour at 12:30pm (Touch Tour/Audio Description)
December 4, 2022 at 2:00pm (Open Captioning)
December 4, 2022 at 7:30pm (ASL Interpretation)
Photo of Kai A. Ealy and Ronald L. Conner by Michael Brosilow.
Videos
Photos
Articles and Interviews