In Conversation: Director/Associate Artistic Director Gabrielle Randle-Bent
Associate Director of Marketing Camille Oswald sat down with Director and Court's new Associate Artistic Director Gabrielle Randle-Bent to learn about her approach to The Island.
What is it that attracted you to The Island?
I first learned about Fugard and his work in 2008 when I went to South Africa as a student; it was there that I was initially exposed to the rich, witty, and subversive tradition of South African political protest performance. Since then, in the last few years at Court, I've grown to really appreciate Greek theatre. Specifically Sophocles. There's something about his themes and how they resonate through time, and the more I thought about it, the more I saw how The Island is one of these resonances. It feels like we're living in a similar moment right now, where people are questioning the efficacy and the sustainability of democracy; understanding that the law is not always righteous; and serving all kinds of rules and ideas of what's right and what's wrong.
This all gets a little bit topsy-turvy, but what I love about The Island is that it ties these themes back to people. It's political because it's about John and Winston's humanity; it's not about their incarceration. As a result, it makes the violence evident without celebrating the violent action and that was really intriguing to me.
Why did the play staged by John and Winston have to be Antigone? What is it about that play that makes it particularly resonant?
Antigone is a political activist. She's a revolutionary. She speaks truth to power—not in spite of the consequences, but because of the consequences. She's giving her life fully to what she believes is right. For Winston, burning a passbook [the act for which he is incarcerated] is no more complicated than throwing dirt over your brother's body; both are literally a flick of the wrist. But the fact that something that simple might have mortal consequences is always going to be the strongest critique of a violent regime. Antigone shows that the smallest acts of resistance are the ones that oppressive powers fear the most.
What does The Island teach us about the creative process?
Fugard, Kani, and Ntshona devised this show together; they were co-creators. Fugard wrote the words, but only one third of this play is actually dialogue. All of the stage directions, all of these beautiful interludes, were John and Winston figuring out how to use their skills as these prolific, amazing performers to tell a story that simply isn't full with just words. The challenge that this poses for our team—and the thing that I'm most excited about—is that in order for this production to be as alive, as relevant, and as engaging as I know it can be, we have to make it together. It's something that should be re-made through the creative process, rather than re-staged; to try to be faithful to the text is actually a kind of infidelity. You have to make it alive for your moment, for the relationship between the two men you're working with, and for the political stance they're taking in their society today. Using that as a starting point is really thrilling.
What does The Island teach us about freedom? 
We live in a carceral state in America. We have a carceral mindset. We imagine that if we put everything awful behind a closed door, then it's handled. I mean, there are millions of young people—mostly men, and mostly Black men—that we have literally thrown away in the prison system. The idea that that has something to do with justice, or that that's the mark of an advanced civilization, is so distorted and disgusting that it can be hard to not focus on the walls first. It's extremely difficult to not focus on what a prison is, what it does, and how it dehumanizes, destabilizes, and debilitates people.
The beautiful thing, because of how Robben Island works, is that the walls are inconsequential. Robben Island is an island on the edge of the world. There's nowhere to go. Once you take away the walls, it's a great way to conceptualize what incarceration really is, what it does, how it's used by the state, and how people resist. For example, you can talk about what's wrong with a birdcage all day long. Or, you can invite someone to watch how a caged bird acts. All of a sudden, you don't have to make the argument for why a cage is cruel.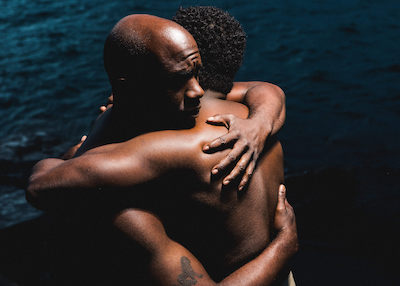 I hope that The Island creates space for people to feel the deep humanity of these men. And that by seeing them, audiences feel differently equipped—whatever that might mean—to think about our own Johns and Winstons, our own captives in this country, and what every single person means to a community, to a family, and to a space.
How can theatre serve as a tool for political resistance?
Theatre, and live performance in general, is a tool for generating empathy. It gives us a new way of recognizing how our humanity is connected—even in our difference, even in our separation from someone, or an idea, or a moment in time. So often, we're really excited to talk to one another, but theatre asks you to sit in a dark room, to see, and to listen. That's the first step towards a more compassionate and empathetic society, so in that way, it's political.
How does John and Winston's staging of Antigone reflect Court's mission of re-imagining classics?
It fits perfectly, doesn't it? It's like they wrote the play for us! For the past few years, Charlie [Newell] and I have been working with the Civic Actor Studio, a program for leaders on the South Side that's organized by the University of Chicago's Office of Civic Engagement. And, in the Civic Actor Studio, we actually read scenes from Antigone! We read scenes, and we ask the folks involved to look at Ismene, Antigone, Creon, and Haemon and decide who they're similar to, who they empathize with, and who they disagree with. We then ask them to dig deeper into how each of these specific characters display leadership. That's exactly what John and Winston are doing.
You can't have an Antigone without a Creon. And you can't dismantle these systems of oppression without recognizing that that power has a legacy too. In their staging, John and Winston speak to the genuine feeling of both sides, but they're able to elevate Antigone's voice in a way that makes clear that, though Creon is powerful, he is not justified. Are there other ways they could do that? Yes, a thousand times yes. But Greek culture has been co-opted by a greater European identity-making establishment as the purview of exclusively white people…as if wisdom has a color [laughs]. So, by using this Greek play, John and Winston are able to say, "Actually, we understand the thing that you think is your history better than you do, and we can use it to help everyone else see the righteousness of our cause—even when we're exhausted, even when we feel ridiculous." They're literally reimagining a classic play. I mean, that's pretty cool.
In the play, John says [of Antigone], "That's all we want them to do…listen in the end!" When the audience is listening to this play, what do you want them to hear?
I just want them to listen, I'm less focused on what they actually hear—I guess I'm like John, right? [laughs] I think that even the practice of listening is something we're at risk of losing, but that's what theatre makes us do. They might laugh at you at first, but then they'll listen. And that's the most important thing.