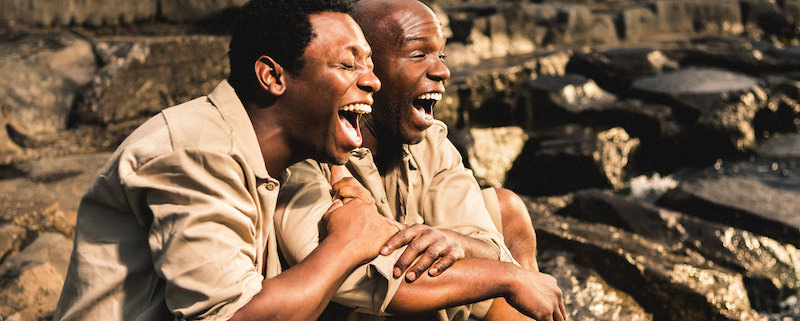 In a 1985 statement read by his daughter, Zindzi, at a rally in the Jabulani Stadium, Nelson Mandela wrote of the African National Congress's President-in-Exile: "Oliver Tambo is much more than a brother to me. He is my greatest friend and comrade for nearly fifty years. If there is any one amongst you who cherishes my freedom, Oliver Tambo cherishes it more, and I know that he would give his life to see me free." From his cell in Pollsmoor Prison, to which he had been transferred from Robben Island in spring of 1982, Mandela chose to highlight the ties that bound those committed to overthrowing Apartheid through the language of revolutionary love.
Through this language, Mandela demonstrated how commitments made through social struggle could run much deeper than those of traditional family relations. John and Winston, the two characters in The Island, might call each other brother, but they are clearly more: they are great friends and comrades. They are political prisoners who support, heal, and work alongside one another in the name of liberation against state-organized terror.
During the twentieth century, millions of people across the world found a profound sense of empowerment and belonging through this type of political friendship. African National Congress (ANC) members called each other "comrade" to establish what scholar Jodi Dean describes as a deeply egalitarian political relation and a carrier of expectations towards one another. When Winston wants to lash out at Hodoshe, an unseen character in the play, John brings him back from the brink: the ongoing struggle, and Winston's capacity to act in it, is too important. Their friendship is always directed towards the greater movement: John and Winston cherish each other, they cherish each others' freedom, they cherish freedom everywhere.
Kani and Ntshona, the two actor-devisers who created these roles alongside Athol Fugard and their collaborators in the Serpent Players, knew that the political risks in making The Island reflected the risks of John and Winston staging their production of Antigone. Ensemble-building in the Serpent Players, a theatre company made up mostly of Black workers who invited Fugard to join them, had been continuously hampered by arrests and harassment. When the company first started playing for multiracial audiences, police would regularly disrupt performances. Arrests of the players' leading performers thrust Kani and Ntshona, promising younger actors, to the fore. The company's belief in the political force of art is reflected in John's speech convincing Winston to persevere in the face of the officers' sneers: "There'll come a time when they'll stop laughing, and that will be the time when our Antigone hits them with her words." The Serpent Players' repertoire in the late 1960s-early 1970s was characteristic of progressive theaters around the world: politically- charged adaptations of Ancient Greek texts; the plays of Bertolt Brecht; and new, ensemble-based work produced in collaboration with a playwright. The Island as we know it was made in fourteen days, but it was the product of a collective who knew each other well, and were accustomed to working quickly in intensive, often clandestine, workshops and rehearsals.
The original production of this play, which toured in South Africa and internationally, was an exercise not just in changing hearts or winning the sympathies of liberal-minded allies, but changing structures: empowering audiences to take action against Apartheid, however they could. President-in-exile Tambo had, in 1960, set up a headquarters for the ANC in London, from which he could organize international action against the colonial state. This is where Fugard, Kani, and Ntshona went first in 1973-74, for a residency at the Royal Court, the UK's leading state-subsidized theatre dedicated to new plays. That "South Africa Season," bringing together The Island; Fugard, Kani, and Ntshona's other great collaboration, Sizwe Bansi is Dead; and Fugard's solo-authored Statements After an Arrest Under the Immorality Act—collectively known as the "Statements" plays —became a legendary moment in theatre history. The Island is arguably the most enduring of this trilogy: a play about something more than brotherhood, a political love between two Black men committed to the role of art in anti-colonial struggle, soliciting action from audiences at home and abroad.
In 1973, freedom was not in sight; the end of Apartheid was not right around the corner. Yet since the formal end of the Apartheid system, the status of The Island has only increased. Reviving plays like The Island offers a dialogue between past and present. When John and Winston speak to us, we are in a shared time. As we look at them, looking at us, they pose questions of our current moment. To what lengths will a society go to break the spirits of its own people? What kind of society condones mass incarceration? What are the politics of its culture? What does it mean to truly cherish each others' freedom? These are just some of the questions we still have to answer.