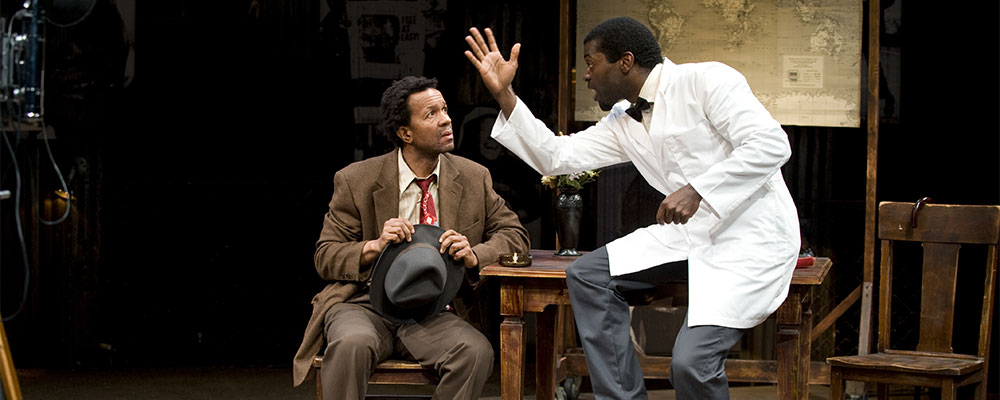 Sizwe Banzi is Dead
by Athol Fugard, John Kani, and Winston Ntshona
directed by Ron OJ Parson
May 13, 2010 — Jun 13, 2010
"Court's show deftly captures the free-wheeling nature of a play born in improvisation, while also making clear that the piece is engaged with matters of the highest stakes. That's a tough line to walk and Parsons … walks it with equal measures of sadness, humanity, optimism and pizzazz." -Chicago Tribune

"a vivid, searingly evoked revival" -Sun-Times

"Parson builds the action with exquisite precision to a harrowing conclusion, at once triumphant and despairing." -Reader
This production of Sizwe Banzi is Dead marks the first time a classic play from South Africa has been presented at Court Theatre. The occasion is long overdue. Court's production of also marks the culmination of Chicago's Fugard Festival 2010. This unique collaboration among three Chicago theatres—Remy Bumppo Theatre Company, TimeLine Theatre Company, and Court Theatre—has re-introduced Chicago to three of Athol Fugard's major works: The Island, 'Master Harold'…and the Boys, and Sizwe Banzi is Dead.
When it was first performed in Cape Town in 1972, Sizwe Banzi was a powerful indictment of legal apartheid and its devastating effect on human dignity. Almost forty years later, Athol Fugard's play is still relevant, not only for those too young to remember South African apartheid, but also for those of us in need of renewed moral clarity about the human oppression that continues to take place around the world today.
Sponsored by the Marion M. Lloyd Court Theatre Fund
Photo of Chiké Johnson and Allen Gilmore by Michael Brosilow.
Videos
Photos