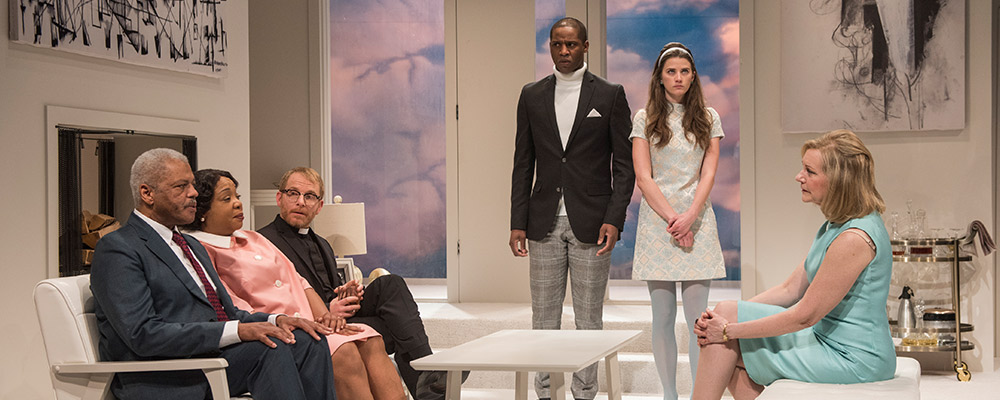 Guess Who's Coming to Dinner
By Todd Kreidler
Based on the screenplay Guess Who's Coming to Dinner
Directed by Marti Lyons
with Associate Director Wardell Julius Clark
Mar 15, 2018 — Apr 15, 2018
"This production is a must-see" -Kevin Greene, Newcity

3.5 Stars "high-stakes drama, uncomfortable confrontations and more than a few cathartic laughs" -Catey Sullivan, Chicago Sun-Times

"Thought-provoking … it still resonates today … a delightful and fun play"
-Rick and Brenda McCain, Chicago Now
Matt and Christina Drayton live a modern, white upper-class life in 1960s San Francisco, but their comfortable life is muddled when daughter Joey returns home with John Prentice, a black physician whom she has known for ten days and intends to marry. Suddenly, their longtime progressive values are challenged; Matt and Christina find themselves facing difficult personal questions about the future of their daughter and their family. And unfortunately for the Draytons, Joey and John aren't their only surprise guests coming to dinner.
Playwright Todd Kreidler has crafted a startlingly relevant look at the thought-provoking classic film that confronted race relations in 1967 America. Acclaimed Chicago director Marti Lyons makes her Court Theatre debut and Wardell Julius Clark joins the artistic team as Associate Director.
---
Approximate Running Time: 2 hours 5 minutes (including 15-minute intermission)
---
Download Program
Court Theatre's 2017/18 Season is sponsored by Barbara and Richard Franke.
Guess Who's Coming to Dinner is sponsored by 

Videos
Photos
Articles and Interviews
Related Events