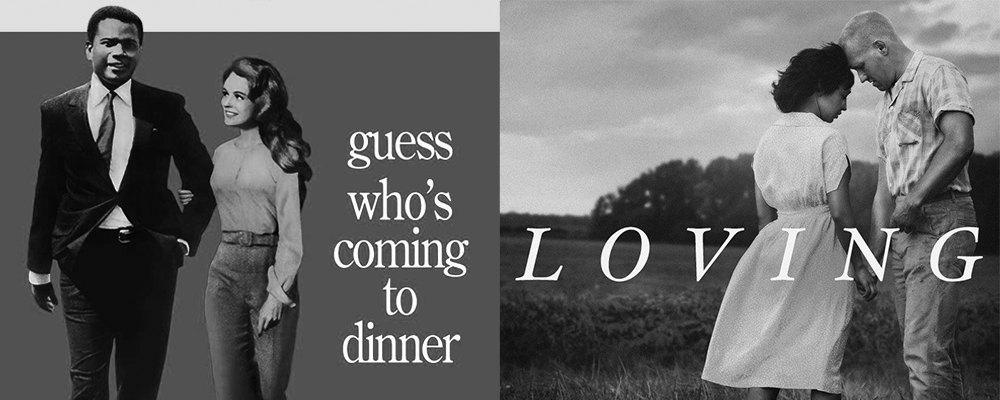 Special Event!
Guess Film Series: Double Feature
Join Court Theatre for a screening of Stanley Kramer's Guess Who's Coming to Dinner (1967) and Jeff Nichol's Loving (2016).
Saturday, April 7, 2018
Logan Center Screening Room, Second Floor (map)
FREE to attend. Come for just one screening, or stay for both!
3:00PM: Guess Who's Coming to Dinner
Spencer Tracy and Katharine Hepburn (who won the Academy Award for Best Actress for her performance) are unforgettable as perplexed parents in this landmark 1967 movie about mixed marriage. Joanna (Katharine Houghton), the daughter of crusading publisher Matthew Drayton (Tracy) and his patrician wife Christina (Hepburn), returns home with her new fiance John Prentice (Sidney Poitier), a distinguished black doctor. Christina accepts her daughter's decision to marry John, but Matthew is shocked by this interracial union; the doctor's parents are equally dismayed. Both families must sit down face to face and examine each other's level of intolerance. In Guess Who's Coming to Dinner, director Stanley Kramer has created a masterful study of society's prejudices.
Tickets for Guess at 3pm

7:30PM: Loving 
In 1958, in the state of Virginia, the idea of interracial marriage was not only considered to be immoral to many, it was also illegal. When Richard (Joel Edgerton, Black Mass) and Mildred (Ruth Negga, World War Z) fall in love, they are aware of the eyes staring at them and the words said behind their backs. It is when they get married, however, that words and looks become actions, and the two are arrested. The couple decide to take their case all of the way to the Supreme Court in order to fight for their love in this passionate and gripping drama that critics are calling "a masterpiece" (Jason Gorber, ScreenAnarchy.com). Learn more about the film.
Tickets for Loving at 7:30pm