Meet Court's New Associate Artistic Director, Gabrielle Randle-Bent

Gabrielle Randle-Bent is in love.
"My love affair with Court has led to a love affair with the South Side of Chicago, and my dream is for this theatre to truly and fully—whatever that means, because I'm not the one who gets to define it—be a reflection of the communities that make this one of the most spectacularly alive places that I've ever been." As Court's new Associate Artistic Director, Gabrielle is uniquely positioned to make that dream a reality.
Randle-Bent was appointed Court's Associate Artistic Director in July. But, for anyone who knows her, this news (while delightful) comes as no surprise. Randle-Bent has been a frequent Court collaborator for many years, having most recently co-directed Court Theatre's production of The Tragedy of Othello, The Moor of Venice with Charles Newell, and she was the dramaturg for Court's productions of Guess Who's Coming to Dinner, For Colored Girls Who Have Considered Suicide / When the Rainbow is Enuf, and Oedipus Rex. She is an integral part of the Court family, and will be a tremendous asset to Court's staff and creative team.
Charles Newell, Marilyn F. Vitale Artistic Director, shares, "It is my great pleasure to welcome Gabby as our Associate Artistic Director. She is an immensely talented artist, and her singular clarity of vision sets her apart in any given room. I am overjoyed that she will be a part of Court's artistic leadership."
Executive Director Angel Ysaguirre echoed Charlie's sentiments. "I am thrilled that Gabby Randle-Bent will join Court Theatre as the Associate Artistic Director," he said. "Gabby was our inaugural Research Fellow, has served as a dramaturg and a director at Court Theatre, and has taught courses in Theater and Performance Studies at UChicago. Her approach to engagement has been instrumental in the programming the theatre does, but also in the foundational ways in which we think of ourselves as a classic theatre company. We are incredibly lucky that she's joining us as a full-time member of our team."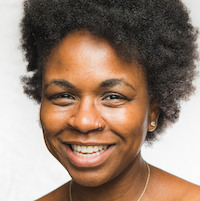 For Gabrielle, this is an inflection point. A moment of change. And a moment to be a part of something bigger than herself. "It is a privilege to be able to invest in a place that has invested so much in me. Being Court's Associate Artistic Director is preparing me to be a leader in our field, and it allows me to be part of a generation of leaders all over this country who're interested in creating beauty from ashes and moving the thing we love forward, rather than just standing back and watching it turn into something we don't. It's an honor to be in this position, to have this responsibility and this challenge. The opportunity to learn from Charlie, the incredible artists and staff at Court, and the faculty collaborators at the University of Chicago is a real gift."
In addition to her work at Court, Gabrielle recently directed The Year of Magical Thinking at Remy Bumppo, and will be directing Eve L. Ewing's 1919 for Steppenwolf for Young Adults. She is a co-founder of the Civic Actor's Studio, a leadership program of the University of Chicago's Office of Civic Engagement, and was featured in American Theatre Magazine's "Role Call: People to Watch."
So, why make her artistic home here? What is it about Court that sparked her love affair in the first place? "Court holds onto the idea that everyday peoples' stories are classic. The idea that, in the everyday, there is the capacity to elevate to something that is timeless, something that is mythical, something that is epic. Our stage, and the people who populate that stage, are able to make the quotidian epochal."
As with the start of all epic love stories, we can't wait to see how this relationship grows.
---
Gabrielle Randle-Bent has a BA in Drama from Stanford University, an MA in Performance as Public Practice from University of Texas at Austin, and is a PhD candidate at Northwestern University whilst being a Senior Lecturer in the Theatre and Performance Studies program at University of Chicago. She will be directing Court's production of The Island by Athol Fugard, John Kani, and Winston Ntshona, onstage from November 11 – December 04, 2022.