In Conversation: Directors Mark J.P. Hood and Charles Newell

Associate Director of Marketing Camille Oswald interviewed Directors Mark J.P. Hood and Charles Newell to discuss the myth and the music of The Gospel at Colonus. Drawing parallels between spirituality and performance, their conversation was a deep-dive into the history of gospel, the evolution of the sound, and the personal journey to redemption.
---
Can you share your history with this production? 
Mark: I'll never forget when I got that first email in 2018 about doing this project. We spoke on the phone for an hour and, from that first conversation, we were basically sure we were going to work with each other; we just somehow knew. As a Chicago native who now resides in Los Angeles, I'm glad to be doing this show here, because Chicago is so rich in gospel culture. The father of gospel music, Thomas Dorsey—although he isn't from Chicago, he migrated to Chicago—brought Southern blues and jazz, and created something here that people hadn't been messing with! He started creating stuff with Mahalia Jackson, all of these people here in Chicago. And we've got such a rich history, even now in 2023—people like Jonathan McReynolds, Donald Lawrence, VaShawn Mitchell, Ricky Dillard & New G, Percy and Jeral Gray. This show deserves to be done in Chicago because of the history that we have with gospel music.
Charlie: I always knew that I wanted to stage Gospel, so the next step was finding a music collaborator who could make it happen. You, Mark, were always this mythological figure that everyone wanted to work with and, after that first conversation, I thought, "Man, would this guy ever do this with me?" You just blew me away. You knew the sound, and what you wanted, so precisely and beautifully. It was something I could have never imagined.
How has the sound of gospel music changed since this production's inception, and what is the role of modern gospel today? 
Mark: The history of gospel music is evolution and, even though gospel has changed, the message is still the same. Now, gospel music not only just shares the Gospel— meaning literally the good news—but it's also a form of inspiration and uplifting. You will leave this show uplifted. There are no "gospel songs" in the show, other than "Lift Him Up," where they sing "cry hallelujah," but the way I've envisioned the show, I want to pay tribute to all generations of gospel music.
I want some things to sound like they're from Albertina Walker and The Caravans, which was from the 1950s and 1960s, and then some things to sound like Donald Lawrence and Company in 2023. Gospel music is that expansive. When I think about the music in the original production, and where gospel music started and where we are now, it has only gone up. 
Charlie: That's so inspiring because doing classic texts, the question we ask ourselves most is, "Why now? What's it got to say about now?" So when you talk about that evolution of the sound, "Lift Him Up" and the refrain "cry hallelujah"—what a powerful way of answering that question of "Why now?" Because of where gospel music itself is going. Gospel honors its history, but at the same time, it meets the present moment and, as you say, continues to evolve; that's what we want to do as a classic theatre. That's why we want to do this production now.
In the Court Theatre space, we have a kind of spiritual exchange between the audience and artists. Thanks to your understanding about the specific sound of gospel in an intimate space, we see the intersection between the Sophocles story and how the Gospel score is fueling that story. If you haven't ever seen it before, you're gonna see one heck of a production in the theatre. We're going to blow the roof off.
Mark: Absolutely. Any song in the show has the potential to be a highlight, but when we get to "cry hallelujah," folks are going to be crying hallelujah!
The passing of knowledge—and in Oedipus's case the passing of curses—from generation to generation is a prominent theme in this production. What does this production teach us about legacy and forgiveness? 
Charlie: The Gospel at Colonus, or Sophocles's play Oedipus at Colonus—the play that Gospel is based on—is this journey of the most accursed man: "I am Oedipus…the accursed" is the line in the text. That legacy of a family curse, that we all have our own versions of, is so hard to change. Here Sophocles is writing this play towards the very end of his life, saying that change is possible. Release from the curse, finding a resting place to be our most pure, authentic, beautiful selves is possible. And the fact that the most accursed person can find that? This is a Greek play that isn't a tragedy.
Mark: I'm all about legacy. I love my parents, I love my family. And I'm a firm believer that most families—most people—have things that have been passed down, good and bad. But I do believe that we can find a resting place, that we can find solace, and that we can break some of those patterns. Truly, if Oedipus can find it and "cry hallelujah," surely we can find it in our own lives. Oedipus has been on this journey to get to Colonus, and us waking up every day and living life—that's our journey. That's our walk.
Charlie: In my case, that family legacy is four generations of Presbyterian ministers. To put it another way: I'm a Preacher's Kid, a PK.
Mark: A PK!
Charlie: I'm not a Presbyterian minister myself, but there is a reason why I'm doing this kind of work. I don't know if you have a reflection about that?
Mark: I've got no desire to be a minister in that way, either, but this is ministry, what we're doing. That's the thing that people get confused by: if you don't know this show, you just think you're coming to a gospel concert, and it's gonna be about Jesus, it's gonna be about God. It's not, but you will feel the spirit in the same way that you'd feel if you went to church on Sunday or however you celebrate or worship. That spirit is still there in our show.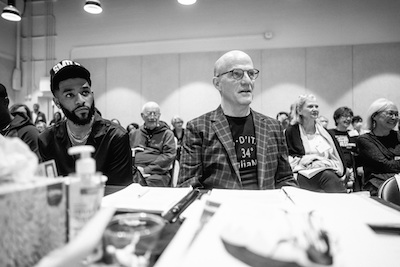 Charlie: Following the spirit of this piece, finding each other and collaborating, and creating this together—this journey feels like we've been endowed with grace. And this is where I do want to honor Nick Rudall, founding Artistic Director of Court Theatre. He passed in 2018 and, like people on that journey between life and death—like Oedipus in this story, like Sophocles when he wrote this play—Nick had this rush of creative energy in the last hours of his life, in which he explained the story to me in minute detail. So Nick's spirit is in the room all the time with us. Honor to him.
Describe this production in three words. 
Mark: Show of possibilities. It doesn't matter who you worship to, or if you worship at all—it's all possible here.
Charlie: I'm just going to go right to the lyrics: lift you up.
Mark: Hallelujah.
---
Additional excerpts from this interview can be seen on our YouTube channel – check them out! Enjoyed this conversation and want to see the production? Tickets for The Gospel at Colonus are on sale now. Runs from May 12 – June 11.