To understand The Gospel at Colonus, one must first understand gospel music.
This distinct musical style is the product of the Great Migration. Starting in the 1910s, African Americans travelled from the South to Chicago, where – in search of spiritual practice – they found themselves alienated and rejected by middle-class, wealthier, "silk-stocking churches" in the city. Their musical traditions of jazz and blues were deemed obscene and devilish, but – as time went on – they gradually earned their place in the Chicago music scene and came to form gospel music as we know it.
"Spiritual songs are unwritten, spontaneous outbursts of emotions back in the days of slavery. Gospel songs come from Spirituals. They are written songs of good news."

– Thomas Dorsey to Studs Terkel
Black worship, Black spirituals, and Black gospel transformed the hymns and anthems that had previously been sung solely from above the neck, offering a vibrant, celebratory, and embodied alternative that irrevocably shaped America's religious – and musical – landscape. Read on for a brief overview of Chicago's gospel history and listen along with this Spotify playlist from WFMT!
Mahalia Jackson: the Queen (1911-1972)
"Gospel music is nothing but singing of good tidings — spreading the good news. It will last as long as any music because it is sung straight from the human heart."

– Mahalia Jackson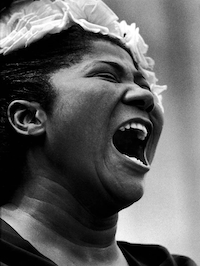 So much can be said about the "Queen of Gospel Song." Jackson was born and raised in New Orleans, Louisiana, where she listened to blues singers Bessie Smith, Ida Cox, and Enrico Caruso. When she was 16, she settled in Chicago and joined the Greater Salem Baptist Church choir. Her voice made her the soloist and earned her national popularity in the 1930s. By the 1950s, America was crazy about her.
Beyond her groundbreaking record sales and her international fame (her rendition of "Silent Night" was one of the all-time best-selling records in Denmark), Jackson's songs were the soundtrack of the Civil Rights Movement. She was the one who said to Dr. Martin Luther King Jr., "Tell them about the dream, Martin!" in Washington, DC in 1963. However, before Dr. King even stepped up to the podium, her performance of "I Been 'Buked and I Been Scorned" might have already brought the crowd of 20,000 people to church. 
In this interview from the Studs Terkel Radio Archive, Mahalia Jackson talks about her relationship to gospel music and how it has shaped her career.
The Birth of Gospel
This 55-minute documentary traces the growth of Chicago gospel, from its roots in the deep South before the Civil War, to its popularity during the Civil Rights Movement, to now. It illustrates the lives of Thomas Andrew Dorsey, the Father of Gospel; Mahalia Jackson, the aforementioned Queen (or Priestess) of the music; and other heroes of Chicago. It also maps out Bronzeville, the Pilgrim Baptist Church, and other city landmarks. Viewing it in the context of The Gospel at Colonus, this documentary adds to the story of blessings, legacy, and catharsis.  
Some highlights of the video are outlined and time-stamped below:
ROOTS OF GOSPEL (4:20)
Pre-Civil War American South: Spirituals

Enslaved people in the American South often spoke different languages, as they were often from different African tribes. However, they could sing – and thus understand – one another. The song leader would start singing, and others would follow.
These enslaved people found their way to Christianity and created a new theology. The pulpits of the enslavers encouraged docility and obedience, but – in their spiritual practice – enslaved people were committed to speaking the truth of Bible.

Post-Civil War: Blues and Jazz

African Americans were legally emancipated from slavery, but still worked as sharecroppers and were strangled by Jim Crow laws. In this context, they started their own churches, in which the blues – along with all music – was considered sacred.
The influential, Black-owned Chicago Defender newspaper inspired the Great Migration, especially to "the promised land" of Chicago. Among the migrants was 17-year-old Thomas Andrew Dorsey, who later became a key figure in the Chicago gospel scene.
EARLY IN CHICAGO (14:03)
Middle-Class Black Churches

The network of African Methodist Episcopal churches welcomed the working-class migrants from the South. Nevertheless, these migrants found themselves at odd with the wealthier "silk-stocking churches" in Chicago. In these spaces, respectability was paramount. Hymns and anthems were sung only by the choir, while the congregation remained silent in their expensive winter fur coats.

"Barrel Houses" vs High Altar

Thomas Dorsey, a blues piano player, had one foot in the church, and one foot in the blues joint. His music was chastised as devilish, and he could only earn a living by playing in bars and parties. But, in times of loss and despair, he always felt a spiritual calling.
ARTISTS ASSEMBLED (35:10)
NCGCC

Despite the middle-class churches' rebuke, people loved the embodied, participatory experience of gospel music. By 1930, a group of gospel singers, the "Dorsey Disciples," assembled around Thomas Dorsey to establish the National Convention of Gospel Choirs and Choruses.
Among these artists were Sallie Martins, Magnolia Butts, Willie May Ford, Roberta Martin, and the aforementioned Mahalia Jackson – incredible female organizers and entrepreneurs.

Mahalia Jackson: the Queen of Gospel

Mahalia Jackson and Thomas Dorsey met in 1928.
GOSPEL CHORUS (40:03)
1931: Rev. J. H. L. Smith from Bermingham, Alabama, became the first migrant pastor at a landmark Protestant Church in Chicago. At Ebenezer Baptist Church, he organized the first gospel choir with Dorsey and Theodore Frye.
1932: Rev. Junius C. Austin, paster of the Pilgrim Baptist Church, joined forces with Dorsey to rid the church of its old "silk-stocking" ways. He invited Dorsey to direct the second gospel choir in Chicago at Prilgrim Baptist Church, while Frye continued directing at Ebenezer. Dorsey stayed and led the choir for 40 years. In that time, Dorsey also wrote more than 100 songs and gospel music bloomed in Chicago.

In that same year, Dorsey lost his beloved wife Nettie and their first-born son in childbirth. He played the piano and sang to express his grief. His personal testimony was captured in his song, "Precious Lord Take My Hand," which debuted at the Pilgrim Baptist Church. This song became the Black anthem of mourning. 

1934: The First Church of Deliverance aired its first service on the radio with a choir of 200 people. Its Midnight Service became an important fixture in Bronzeville's nightlife.
1950s – 70s: Mahalia Jackson expanded gospel beyond the church, and took church to the people.
---
Wenke (Coco) Huang is the Production Dramaturg for The Gospel at Colonus. She graduated from Northwestern University with a BA in Performance Studies and Art History. Born and raised in Beijing, China, she now calls Chicago her second home and will start the joint PhD program in Theater and Performance Studies and East Asian Languages and Civilizations at the University of Chicago in fall 2023. She was the Assistant Director of The Island at Court Theatre. Other credits include Villette at Lookingglass Theatre (Dramaturg), The Garden of the Phoenix for Lookingglass's 50 Wards (Puppeteer), and Seagull at Steppenwolf Theatre (Assistant Dramaturg).