Historical Background, Dramaturgy, and Design

Explore the history behind Oedipus Rex, its dramaturgy, and the design of Court Theatre's production.
Historical Background
About the Playwright

Sophocles was born in 496 BCE, in Colonus, a small village near Athens, Greece. He was one of the three great tragic playwrights, along with Aeschylus and Euripides. Sophocles received an exceptional education and was considered to be handsome, athletic and musically talented, thus giving him opportunities to be actively involved in his community. There are few known facts about Sophocles life, but he is generally assumed to have been wealthy from birth, highly connected to Athens religion and government, and noted for his grace and charm. Sophocles wrote 123 tragedies for the Dionysian dramatic festivals. Playwrights usually wrote four plays for each festival, whereas Sophocles competed about 30 times, with around 24 victories. Alas, only seven of Sophocles's plays survived in their entirety. Sophocles was the first Greek playwright to include more than two actors in his plays, which allowed him to include more characters and conflicts in his plays. Read a more detailed biography of Sophocles here, courtesy of UPenn.

About the Translator

Nicholas Rudall (1940 – 2018) was the Founding Artistic Director of Court Theatre, having led the theatre from 1971 to 1994. He led the growth of Court from a community theatre to a leading professional Equity theatre. In addition to his achievements as an actor and director, Rudall was a Professor Emeritus in Classics at the University of Chicago, where he taught for over forty years. His translations for the theatre—known for their stage-friendly language and "playability"—are myriad and span many languages, but he is best known for his translations of ancient Greek tragedy.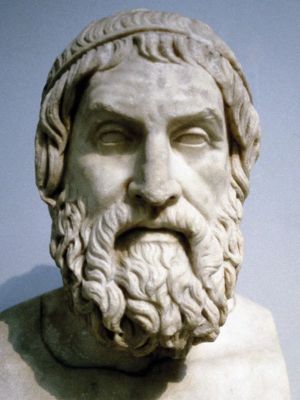 Dramaturgy
The Dramaturgical Team for Oedipus Rex – comprised of Gabrielle Randle-Bent, Emma Pauly, and Ella Wilhelm – compiled and created a number of rich, in-depth articles to offer crucial context and scaffolding for this production. Check them out below!
Lineage and Timelines

Gods, Prophecies, and Curses

Greek Theatre
Design