Court Theatre Receives Nine Jeff Nominations for the 2022/23 Season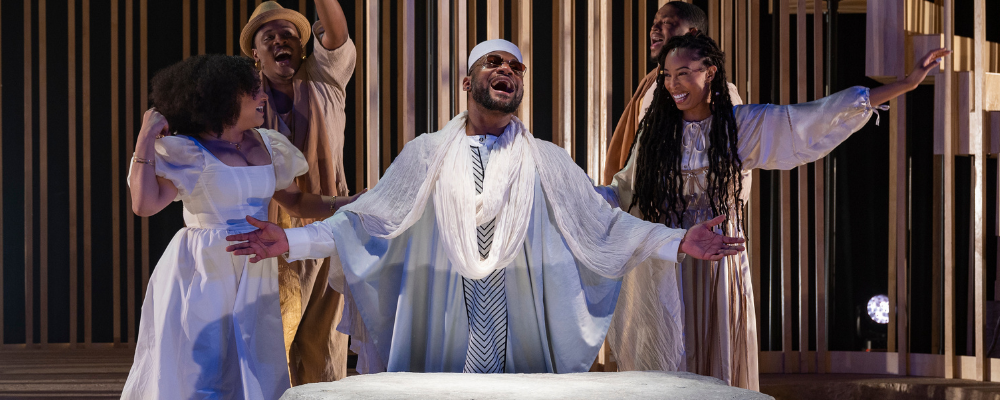 We are delighted and honored to share that Court Theatre has received nine Jeff Award nominations for the 2022/23 season! These nominations are a credit to the actors, musicians, designers, and crews who bring classic stories to life on our stage, and we are proud to work with each and every one of them. Congratulations to all of the nominees!
Each year, the Joseph Jefferson Awards committee honors outstanding Chicago-area theatres and artists. We look forward to celebrating with the rest of the nominees at the 55th annual Jeff Equity Awards on Monday, October 2. The ceremony will be held at Drury Lane Theatre in Oakbrook. More information can be found at www.jeffawards.org.
2022/23 Court Theatre Jeff Award Nominations
Production – Musical (Large)
The Gospel at Colonus
Short Run – Production
The Island
Ensemble – Musical or Revue
The Gospel at Colonus
Director of a Musical (Large)
Mark J.P. Hood and Charles Newell – The Gospel at Colonus
Music Direction
Mark J.P. Hood – The Gospel at Colonus
Performer in a Principal Role – Musical
Kelvin Roston Jr. (Oedipus) – The Gospel at Colonus
Short Run – Performer
Ronald L. Conner (Winston) – The Island
Kai A. Ealy (John) – The Island
Scenic Design (Large)
John Culbert – Arsenic and Old Lace
We'd also like to give a special shout-out to our fellow nominee, Resident Artist Ron OJ Parson, who was nominated for Best Director for Toni Stone and Trouble in Mind.
To the Jeff committee, thank you for recognizing our work; to our collaborators, thank you for your insight, dedication, and creativity; to our audiences, thank you for your unwavering support; and to the Chicago theatre community, thank you for being such an incredible home.
See all of the nominations here, and don't forget to subscribe to the 2023/24 season! Centering timeless themes in strikingly rich interpretations, next season finds the fresh in the familiar with a carefully curated blend of beloved texts and new voices.
Jeff-nominated director, Ron OJ Parson, helms The Lion in Winter; Gabrielle Randle-Bent, director of the Jeff-nominated The Island, brings the Oedipus Trilogy to a thrilling conclusion with Antigone; Jeff-nominated director Charles Newell returns to the Court stage with Rosencrantz and Guildenstern Are Dead; and the final production is the world premiere of Stokely: The Unfinished Revolution. That's quite the lineup!
With packages starting at $37 per ticket, subscribing is the most flexible and cost-effective way to see the season. Learn more →