Court Theatre Honored at the Jeff Awards
We are delighted to announce that Court Theatre received two Jeff Awards. Held on Monday, October 2 at the Drury Lane Theatre, the 55th annual Jeff Awards was a spectacular celebration of the creativity, innovation, joy, and resilience of the Chicago theatre community.
The night featured performances from this year's most memorable productions, including The Gospel at Colonus. The Gospel cast graced the stage after closing their successful run at the Getty Villa in Los Angeles just days prior, and they brought the house down!
Congratulations to all the nominees and awardees, and thank you for another season of tremendous work. We are so proud to be part of the vibrant Chicago theatre community. A full list of awardees can be found here.
2022/23 COURT THEATRE JEFF AWARDS
Short Run – Production
The Island
Ensemble – Musical or Revue
The Gospel at Colonus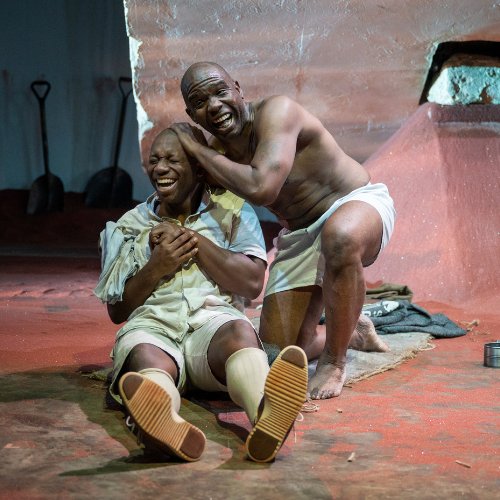 In her acceptance remarks for Short Run – Production, Associate Artistic Director and Director of The Island Gabrielle Randle-Bent said: "Thank you so much to the Jeffs committee, to Charlie [Newell], to Angel [Ysaguirre], to everyone at Court. Being honored for a production is an extraordinary honor for a director, an Associate Artistic Director, for a theatre, because it means the people you can't see are the ones who have made this possible…Thank you for honoring the people you can't see and, in a short run, maybe you all didn't get to see this production, but you can come see Antigone!"
Speaking on behalf of The Gospel at Colonus cast for their Best Ensemble – Musical or Revue win, Shari Addison – who played the Choragos in Gospel – shared: "To our directors – Charlie Newell and Mark J.P. Hood, this phenomenal cast, just an amazing group of people who came together and left it all on the stage every night. We didn't prepare a speech, but…it speaks for itself! We are here and we are grateful."
To the Jeff committee, thank you for recognizing our work; to our collaborators, thank you for your insight, dedication, and creativity; to our audiences, thank you for your unwavering support; and to the Chicago theatre community, thank you for being such an incredible home.