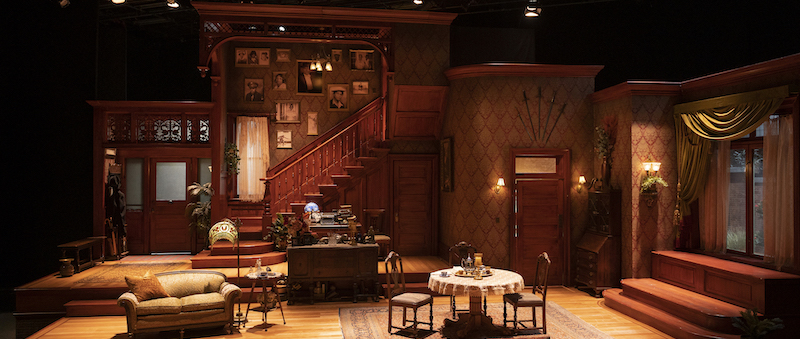 "The show is worth attending just to see the gorgeous multilevel set design by John Culbert (it was so interesting listening to other members of the audience ooh and aah about the beauty of the set even before the show began)." (Around the Town Chicago)
Almost every single review of Arsenic and Old Lace thus far has mentioned John Culbert's impeccable set – and can you blame them? Culbert worked with Court's Props Master, Lara Musard, to create a functional Victorian abode that is simultaneously homey, aesthetically pleasing, and perfect for a farce (complete with nooks and crannies to hide dead bodies).
Eagle-eyed audience members will notice that, on the back wall of the Brewster sitting room, is a series of photos. What those audience members may not realize is that those are photos of actual people – in fact, they're people from cast members' families!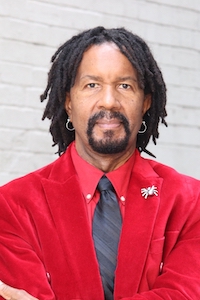 In the first rehearsal for Arsenic and Old Lace, Resident Artist and Director Ron OJ Parson explained the thought process behind this design choice. "We see the legacy of the house in the stuff that's there, some of the things in that house are from previous generations. So those lives are represented. The previous life of the house, and the previous lives of these relatives, becomes a part of the play itself. That spirit."
Cast member Allen Gilmore (Mr. Gibbs/Lt. Rooney; left) was kind enough to take us on a tour of his family history represented onstage. Honor the legacy of the cast's nearest and dearest, and learn about the lives that make up the spirit of the Brewster home!
---
Grandmother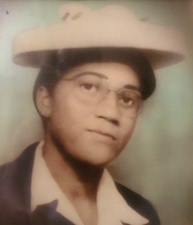 My grandmother, Mabel Elizabeth McGowan, was the 5th of 17 children born to school teacher/farmer George W. McGowan in Coldspring, Texas on August 10, 1904.
She graduated from Colored High School in Coldspring and dedicated her life to raising and educating her six children.
She was an excellent seamstress and would do sewing for family and friends. She died in Houston, Texas Oct. 3, 1946. This photograph was made in 1943.
Grandfather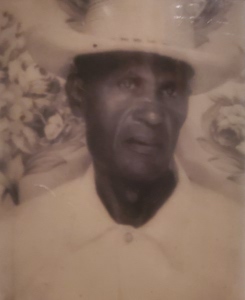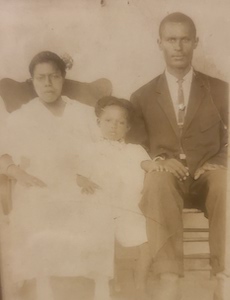 My grandfather, Charlie David "Dave" Walker, was born in Huntsville, Texas on January 19, 1888. He was called "Honey" by friends and family because he was so handsome. He relocated to Cold Spring, Texas as a teen and lived there as a land owner and farmer until his death on May 17th, 1963. He was one of 30 children born to his father, Jim Walker, who had 3 wives. The photo on the left is from 1921; it's 101 years old.
Mother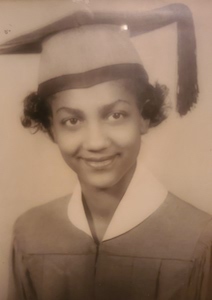 Lena Mae Walker (Gilmore) is my mother. She was born in Camella, Texas on May 31, 1933. She was the fifth of seven children born between the fruitful marriage of her mother, Mabel, and her father, Dave. When her parents divorced, she moved with her mother to Houston where she was raised. She graduated from Phyllis Wheatley High School (Go Wildcats!) – this is her senior year photo. After high school, she went to college at Texas Southern University (Go Tigers!), graduating with a major in French and a minor in Spanish. She taught languages at the high school level, then returned to TSU for her graduate degree in Guidance and Counseling. She worked as an attendance teacher for the remainder of her career in the Houston public schools district. She is retired and loves to travel, visiting family across the country and seeing nearly all of her son's plays.
Father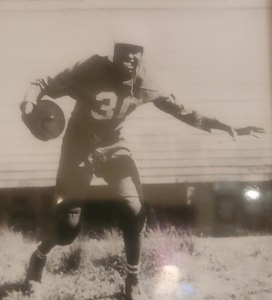 Dad was the 4th of 10 children born to Chester Allan Arthur Gilmore and Barbara Earl (McKinney) Gilmore. Dad's full name is Gerald Allen Gilmore, but he was always known as "Jerry". He was very gregarious and outgoing. He had been an athlete in high school and college, and he pined to be a professional baseball player in the Negro Leagues. He was born in Brenham, Texas on July 26, 1932. Shortly after, his family moved to Silsbee, Texas where he grew up. He graduated from Frazier Matthews High School, and this photo was taken during his senior year. He then went to Texas Southern University (Go Tigers!) in Houston where he met, dated, and married my mom, Lena.
On graduation from college, Jerry joined the US Army as a paratrooper and he served as a First Lieutenant in the Korean War. Returning to Houston, he became a high school ROTC instructor and later became an insurance executive with The Equitable Agency, eventually opening his own insurance firm. He and Lena raised 3 children: my sister, Cheryl, myself, and my brother, Craig. Jerry Gilmore passed away on September 3rd, 1988.
Aunt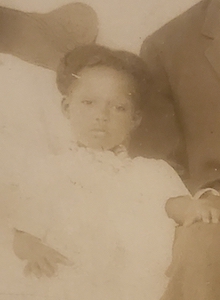 Ruby Walker, my aunt, was the only child born to Mary and "Dave" Walker in Coldspring, Texas in 1917. She graduated from St. Mary's College and taught school, before marrying Jehue Ellis. After her marriage, she became a housewife and mother to one son. Ruby died in New Iberia, Louisiana in 2005.