Behind the Scenes: Scenic and Costume Design of ARSENIC AND OLD LACE

What sets theatre apart, as an art form, is the delicate balance of live performance and technical mastery; the work of performers and designers interact in real-time to create a comprehensive audience experience. There's no editing. There are no digital effects. Every set piece, costume, or prop you see on stage is as real as the actors themselves. And every piece contributes to the larger story.
In fact, the set and the costumes of a given production are as crucial as the characters. Where a play takes place – what that location is like – shapes characters' circumstances, and how characters dress tells us who they are or who they want to be. Both are incredibly useful tools to subtly (or sometimes not-so-subtly) convey information to an audience. And Arsenic and Old Lace is no exception.
During the first rehearsal of Arsenic and Old Lace, scenic designer John Culbert and costume designer Rachel Anne Healy shared their process, research, and inspiration with the cast and creative team. And now we get to share it with you! Read on for an exclusive behind-the-scenes overview of the set and costumes of Arsenic and Old Lace, and how they shape this beloved, macabre comedy.
Costume Design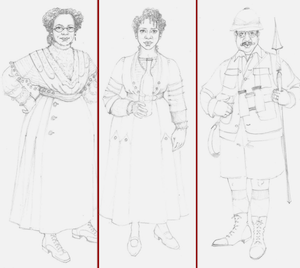 Rachel: When I was thinking about the costumes, I started by thinking about the time period we're in. The play is set at the end of the 1930s or the early 1940s, but the Brewster sisters and their nephew, Teddy, dress from a much earlier era, which actually makes sense! They're hanging onto what was an amazing time for their family, they had an amazing life, so I'm hinting at that through their clothes – they'll be wearing some beautiful pieces from that earlier period.
So we have the nineteen teens, that's where the Brewster sisters are pulling their clothes from. Teddy Brewster is dressed for a little bit later than that, but he's still holding onto some of the iconic looks of Teddy Roosevelt (who's referenced frequently throughout the play). There's a safari look. He's clearly been looking at pictures and has copied it exactly.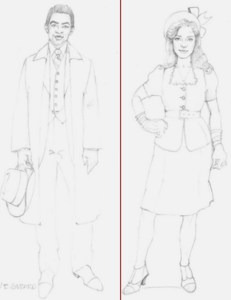 We have Elaine Harper. Ms. Harper is about to be engaged, and she's the epitome of the "girl next door", except she lives in the church next door. We also have Mortimer Brewster, aptly named. He's a dashing theatre fellow, so they're both dressed to go to the theatre in Act I.

The middle Brewster nephew, Jonathan, was originally played by Boris Karloff, but now it's being played by A.C. Smith. So, we're going to do some really good makeup to represent all of the plastic surgery that's discussed in the play.
The trick is that the family doesn't recognize him, he's on the lam, and he's trying to hide a body, so plastic surgery is his disguise to get out of this tricky spot. He'll have some visible scars and shading to make him look monster-like.
And then we have the various different gentlemen whom the Brewster sisters help find peace! [laughs]
The fun of this play is that everybody in the world believes who they are – nobody doubts it. Which is amazing.
Scenic Design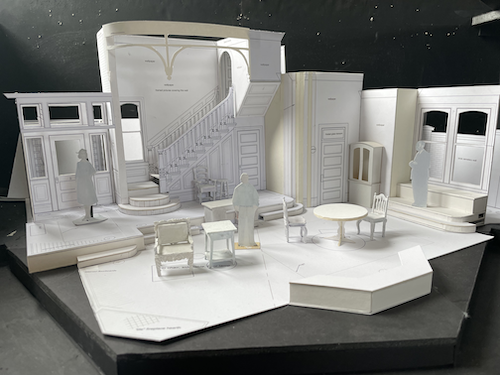 John: This show is atypical for the type of show that I typically design, because it's a room. It's architectural. It's a house. It's a literal space. And, as you all know, in the world of the play, you need a lot of specific things: you need a basement door, a kitchen door, a window you can climb into from the outside and fit a body through, a window seat that you can fit a body in, a staircase, and a front door. There are a lot of specifics needed to make the action of this piece work. That's one layer of "solving" that needs to happen – how do you fit all of those things into the space in a way that allows for actors' movement, and in a way that the audience can see?
Another layer is, of course, the context of the house itself. It's a Victorian house that the Brewster sisters have been living in for a very long time. The house was built somewhere around 1850 in Brooklyn and, when I think of a house in Brooklyn in that period, my first thought is that this is a townhouse. But when you read the play and learn more about the set-up – there'a cemetery next door, they're next to a church, and they have to be able to access the back of the building – that leads to the conclusion that this is actually a freestanding house, not a townhouse. And that makes sense, period-wise, given that the house was built many years before the play takes place.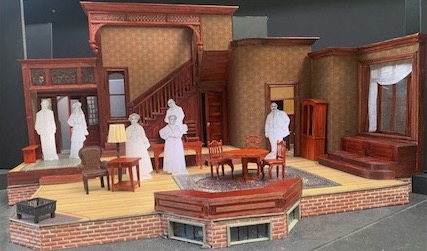 The other cool thing about this house – which you'll see reflected in the model – is that it's a sculpture in the theatre. All of the walls are different heights to create a space that's representative of a room without literally being a room. It's also not symmetrical, and that's for a few reasons: one, so the audience can see everything and still get a sense of architectural reality, and two, it makes the space more dynamic and lends a certain energy.
Then, we get into the specifics of all the stuff in this room, and that's where we can have a lot of fun with storytelling through props.
Ron OJ Parson: I can add something to that. We see the legacy of the house in the stuff that's there, some of the things in that house are from previous generations. So those lives are represented. The previous life of the house, and the previous lives of these relatives, becomes a part of the play itself. That spirit. I always like to include the spirit of a space, so we can get a sense of where our characters are coming from. It breathes life into the play.
Pay the Brewster home a visit, and see these costumes and set pieces in person. Don't miss Arsenic and Old Lace!
---
Joseph Kesselring's Arsenic and Old Lace is on stage at Court Theatre from September 2 – October 2, 2022 → Get Tickets.