Kelvin Roston Jr. Embodies Another King in Oedipus Rex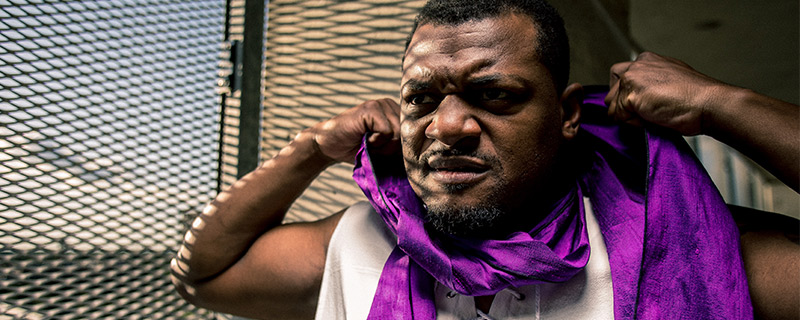 Fresh off his critically-acclaimed turn as Hedley in King Hedley II, Kelvin Roston Jr. will bring another "king" to life in Sophocles' Oedipus Rex. Oedipus Rex is the first production in Court's Oedipus Trilogy, tracing Sophocles' themes and characters over the course of three productions (Oedipus Rex; The Gospel at Colonus; Antigone) with an overlapping team of actors and artists. In Oedipus Rex, Roston will have the opportunity to tackle one of the most iconic roles in classic drama: King Oedipus.
Audiences who enjoyed King Hedley II will find exciting parallels in Sophocles' seminal tragedy. The Chicago Tribune describes Wilson's take on life in Pittsburgh in the 1980s as a Greek tragedy in and of itself. Jones writes that "the title character in Hedley II is a desperate mix of passion, determination and resentment. He's an Oedipus-like character trapped in a cycle play of his own, desperately trying to grow some new roots and escape but ultimately thwarted not just by the previous generations of his own family but by the America whence his ancestors were brought on fear of violent death." Oedipus Rex puts similar issues of fate, free will, and identity on powerful display in a dauntless translation by Court's founding artistic director, Nicholas Rudall.

In Oedipus Rex, Kelvin Roston, Jr. will further explore the Greek undercurrents he began to tap into in King Hedley II, again captivating audiences with raw emotion and sheer force of will. As Chris Jones writes in the Chicago Tribune, "Roston has a growing reputation in Chicago and New York; he's a deeply empathetic actor whose take on King is completely different from what I have seen before." Kelvin will assuredly provide this same insight and intensity in his performance as Oedipus, making Oedipus Rex and the remainder of The Oedipus Trilogy the theatrical event of the season.
---
Oedipus Rex begins November 7 | Tickets and Information