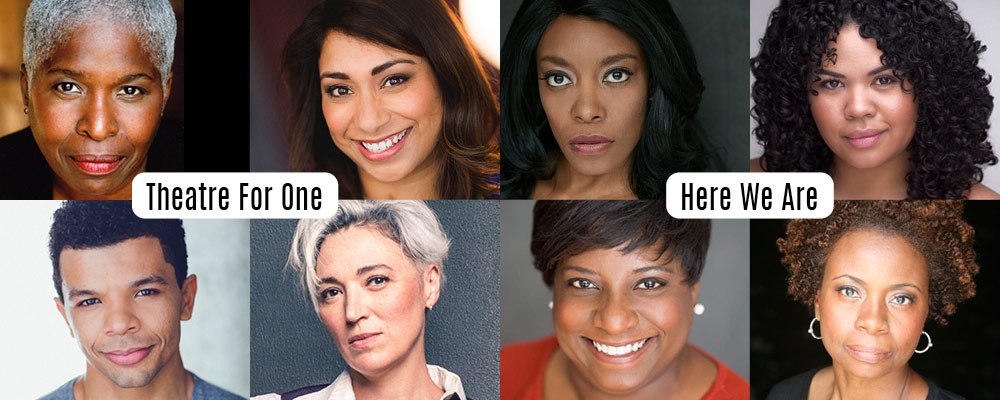 A ONE OF A KIND DIGITAL THEATRICAL EXPERIENCE
Theatre for One:
Here We Are
Feb 18, 2021 — Mar 14, 2021
Tickets are sold-out.  
Theatre For One: Here We Are is a live digital theatrical experience that brings together one actor and one audience member. Theatre-goers will experience one of eight new microplays written and directed by Black, Indigenous, and Women of Color.  A laugh shared with a stranger, a world created by imagination, a soul nourished through storytelling: these are things only theater can accomplish. Following its critically-acclaimed run in New York, Court Theatre brings these eight stories to life with Chicago actors to offer audiences a deeply personal and provocative theatrical experience that breaks the boundaries of digital theatre. 
While Theatre For One: Here We Are is inspired by the pandemic; the 100th Anniversary of the ratification of the 19th Amendment; and the Black Lives Matter, We See You WAT, and other movements fighting racism, the Here We Are writers have contributed works that span a spectrum of ideas and points of view. Theatre For One elevates a vibrant chorus of voices creating deeply personal works that resonate in this shared moment.
SCHEDULE: February 18 – March 14, 2021
Thursday and  Friday at 7:30pm


Wednesday, Saturday and Sunday at 2:00pm and 7:30pm

TIME: Each reservation will last 15-30 minutes 
TICKETS: A block of free tickets will be released each week on Thursdays. You must reserve tickets in advance and will see one of the eight plays.
ONLINE: The performance is completely online. You will need a desktop or laptop computer with a working webcam and microphone (tablets and phones are not supported). Google Chrome is strongly recommended.
RATING: Content of microplays range from a rating of PG to R, based on language.
LIVE PERFORMANCE: The actor will be able to see and hear you during the performance. This is not a recording. Be respectful. Anyone who is not will be removed.
Theatre For One: Here We Are is made by many:
Creator and Artistic Director: Christine Jones
Co-Artistic Director for Here We Are: Jenny Koons
Platform Programming & Design by Open Ended Group—Marc Downie & Paul Kaiser
Originally produced by Octopus Theatricals—Mara Isaacs, Executive/Creative Producer
Here We Are was commissioned by Arts Brookfield with additional support from Thomas M. Neff
Microplays:
The creative team includes Erica Friesen (costume designer), Emily Brown (lighting designer), Lara Musard (properties designer & chatroom curator),  Jennifer Gadda (production supervisor), Bryan Hunt (Theatre For One production supervisor), Sarah Curran (Curatorial Consultant, Experimental Performance Initiative at University of Chicago), Joshua McCammon (technical supervisor), Cherie B. Tay (tech consultant), SRĐA (Theatre for One artistic consultant), and Erin Albrecht (production stage manager).
Produced in partnership with the Experimental Performance Initiative at the University of Chicago.
The Chicago premiere is supported by the University of Chicago Women's Board, Allstate, De and Paul Gray, and The Chicago Community Trust. 
Photos