Getting ready for the premiere of our production of Owen McCafferty's Titanic (Scenes from the British Wreck Commissioner's Inquiry, 1912)? As you prepare to view the play, which will be performed and filmed on Court's stage and made available to stream on-demand digitally, you may find yourself wondering how our design team created such a beautiful set during a global pandemic. Well, you're in luck, because scenic designer Arnel Sancianco was gracious enough to share some insight into his process. Check out his statement and some accompanying pictures below!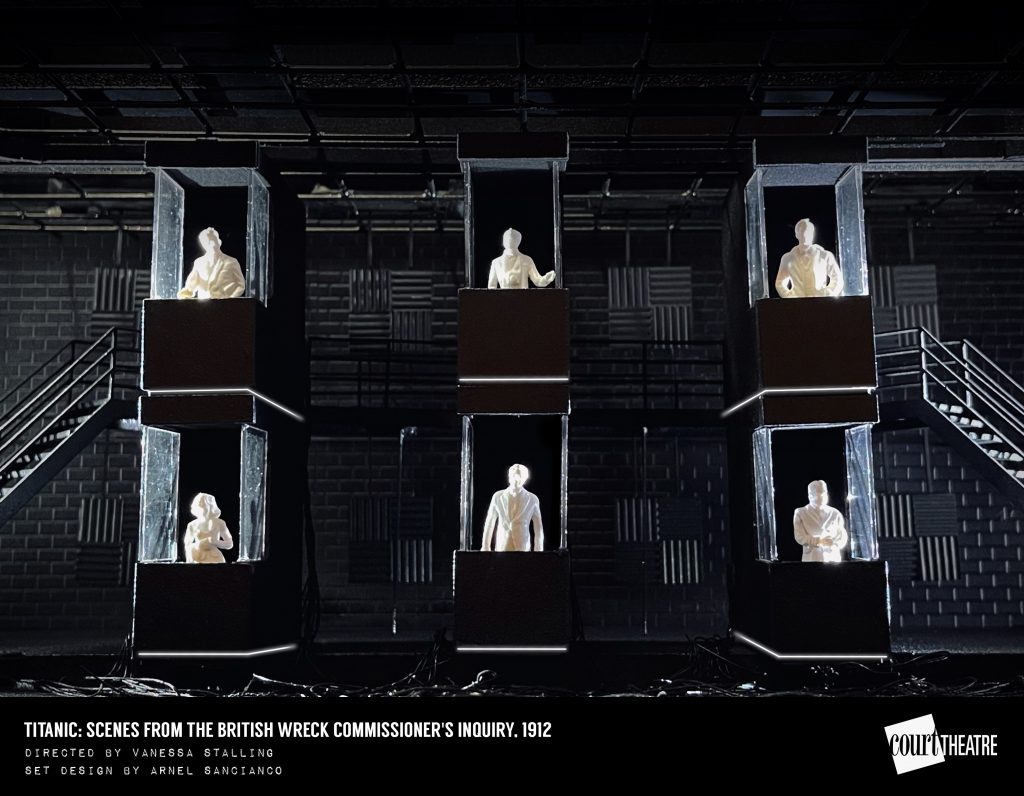 From Arnel Sancianco: The design voyage of Titanic has been quite the odyssey. Designing during a pandemic is quite challenging as we tried to navigate schedule shifts and safety protocols. Our #1 priority was everyone's safety, both on and off stage. 
Our initial design was a great exploration of these audio pods for each witness or lawyer. Vanessa's driving force for the production was giving audiences an auditory, almost podcast-like experience. So, this array of pods created this visual track list of actors with cables spilling out of their booths and connecting to headphones that the audience would wear or plug into. But as COVID cases spiked in the winter, we pulled the plug on this design and pursued a digital streaming experience. 
The Titanic disaster serves as a perfect metaphor for our current pandemic. What happens when danger approaches and we do nothing? Who's responsible for the deaths of thousands when we could've easily steered away from disaster? Who gets to dictate who lives and who dies in times of crisis? With that in mind, we decided to embrace the safety protocols and put them on full display. We wanted the space to reflect what it takes to put on theatre and what the handling of this pandemic has forced us into. There are lines and messages on the floor dictating where a mask is required. There are stencils measuring out 6-foot distances. We even chose to use the empty seats of the house as our backdrop so that we recognize not just the missing audiences, but the missing people who've passed because of this disaster. Rather than making the performance a standard recorded filmed experience, we decided to arrange the screen in a way that allows the viewers at home the opportunity to choose where to look. They can look above the set, they can focus in on just the commissioner—it's almost as if you are a member of the jury as you experience the testimony in real time.
---
Titanic (Scenes from the British Wreck Commissioner's Inquiry, 1912) will be available to stream from June 14 to July 11, 2021. Can't wait to see the performers in this piece? Find out more about the production here!