Molière 1663: Comedy in Question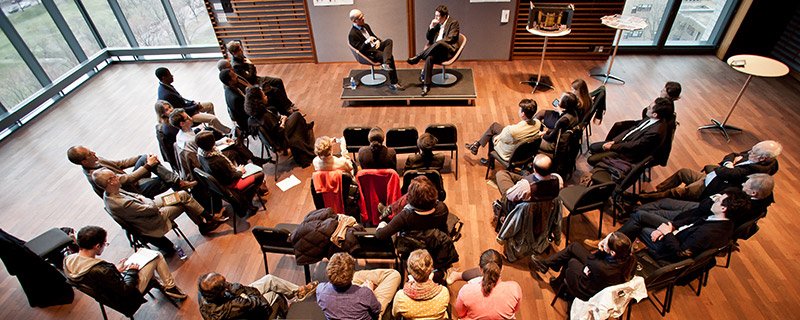 On the ninth floor of the Logan Arts Center, in the appropriately named Performance Penthouse overlooking the Midway Plaisance, a group is gathered, casually affluent and talkative. "Hello, Charlie," says Gérald Garutti in a peculiar brogue that's about seventy percent French and thirty percent English. Seated next to Court Theatre Artistic Director Charles Newell on a makeshift stage, the moderator acquired his appealing voice from a life lived in France and a year studying abroad at the University of Cambridge in England. If you perceive a creeping Chicago twang, that is a result of his three years spent as Professor of Western Civilization at the University of Chicago, the campus on which we, today, listen to the artists who partake in Court Theatre's Molière Festival.
Garutti's unique range of international experience positions him as a fine conversation leader during "Molière 1663: Comedy in Question," bringing together scholars from all over the world for two days of celebration and discourse on the work of Jean-Baptiste Poquelin, aka Molière, the most famous French playwright in history. In the minutes before this lecture, "Molière Today: Exploring Court Theatre's 2013 Molière Festival," I can hear warm chatter in fluent French, British dialects, and familiar American colloquialisms. The broad array of cultural perspectives will be diverse and divergent, though respectful and informed. Newell eagerly replies to Garutti's prompting, "Let's go."
Several actors from Tartuffe and The Misanthrope are on hand to discuss the productions: Kamal Angelo Bolden, Grace Gealey, Allen Gilmore, and Patrese D. McClain, alongside Ron OJ Parson, who acts as an advisor to Newell, and Drew Dir, Court Theatre's Resident Dramaturg. Put yourself in the artists' shoes for a moment, and imagine being a Frenchman lecturing to an American crowd about Eugene O'Neill. Très intimidant! Court's Artistic Director certainly feels that pressure. Newell, quite charmingly, prefaces a few of his answers with language to the effect of, "Well, I'm not as smart as you, but…" Late in the conversation, Garutti finally exclaims, "Stop saying you're not smart enough! You've directed thirty shows!"
Clearly, another valued division between people in this room is that of the scholar and artist. Garutti is both, having been the dramaturg at the Comédie-Français, a French theater dating back to Molière's time, and the Artistic Director of la compagnie C(h)aracteres, a Parisian troupe. In that regard, he is very much the room's cultural and disciplinary lingua franca. At this conference, the scholars appreciate the creativity and personalization the artists bring to the table and the artists lean on the scholars' wealth of knowledge. Everyone is thrilled to hear about Newell's take on the works.
Newell will often say that his theatrical specialty and passion is French Baroque. In fact, he began his professional directing career in Chicago with a Jeff Award-winning production of Pierre de Marivaux's The Triumph of Love, and has been, himself, in love ever since. Garutti begs of Newell details about his special affinity for Molière. It all began during his time spent in the mid-1980s at the Guthrie Theatre in Minneapolis as an assistant director to then Artistic Director Garland Wright. In 1987, Newell assisted the man, known as a mentor to many, on a production of The Misanthrope that "went much deeper" than anything that came before it. Rather than giving into the powered wig, madcap mania that has evolved to be the trademark of Molière's plays, Wright's, set ten years before the French Revolution, explored the impossibly high stakes of the play. Newell calls it "dangerous comedy" and hopes to emulate those high stakes again with this duo of plays.

The moderator is particularly interested in the way the productions were cast. Both Tartuffe and The Misanthrope are nearly all African American outside of Erik Hellman (playing Alceste in The Misanthrope and Laurent in Tartuffe) and Philip Earl Johnson (playing Tartuffe). "This is very unusual that we cast this company in the way that we have," says Newell.
McClain notes that black women in classic plays are often resigned to the maid role, using the Nurse from Shakespeare's Romeo and Juliet and Margaret from Much Ado About Nothing as examples. The audience mutters in agreement. Assuming this to be the case once again, she prepared minor roles from The Misanthrope ahead of her audition. But Newell had a different plan, and asked the actress to read for Elmire in Tartuffe, the role she would eventually be cast in. Gealey, however, approached her audition more brazenly. "When I auditioned for this, I went for Célimène." She'd been up for the role three times before for different productions, but never clinched it. The biracial actress is pleased to be a part of Court's production, and craves bringing her own rich life experience to the role. "I am not black alone, I'm not white alone. That's something I've had to embrace about myself. Playing Célimène is really freeing for me. It's tantalizing because she really does have a place. She has everyone else be confused and unsure. She's the pinnacle."
Allen Gilmore recalls his experience playing the title role in Cyrano de Bergerac at Court, and his presence as the long-nosed jack-of-all-arts forced an audience used to José Ferrer and Gerard Depardieu to take a new look at an old play. "We just want you to look at the play from a different perspective. We are still human beings and these are still plays about human beings." An unexpected and sublime moment comes when Gilmore reads, off-book, a scene from The Misanthrope in which he plays Arsinoé, a treacherous, spidery friend of Célimène. Of course, Arsinoé is also a woman, a boldfaced challenge for an actor who played Turnbo in August Wilson's Jitney earlier this season. "It was never my intention to play Madame Pernelle. I wanted to audition for Arsinoé. From what I understand, Charlie was pretty taken aback by that one," says Gilmore. Newell quickly jumps in, "I wasn't taken aback! I was like, 'Really!? He'd do that?!'"
Gilmore surprises the audience by informing us that Arsinoé is one of his "bucket list roles," and after reading aloud a section with Gealey in a voice he called, "a sensible bevel," the tickled audience could easily see why. Unlike the twenty-two-year-old Bailiwick Repertory production of The Misanthrope, wherein all of the characters were made into gay men, Gilmore is playing the role resolutely as a woman. In the same vein as the casting of African-American actors in traditionally white roles, casting a man as a woman is another way of embracing the versatility, malleability, and transformative quality of these impeccable performers. As Gilmore read the scene, only four days into the rehearsal process, the audience laughed not at a male actor's feminine affectations, but at his cutely cruel insults.
Usually one thinks of the scholars, the bookworms, as the traditionalists: the folks who prefer to be content with the past rather than push the boundaries of the future. This conference shatters that stigma. The moderator and audience members are intrigued and pleased by the diverse casting and Newell's period-non-specific approach to the Molière's plays, so treasured in France. One woman in the crowd expresses particular satisfaction with a male actor playing a female role because it's a marriage of the old and the new. What's totally edgy for us today was traditional in France during Molière's lifetime. Maneuvers like that are very much the spirit of Newell's approach to his work at Court Theatre. "The world's changed and I've changed," but the play adapts and takes on new meaning. "And isn't that the definition of a classic?" ◼
Photos by Joe Mazza. View more photos of the 2013 Molière Conference at the University of Chicago.