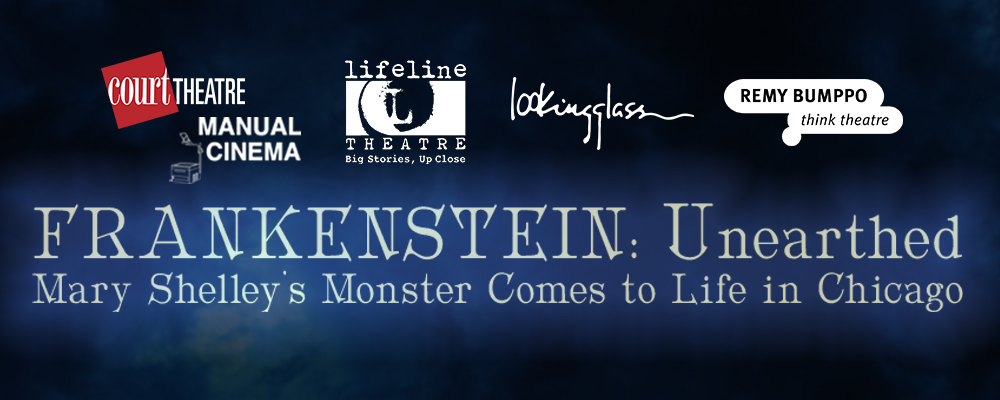 Court Theatre and Manual Cinema, Lifeline Theatre, Lookingglass Theatre Company and Remy Bumppo Theatre Company are collaborating together on FRANKENSTEIN: Unearthed, a one-night-only event exploring the four productions of this classic tale coming to Chicago stages during the 2018-2019 season. In celebration of the 200th Anniversary of the first publishing of Frankenstein, Mary Shelley's monster comes to life in Chicago this season with four distinctive theatrical productions.
Artists David Catlin and Cordelia Dewdney (Lookingglass Theatre Company), Sarah Fornace (Manual Cinema), Ian Frank and Eliza Stoughton (Remy Bumppo Theatre Company), and Robert Kauzlaric and Ann Sonneville (Lifeline Theatre) will answer your questions and more in a conversation lead by Chicago Tribune critic Chris Jones. Come learn about the vision behind each Frankenstein adaptation and experience a preview performance of each show!
Get tickets!
Related Events
Manual Cinema's FRANKENSTEIN Halloween Party

On October 31, be the very first to experience Manual Cinema's world premiere production of Frankenstein at their final dress rehearsal. Before the show, partake in a frightfully fun Halloween party hosted by the caped and cursed at Court Theatre.
Manual Cinema's FRANKENSTEIN

Love, loss, and creation merge in unexpected ways in this thrilling classic gothic tale. Stories of Mary Shelley, Victor Frankenstein, and his Monster expose how the forces of family, community, and education shape personhood—or destroy it by their absence.