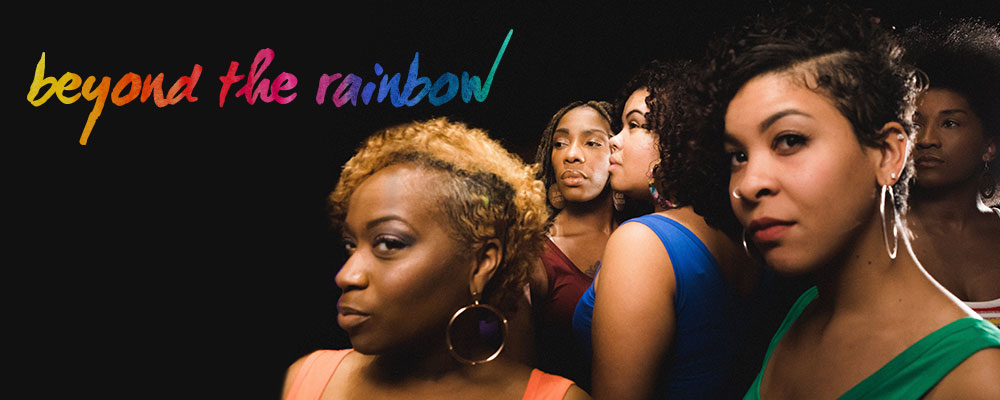 Curated, community-focused events
beyond the rainbow: Court Community Conversations
Mar 14, 2019 — Apr 13, 2019
In conjunction with our production of Ntozake Shange's For Colored Girls Who Have Considered Suicide / When the Rainbow Is Enuf, Court Theatre is presenting beyond the rainbow: Court Community Conversations, a series of curated, community-focused events allowing participants to engage with the themes in Shange's work in a variety of ways.
---

a laying on of hands: An Opening Ritual | March 14 from 5:30 – 7:00pm | McCormick Theological Seminary (5460 S University Ave, Chicago, IL 60615)
An opening ceremony preceding our first preview with spiritual leaders from the South Side in partnership with McCormick Theological Seminary and the Lutheran School Theological Seminary. Led by Stephanie Crumpton and Lis Valle. Free and open to the public. Register online →
---

phrases of womanhood: Dramatists Guild Panel | March 24 at 4:30pm | Court Theatre (5535 S Ellis Ave, Chicago, IL 60637)
Five female playwrights of color discuss Ntozake Shange's influence on their work as female playwrights of color in a post-play panel moderated by Tracie Hall of the Joyce Foundation. Featuring the following playwrights from the Dramatists Guild: Gloria Bond Clunie, Lydia Diamond, Masi Asare, Loy Webb, and Tsehaye Geralyn Hébert. Free and open to the public.
---

sing your song: A Night of Personal Stories | April 1 at 7:00pm | Court Theatre (5535 S Ellis Ave, Chicago, IL 60637)
Performers share their stories on the set of For Colored Girls, celebrating original work and personal anecdotes about the play. Featured artists include Emily Hooper Lansana, Ann Douglas, Kristiana Rae Colón, and Kemati Porter. Free and open to the public. Register online →
---

there wuz no air: A Community Conversation | April 5 at 9:15pm | Court Theatre (5535 S Ellis Ave, Chicago, IL 60637)
A post-show panel featuring leaders from men's and boys' groups to discuss their role as allies to women. Free and open to the public.

Presented in partnership with the University of Chicago Office of Multicultural Student Affairs.
---

Spotlight Reading Series: A Tribute to Ntozake | April 8 at 6:30pm | Experimental Station (6100 S Blackstone Ave, Chicago, IL 60637)
A reading of Shange's play, Boogie Woogie Landscapes, about the dreams and memories of a young, black woman as part of Court's Spotlight Reading Series. Free and open to the public. Learn more →
---

Exelon South Side Youth Performance Fest Presents "FCGirls Project" | April 9 at 7:00pm | Court Theatre (5535 S Ellis Ave, Chicago, IL 60637)
The second act of the annual Exelon South Side Youth Performance Fest will be dedicated to student work engaging with For Colored Girls as part of Court's FCGirls Project. A post-show reception at the Smart Museum of Art will include catering by Piccolo Mondo. Free and open to the public. Learn more →
---

loving her fiercely: A Day of Wellness for Women of Color | April 13th from 11:00am – 4:00pm | Young Building Room 106 (5555 S. Ellis Ave, across from Court Theatre!)
Meditation, art, and wellness techniques combine for this event for women of color, featuring massage, reiki, and a vendor fair of female-run businesses including custom jewelry designed by K-Fleye and inspired by For Colored Girls. This event in partnership with A Long Walk Home. Free and open to the public. 
11am | Yoga Session with Yogi Michelle Young | Register online →
12pm – 4pm | Open Calm Room
Featuring meditation, reiki energy work, and massage | First come first served
6pm | Lobby Wellness Vendor Fair
Featuring K-Fleye Customs, Island Indulgences, Eat Thrift Love, and Happiness in Perfect Skin
9pm | Wellness Panel Community Conversation
Featuring Dr. Angela Mahome and Dr. Adia Gooden from UChicago Counseling Center, and Scheherazade Tillet from A Long Walk Home

A LONG WALK HOME is a Chicago-based national non-profit that uses art to empower young people to end violence against all girls and women. ALWH, has main two programs, an award-touring multimedia performance Story of a Rape Survivor (SOARS) that documents one woman's healing journey as a survivor from college rape. SOARS is a cutting-edge theatrical experience that stars a diverse cast of women, combining photographs, dance, spoken-word poetry and music as a way to educate the public about healing from sexual violence. Girl/Friends Leadership Institute is a yearlong artist-activist program that trains girls and young women of color to embrace their voices, cultivate their vision, and advocate for gender and racial equality in their schools, communities, cities, and our country-at-large.
---

visual art: SOLIDARY & SOLITARY: THE JOYNER/GIUFFRIDA COLLECTION | Through May 19 | SMART Museum (5550 S Greenwood Ave, Chicago, IL)


Solidary & Solitary tells the history of art by African-American artists, with a particular emphasis on abstraction, from the 1940s to the present moment. That story is a complicated one, woven from the threads of debates about how to represent blackness, social struggle and change, and global migrations and diasporas. Free and open to the public. Learn more →