"Sweet hours have perished here;
This is a mighty room"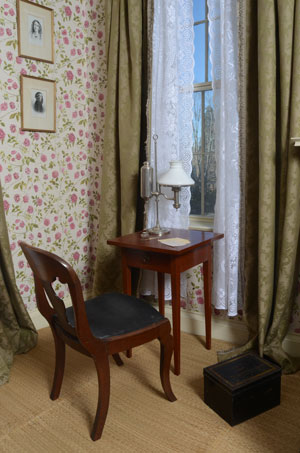 America's favorite literary recluse, Emily Dickinson listed her occupation in the 1850 national census as "keeping house." Dickinson—who allegedly watched her father's funeral through her bedroom window and spoke to guests through doors—has been labeled as socially anxious, agoraphobic, even misanthropic.
Dickinson wrote nearly all of her 1,800 poems in her second-floor bedroom in Amherst, Massachusetts. This bedroom served as Emily Dickinson's refuge and writing space, a place where she found beauty in garden snakes and hope in chirping birds. Despite Dickinson's relatively small sphere, she was able to encompass worlds, even universes, within her poetry. In her own words,
"The brain is wider than the sky,
For, put them side by side,
The one the other will include
With ease, and you beside.
The brain is deeper than the sea,
For, hold them, blue to blue,
The one the other will absorb,
As sponges, buckets do."
It is easy to see why many today would spend $100 an hour for the opportunity to write in Dickinson's bedroom. The experience has been known to bring visitors to tears; Sarah Lyall for the New York Times described it as "thrilling" and "uncanny."  Interested? Learn more on the Emily Dickinson Museum website.
If you don't have the chance to make the trek to Massachusetts this fall, catch a glimpse of Dickinson's home and life in The Belle of Amherst, running November 2 through December 3 at Court Theatre.