Short Film Screening Empowers Students and Audience Members

On Monday, September 24, 2018, Court Education Initiative (CEI) hosted a screening of SOS: Save Our School, a short film created by students at Harper High School as part of a Creative Schools Fund grant from Ingenuity, at the Logan Center for the Arts. Presented to a standing-room-only crowd filled with students, staff, family, and Court patrons, the screening served as the inaugural CEI Season Enrichment Event, designed to bridge the gap between education programming and the mainstage productions.
Shot in a documentary format spliced with a fictional storyline, SOS: Save Our School explores the harsh reality of life for students who attend a school on the verge of getting closed by the city. Onscreen, students meet in groups to discuss their feelings and organize a protest to combat the potential shutdown. Offscreen, students channeled their artistic expression into art that raised awareness. Even student-written music and a student-choreographed dance made its way into the film. As a result, SOS was a powerful showcase of the innumerable ways students could express their feelings about their school and neighborhood.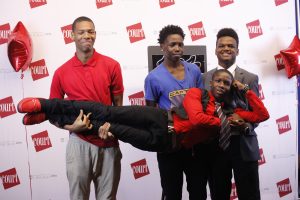 Equally as powerful was a panel discussion which followed the screening. The panel featured moderator Quenna L. Barrett (Education Programs Manager, Arts + Public Life), Steven Hanks (Court Theatre Teaching Artist and SOS Director of Cinematography/Editor), Terrence Thompson (Court Theatre Teaching Artist and SOS Writer), Kamyra Pittman (Harper Student and SOS Actor), Mr. Buino (Harper High School Drama Teacher), Ms. Brown (Local School Council President and Harper Parent), Ron OJ Parson (Resident Artist at Court and Director of Radio Golf), and James T. Alfred (Radio Golf Actor).
Each panelist responded to the reality of the film's themes and the ways in which they connected to the film. Ms. Brown conveyed her shock at how many Harper staff and faculty were unaware of the potential shutdown, while student Kamyra Pittman discussed how her excitement about the project grew with each day they continued to work. Mr. Buino praised Court's continued work with Harper High School and the role CEI has played in deepening his drama classroom.
Complete with a red carpet photoshoot and pizza, the screening was as much a celebration as it was a testament to the work of our education department and the creativity and passion of Chicago's South Side youth.
Learn more about Court's Education Initiative and our work in Chicagoland high schools.