Queering the Medieval Family Drama

Having taught Queering the American Family Drama and (re)Queering the American Musical at the University of Chicago, and now developing a queer musical called Out Here, I was delighted to be asked to write something about queerness and The Lion in Winter. This is an informal and brief musing.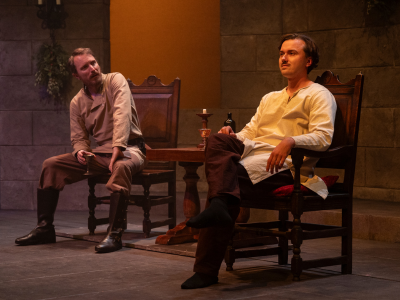 So I'll start with where my mind went upon seeing the final Preview performance of The Lion in Winter. Richard is gay! King Philip is gay! Henry and Eleanor have an open marriage? Polyamorous? Mom and Dad know that Richard is gay? So yes, there is some queer going on. At the performance I attended, I believe there was an audible gasp in the audience when Philip and Richard started to head to bed, before being interrupted by King Henry.
A detour on gasping and not gasping: Henry (age 50) is in a relationship with Alais, who in the first scene says to him: "When I was sixteen and we started this depraved relationship, I left everything to you. I lap sat, drank my milk, and did what I was told. Not anymore. Your cherub's twenty-three now and she's going to fight." I don't remember a gasp in response to that, though I do think there was a quiet tension – in response to that relationship, and also learning that Henry is allowing Eleanor to be out of her imprisonment for the holiday season.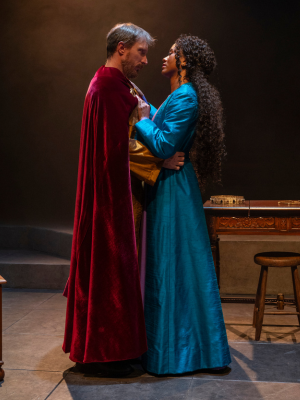 It's not that tracing the gasp is related to queerness. But somehow what's gasp-worthy (Richard and Philip) and not gasp-worthy (Henry and Alais*) seems … gasp-worthy?
To bring in some historical and theoretical context, there is speculation that twelfth century Richard is gay because he married late and never had children. This wondering about sexual orientation based on procreation connects to more recent considerations of queer kinship as distinct from heteronormative kinship. And the historian and philosopher Michel Foucault might also be helpful here, reminding us that in 1183 the classification of sexualities (and policing of normal and deviant behavior) hadn't yet happened (that'll be coming in the nineteenth century), which might speak to the low dramatic impact on our 1183 family, and also the high dramatic impact when the film was released in 1968, and the anecdotal gasp in 2023 at Court Theatre.
And so the question of queerness in The Lion in Winter plays out differently if we're thinking about 'queer' in terms of sexual orientation or 'queer' as a radical departure from heteronormativity. And the question of queerness also plays out differently if we're thinking about a family living in 1183, or a 1970s audience adding this to their holiday entertainment, or a 21st century audience caught up in the whirlwind of betrayals and desires in this 'modern' family. Indeed, in his director's note Ron OJ Parson does say he'd rather ride a roller coaster! (Gasp!)
---
*In no way do I mean to suggest there is anything queer about Henry and Alais' relationship!
Leslie Buxbaum is the Director of Undergraduate Studies and Associate Professor of the Practice in the Arts in the Theater and Performance Studies (TAPS) program at the University of Chicago. She is a director and writer primarily of devised theater productions, which bring together different performance languages (dance-theater, circus-theater, clown-theater, music-theater). Leslie is a collaborating director with the dance-theater company Lucky Plush Productions, a recipient of NEFA's National Theater Project Award and National Dance Project Award. Presenting venues include Steppenwolf 1700, MCA Chicago, Spoleto Festival, CRASHarts at the Institute of Contemporary Art Boston, San Francisco's ODC, among others. For over a decade, Leslie was co-founder and resident director of the Chicago-based physical theater company 500 Clown, which toured throughout the US. She has been the stage director for three productions with the Grammy Award-winning ensemble Third Coast Percussion, touring nationally and internationally. Leslie received her BA at Brown University and PhD in Performance Studies at Northwestern University, and trained in physical theater at Écoles Jacques Lecoq and Philippe Gaulier.