Culture and Region as Told Through Props: THE LION IN WINTER
Court's Properties Manager Lara Musard provides a brief overview of King Philip's guest bed and the blades in The Lion in Winter. Learn about these props and what they represent, in the world of the play and in history.
The Blades: A Statement in Medieval Fashion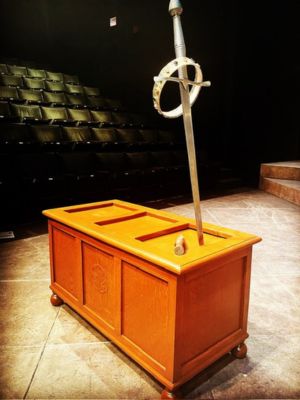 Showmanship performed a great part in keeping the aristocracy in power. From court-wear to honor duels, blades worn exclusively by the royal family were fashioned by a single skilled steelworker, hired to make high quality weapons for them and them alone.
These inlayed blades differed from the basic, replaceable soldiers' blades, which were made in hundreds by less discerning hands. However, as the merchant class began to gain power, these differences began to disappear and the blades that accessorized the aristocracy and merchant class alike empowered whomever donned the drip.
Blades and their history provided by Nick Sandys, Violence and Intimacy Consultant.
The Guest Bed for King Philip of France
The ways in which this 1966 play are important to the queer community are not limited to what one might think. It is true that at this 1183 bedside, a physical relationship between Philip Capet, King of France, and Richard Lionheart is revealed that is at best love, and at worst, manipulation. And, on this queer element's historical accuracy, historians and fans of this based-on-true-events story are as divided as the family who resides in Chinon. What resonates more deeply, and perhaps more sustaining over time and place, is the character of Eleanor as a narration of the Gay Man. Be it in 1183 France or 2023 Chicago, the Gay Man repeatedly navigates prison – words in place, steps pre-meditated, and relationships suspect. An identity that, at its core, reveals the provisional weight of a metaphorical guest – one who might stay in temporal lodging such as this.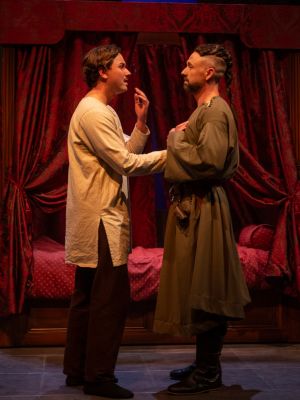 ---
See these blades, this bed, and the Château de Chinon up close! Join us for The Lion in Winter, now through December 3, 2023 → Tickets