Meet Court's New Director of Development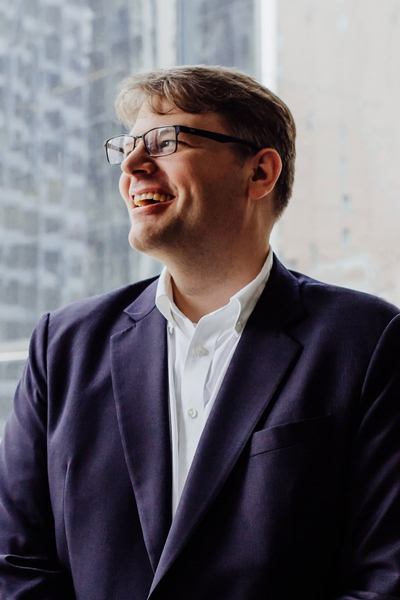 This May, William Nalley joined Court Theatre's staff as Director of Development. Camille Oswald, Associate Director of Marketing, sat down with Bill to learn more about his fundraising background and his love for theatre.
What was your background, prior to working at Court?
I have almost twenty years of direct fundraising experience, with most of my work in the Chicago area. My most recent position was with the Theatre School at DePaul University, which was my first experience  fundraising for theatre within the context of a university. There, I had the good fortune to work with John Culbert, who recently retired as dean, and also is a longstanding artist here at Court Theatre. Now, he's also serving as a member of our Board of Trustees. Before that, I spent approximately a decade working at the University of Illinois at Chicago. I had a wide-ranging set of constituencies and priorities there—I worked for Student Affairs, the University Library, and the College of Medicine—and I've also worked for a number of other small and mid-size nonprofits in Chicago, including a small local theatre company. I'm very fortunate that all of those different experiences can inform my work at Court. 
What made you interested in Court Theatre? How did you hear about us?
I became familiar with Court as a consequence of knowing John [Culbert] and his work. He'd typically design one play a year at Court, often in collaboration with Charlie, so—through him—I became aware of the in-depth research and digging that the artists did to bring a production to life. You know, the very thoughtful considerations that went into every single element—the script choices, the design choices, the casting choices. All of those things were approached with such care, and that was very impressive to me.
The first production I saw was The Tragedy of Othello, The Moor of Venice. I was fascinated by how Court approached the text, looking at how race relations and racial inequities in our world informed the world of the play. It was a fantastic take on a production that a lot of people feel that they already know, and seeing that fresh perspective showed me that Court wants audiences to see things in a different light, which I love. There was a great deal uncovered in that particular production; I was just really blown away.
What are your goals for Court's Development Department?
My primary goal is to bring our philanthropy program to a level that matches the quality of the work being staged at Court. Court's been doing excellent work for a very long time, and we were recognized for that with the Regional Theatre Tony Award. That honor is a clear sign that we're generating highly compelling work, and I want people to know about that. I want to show as many people as possible the excellence of our productions and our educational programs, and share the impact of those works. I want to stoke peoples' passion about Court, because the passion that our artists, board members, and staff have is off the charts.
I want there to be a focus on our education and community engagement programs, without question, and I'd really like to enhance the relationships that we have with corporate donors and partners. The Producers Circle and Directors Circle have been fantastic opportunities to give our supporters a deeper understanding of the works that we produce, so I want to build on that as well. I have nothing but fantastic expectations for our team moving forward.
What's your favorite part about working at Court so far?
Oh, without question, the enthusiasm of both our supporters and the people who work here. These are people who are passionate about theatre; passionate about the Hyde Park and South Side communities; they're passionate about issues of social justice that animate so much of our work. We're really fortunate to have such alignment between our artists and our supporters—this is a very tightly knit community, and that is absolutely a gift. Everyone here is constantly asking, "What can I do? How can I help?" Already, I'm so grateful for that, and so grateful to be here.
What is your first theatre memory?
My earliest memory is attending A Christmas Carol at the Guthrie Theatre when it was in its fantastic old space, next to the Walker Arts Center in Minneapolis. I was in elementary school, so I must've been around 10 years old. I remember that the Ghost of Christmas Present was a very Santa-like creature—large-bellied, surrounded by gifts and presents—and he was thrust onstage on a moving platform. I remember, as a child, being dumbstruck, like, "How did that happen?" It was a really stunning moment, and that's when I realized what theatre makes possible through both imagination and technical ability.
A little later, in high school, they needed someone to run a spotlight, so I started doing tech work. Well, I don't know if I'd call it tech work—they needed someone to get on a catwalk and point lights where an adult told you to point them. But that got me started, and I ultimately became a thespian by the final play of the year: The Hobbit. I was cast as Gandalf, the lead. They had me on stilts the entire time so I would be taller than the rest of the hobbits. I was tall anyway, I definitely think that was part of why I was cast, but on stilts, I could just tower over everybody. It was a great deal of fun! Unfortunately there are no pictures of me in the outfit anywhere, but that was how I got my one acting credit. I was Gandalf in a high school play, long ago.
If you could be any character in any play, who would you be and why?
I love the character of Prospero in The Tempest. I don't think that I'd want to be exiled from my kingdom and stuck on an island designing things, but that said, there's an intoxicating aspect to his love of creation and his need to build. I also really admire the fact that he eventually breaks the staff and says, "Nope. I'm not doing this anymore." Perhaps out of a realization that, "This didn't do what I wanted it to do," and I have great respect for that sort of decision. So, that's a really good one….Gandalf was incredibly fun, though. The power of magic, and being so much taller than everyone was a blast.
Any last words or final comments?
I'm incredibly excited to be on the Court Theatre team and I'm curious to see what the future will bring for this wonderful company. I'm really looking forward to what we can accomplish together.
---
When you engage with Court's fundraising and development efforts – such as those led by Bill – you invest in artistic excellence onstage, in classrooms, and in the community. We encourage you to consider a donation to Court, if you're so inclined, to support our theatrical and educational programming.
Gifts such as these ensure that Court's tradition of artistic excellence will extend well into the future, touching lives for years to come. Thank you.