Louis Jordan, the Jukebox King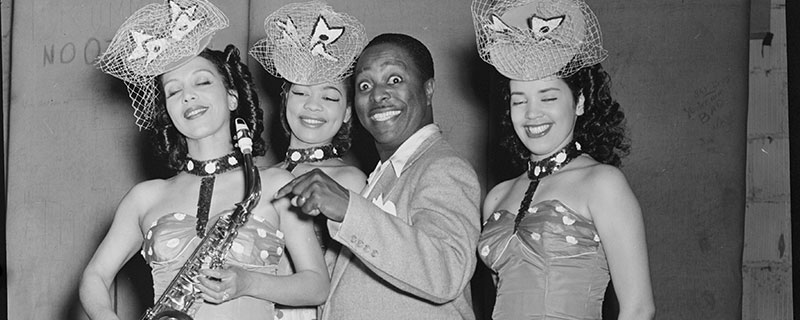 Louis Jordan, the Jukebox King, the founding father of Rhythm and Blues. We hear his sound in all the music of the 20th century—through the work of his jazz and big band contemporaries, to his rock and roll descendants.
As a young adult, Jordan would spend his nights after his live shows staying up until all hours listening to the radio and absorbing the hits of the week. Big bands, pop hits, and feats of instrumental solos: he heard it all, and emulated it in his Tympany Five. He was able to revolutionize music that sparked the creation of rock and roll. Jordan added an electric guitar to his act in 1951 and kept up the versatility of his sound, consistently playing with genre and tone.
Godfather of Soul James Brown once said, "Jordan influenced me in every way. He could sing, he could dance, he could play, he could act. He could do it all."
Chuck Berry's opening riff of "Johnny B Goode" is even a direct rip from Louis Jordan's "Ain't That Just Like a Woman (They'll Do It Every Time)".
In the sampling of music below, we can hear what Jordan would have heard—the masterful solos by Sidney Bechet and Louis Armstrong. The big band style of Duke Ellington. The gender politics of "The Lady is a Tramp" (arguably the antithesis to Jordan's "Brother, Beware!"). We have the privilege of hearing Jordan's first vocal solo "I Can't Dance Got Ants in My Pants," and his early work in the Chick Webb Orchestra.
Finally, we can hear the artists who have paid tribute to Jordan through their rock and roll careers. We hear it in the work of Bill Haley, who shared a producer with Jordan and used his shuffle rhythms and riffs in rehearsal. Little Richard's "Lucille" reminds us of the whooping "Caldonia!" in Jordan's "Caldonia Boogie". And, to end, that famous Jordan tribute in Chuck Berry's "Johnny B. Goode".
Enjoy this playlist before you come to Court Theatre's production of Five Guys Named Moe, playing from September 7 to October 8, 2017 to celebrate the music and influence of Louis Jordan!
The playlist:
Or, enjoy the playlist on iTunes.
"Stars Fell on Alabama/Lazy River" by Sidney Bechet
"Basin Street Blues" by Louis Armstrong and His All Stars
"Ko-Ko" by Duke Ellington & His Famous Orchestra
"The Lady is a Tramp" by Ella Fitzgerald & Buddy Bregham and His Orchestra
"The Other Woman" by Sarah Vaughan
"Stormy Weather" by Billie Holiday
"Long, Long Ago" by Dean Martin ft. Nat King Cole
"I Can't Dance Got Ants in My Pants" by the Clarence Williams Orchestra
"Rusty Hinge" (ft. Louis Jordan) by Chick Webb and His Orchestra
"Your Socks Don't Match" ft. Louis Jordan & His Tympany Five by Bing Crosby
"Baby It's Cold Outside" by Ella Fitzgerald & Louis Jordan
"Let the Good Times Roll" by Louis Jordan & His Tympany Five
"Please, Please, Please" by James Brown and his Famous Flames
"Great Balls of Fire" by Jerry Lee Lewis
"See You Later Alligator" by Bill Haley
"What'd I Say" by Ray Charles
"Lucille" by Little Richard
"Johnny B. Goode" by Chuck Berry