Justice Scalia's Unlikely Best Friend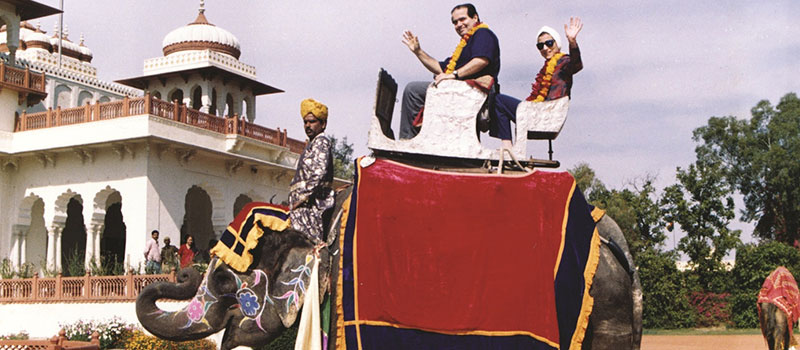 In John Strand's The Originalist, Justice Antonin Scalia—a notorious proponent of constitutional originalism, one who staunchly fought against judicial provisions for abortion, affirmative action, and gay marriage—mentors and befriends a liberal law clerk. Despite their ideological differences, the two find some common ground: love of arguing, respect for democracy, blackjack.
Their camaraderie isn't merely a product of Strand's imagination. In Scalia's early years on the court, he hired one liberal law clerk each year to keep staff debates lively. "I love to argue," he said, "I've always loved to argue. And I love to point out the weaknesses of the opposing arguments. [. . .] I feel less comfortable when everybody agrees with me. I say, 'I better reexamine my position!'"
Perhaps, then, it's unsurprising that one of Scalia's best friends was Supreme Court Justice Ruth Bader Ginsburg.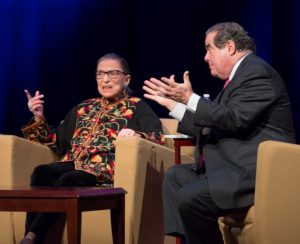 Scalia and Ginsburg spent New Year's Eve with one another every year. Scalia watch Ginsburg parasail in the south of France ("She's so light, you would think she would never come down."). They even rode together on an elephant in India (Scalia joked that Ginsburg betrayed her feminism by sitting behind him. Ginsburg retorted: "The driver explained it was a matter of distribution of weight.").
The two justices, though ideological adversaries, had a shared love and respect for one another's intellect rarely found in today's divided political world. "If you can't disagree ardently with your colleagues about some issues of law and yet personally still be friends, get another job, for Pete's sake," Scalia asserted. "As annoyed as you might be about his zinging dissent, he's so utterly charming, so amusing, so sometimes outrageous, you can't help but say, 'I'm glad that he's my friend or he's my colleague.'"
Following Scalia's death in February of 2016, Ginsburg wrote the following tribute:
"From our years together at the D.C. Circuit, we were best buddies. We disagreed now and then, but when I wrote for the Court and received a Scalia dissent, the opinion ultimately released was notably better than my initial circulation. Justice Scalia nailed all the weak spots—the 'applesauce' and 'argle bargle'—and gave me just what I needed to strengthen the majority opinion. He was a jurist of captivating brilliance and wit, with a rare talent to make even the most sober judge laugh. The press referred to his 'energetic fervor,' 'astringent intellect,' 'peppery prose,' 'acumen,' and 'affability,' all apt descriptions. He was eminently quotable, his pungent opinions so clearly stated that his words never slipped from the reader's grasp. It was my great good fortune to have known him as working colleague and treasured friend."
The Originalist opens May 10 at Court Theatre.