Donors Make a Difference: Marilyn and David Vitale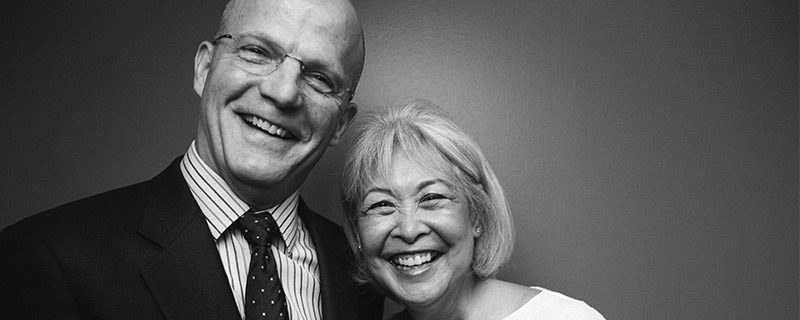 Marilyn Vitale has been Court Theatre's champion and devoted advocate for more than two decades. During that time she has been an energetic member of the Board of Trustees and served as President for three of those years. She and her husband, David, are bright fixtures at Court openings and events, ready to share the exciting work of the theatre and always eager to encourage others to become involved with the Court family.
In September, the artistic director position at Court was named the Marilyn F. Vitale Artistic Director in appreciation of the Vitales' significant donation to the theatre. Current artistic director Charles Newell was named the inaugural Marilyn F. Vitale Artistic Director. "Our gift will provide support to the remarkably talented Charles Newell, whom I greatly admire, and I believe it will offer Court an unmatched platform to mount great productions, build a loyal audience, and find new ways to serve the community," Marilyn said.
Marilyn and David are particularly invested in Court's role as the Center for Classic Theatre. They are eagerly anticipating Electra, the conclusion of Court's three-play Greek cycle. The cycle began during Court's 60th Season, under Marilyn's tenure as Board Chair.
"For more than 20 years, Marilyn has provided tremendous passion and loyalty for the work of Court Theatre," said Newell. "Court Theatre grew during her tenure as board chair and will continue to thrive, thanks to her extraordinary generosity."
---
Just as Marilyn and David's gift has made an impact, your gift to Court supports artists onstage and behind the scenes, as well as students and teachers in our classrooms, and partners in the community. Donations from you and other theatre supporters compromise 45% of gifts to Court every year, and are critical to Court's sustained success. Click here to give today! Or, contact Andrew Berg, Director of Development, at (773) 834-3305 or via email.
Photo of Charles Newell, Marilyn F. Vitale Artistic Chair, and Marilyn Vitale by Joe Mazza.