Critics are hailing Court's production of KING HEDLEY II as "masterful."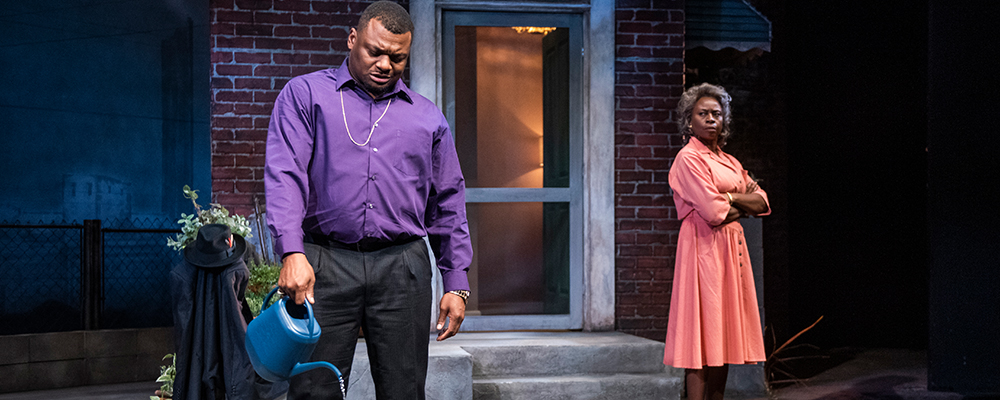 Throughout Chicagoland, critics are praising Court's production of August Wilson's King Hedley II. Chris Jones of the Chicago Tribune awarded the production four stars and wrote that the production is cast "beautifully" with many memorable moments, while Kris Vire wrote for the Chicago Sun-Times that the play offers audiences "abundant rewards." Audiences and critics alike agree that King Hedley II is a relevant and powerful play worth seeing. See for yourself what the buzz is about — get tickets to King Hedley II.
---
"The title character in Hedley II is a desperate mix of passion, determination and resentment… And Parson here has an actor, Kelvin Roston Jr., who can handle not just the force of will of a typical Wilson hero, but an overwhelming self-doubt, usually expressed as fake confidence, especially in front of his sidekick Mister."
—Chris Jones, Chicago Tribune, ★★★★ Highly Recommended
---
"To see the director Ron OJ Parson completing August Wilson's "Century Cycle" — the late playwright's collection of 10 interconnected plays about the African American experience in the 20th century, each set in a different decade — is a momentous occasion…you'd be hard-pressed to find anyone more well-versed in Wilson's themes and rhythms."
---
"In his epic masterpiece King Hedley II, the penultimate play in his Century Cycle, August Wilson captures man, society, and God in a bottle, and director Ron OJ Parson uncorks its glory and unleashes its fury on the Court Theatre audience like a torrential downpour… Director Parson deftly navigates the relentless waves of grief that buffet Hedley's kingdom by offering frequent comedic beats, leaving the audience unmoored and vulnerable for the next sucker punch. One of the standout emotional moments is a showstopper monologue delivered by Kierra Bunch."
—Sheri Flanders, Chicago Reader – Reader Recommended
---
"Powerhouse performances… you do not need to be familiar with Wilson's work or earlier plays in this Cycle to thoroughly get where Wilson's well-drawn characters are coming from."
—Amy Munice, Picture This Post
---
"Director Ron OJ Parson helps us to see August Wilson's vision for this play… Hedley is masterfully done. Parson has skillfully given us another brilliant production."
—Rick and Brenda McCain, Let's Play at Chicago Now, Highly Recommended
---
"King Hedley II can now claim its place among Wilson's greatest plays, thanks to a volcanic revival at the Court Theatre… Hedley may be Parson's finest artistic achievement."
—Dan Zeff, Chicagoland Theatre Review, Highly Recommended
---
"A masterpiece, it's the poetry that director Ron OJ Parson sees in the work… King Hedley II is filled with rage and passion."
—Ruth Smerling, Theatre World, Highly Recommended
---
"Ron OJ Parson is a master at his craft and once again has shown the skill and passion he brings to his work. Every thing in this production is meticulous and tightly wrought. The cast works so well together and each performer is completely immersed in their character… King Hedley II should not be missed."
—Michael Horn, Around the Town Chicago, Highly Recommended
---
"Questions of will, power, and predestination loom large in King Hedley II, eighth in Wilson's ten-play Pittsburgh Cycle… Court's production, directed by Ron OJ Parson, is blistering and absorbing."
—Iren Hsiao, Newcity Stage, Highly Recommended
---
Photo of Kelvin Roston, Jr. and TayLar by Michael Brosilow.