Behind the Scenes: Intimacy and Violence Design of FEN
Fen is a knotted web of connection, wherein each character is perpetually reacting to the world around them; they are constantly in relation to others. We, as the audience, are welcomed into their world, and are confronted with both the soaring rewards and crushing dangers of this closeness.
However, to state the obvious: these are characters played by real people. These people are reacting to the world around them, as much as their characters are. So how do those people perform this play safely, let alone perform it safely multiple times a week?
During the first rehearsal for Churchill's Fen, Greg Geffrard and Sheryl Williams, Intimacy and Violence Directors, shared their insights, shedding light on the field of intimacy design and their process.
Intimacy and Violence Design
Greg: Something really big happened when the pandemic hit: a lot of theatre artists left the profession. And a lot of them have not come back. And the thing that I found myself telling people is, You cannot ask people to find their joy in the same place that they lost it.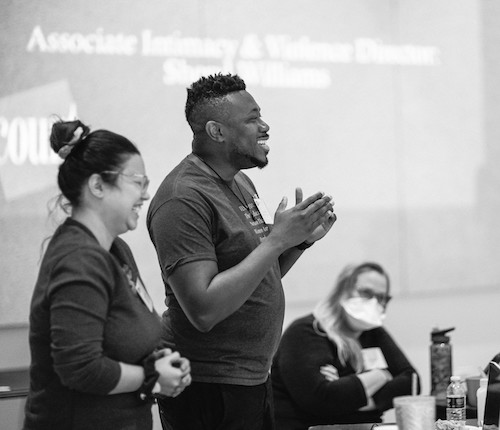 Prior to the pandemic, people were making art because it brought them joy, but a lot of these artists were working in environments that weren't focused on their health or their sustainability, both as artists and as people. When the pandemic hit and these artists were forcibly removed from these harmful environments, people really saw – for maybe the first time – how they were being asked to work in unhealthy ways. Their value as an artist expired the moment their contracts did. At this moment, when things are starting to open up again, we see that a lot of artists haven't returned because that compromise of art over health, art over everything, is not one they believe is worth it anymore.
That's where intimacy work comes in. At its core, intimacy work is primarily focused on sustainability.
Sheryl: With me being an intimacy professional and a fight choreographer, I'm also trying to shift fight choreography to incorporate more sustainable practices. So it's not just about physical safety; I tie in my intimacy training by creating emotional and mental safeties around these moments. It's understanding that actors are asked to perform by leveraging their identities, while taking their reactive systems into account. It's understanding what needs to be done, and done repeatedly, who's affected by this action, but also who's performing that action.
Greg: Exactly. Intimacy focuses on cultivating space that is sustainable for everyone involved. The ask, when telling a character's story, is not necessarily comfort: we call people into the theatre to witness characters navigate the most challenging moments of their fictitious lives in a very real way. How exactly can we help performers create, and find joy, and find a way back into the story that is repeatable for them, especially if we're asking them to do eight shows a week? That is the ask.
To do this, we rely on five areas of focus: consent; boundaries, and the understanding that there's no story that can't be told within somebody's boundaries; creating a de-loaded, or de-sexualized process; choreographing the work; then lastly, documenting it. That last piece can be literally writing down choreography, but it can also be tracking the things you're processing and the things you're holding onto when you leave rehearsal. These five best practices/areas of focus come from the pedagogy of Theatrical Intimacy Education, with whom I am an Associate Faculty member.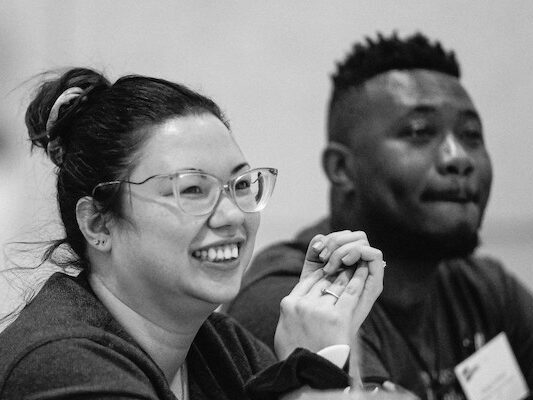 Even though the field of intimacy choreography is new, these practices that I just outlined are really old. A lot of the practices and the tools that are used in intimacy work come from those whose identities have been marginalized; we're talking about the LGBTQ+ plus community, we're talking about BIPOC folks/folks of the global majority, we're talking about sex workers, we're talking about anybody who needs to find a sustainable way of working. I'm thinking of Sydney Poitier, I'm thinking of Lena Horne. I'm thinking about individuals who are making art in spaces where they were, in the words of Shonda Rhimes, a "First. Only. Different."
If part of your intersecting identity – your race, your gender, religion, ability – if any part of your intersecting identity is being leveraged in the story that is being told, it is very likely that there will be intimate moments, simply because what we're asking for is not just inherent in the character. We're asking you to bring a part of yourself to tell this story. And since you take your personal self back out of the room once you've finished telling the story, we need to make sure that we – as an institution – are taking care of our people. The characters only live in the space. They only come alive when the actors bring them to life.
We have to work in trauma-informed ways, because the stories and the traumas shown on stage are also the things we encounter once we leave the room, especially for folks with marginalized, intersecting identities outside of the dominate cultural identity of whiteness in America. Not everybody has the privilege of being able to distance themselves from certain stories, because those stories are their stories. And so this is work that is specifically focused on not taking care of, but taking care with the performers, which requires that they have advocacy tools to ask for their needs. Theatre can be abundant in resources: we must make sure that those who need those resources not only have access to these resources but are continually encouraged to understand that prioritizing the people in the process will always be valued over the final product we invite audiences to come witness.
---
Learn More:
Staging Sex, by Chelsea Pace with contributions from Laura Rikard (book)
---
Greg Geffrard has worked as an intimacy and violence designer throughout Chicago. Chicago credits include: Choir Boy (Steppenwolf, Intimacy & Fight Choreographer); Bald Sisters (Steppenwolf, Assistant Intimacy Choreographer); Passage (Remy Bumppo Theatre, Consultant); Bat Boy, The Amateurs, Detroit '67 (Columbia College Chicago); Gloria (Roosevelt University). Regional: The Color Purple (Signature); Joe Turner's Come and Gone (Huntington Theatre); White Noise (Studio Theatre, Assistant Intimacy Choreographer). Teaching: Theatrical Intimacy Education, Associate Faculty; Columbia College Chicago, Visiting Professor. Other: Resident Intimacy Consultant at Steppenwolf Theatre. Next up: The Factotum (Lyric Opera of Chicago) and The Comedy of Errors (Chicago Shakespeare).
Sheryl Williams is originally from Phoenix, Arizona. She has a BA in Musical Theater and a minor in Stage Combat from Columbia College Chicago, and has used her skills to create consent-based, story-driven choreography and sustainability in her work. In addition to working with multiple educational institutions, such as her alma mater, North Central, and Roosevelt, a few credits include: Cabaret (Porchlight), Little Women (First Folio), Among the Dead (Jackalope), The Wizards (Concrete Content), and many more. Find more information at iamsherylwilliams.com.