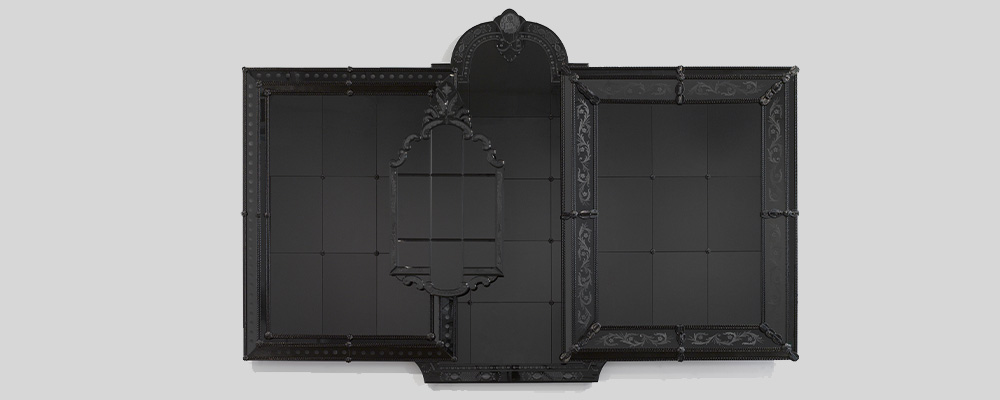 Mirrors and Misconceptions
Oct 20, 2021 — Dec 18, 2021
Programmed during the full moon phases between November and December, Mirrors and Misconceptions is a special series exploring Black identity. It pairs the visual art of Fred Wilson's Murano Glass sculpture, Act V. Scene II Exeunt Omnes—the final stage direction in Shakespeare's Othello—with Court Theatre's production of The Tragedy of Othello, the Moor of Venice to build conversation and community while exploring themes on how Blackness is othered and perceived.
---
The Tragedy of Othello, the Moor of Venice | Wed-Sun, through Dec 5, 2021 at Court Theatre
Participants are encouraged to view a live or streamed performance of Court Theatre's production of The Tragedy of Othello, the Moor of Venice prior to attending subsequent events. Co-directors Charles Newell and Gabrielle Randle-Bent helm this theatrical examination of humanity and tragedy in Shakespeare's fraught and famous work. Through scenic design that places audiences in the middle of the action, this telling grapples with how complex notions of race, gender, and complicity at the heart of the play's murderous events speak to a world on the brink of change.
Tickets are no longer available. 
---

Poetry Reading + Activation | Friday, December 17, 2021 – 6:00pm
at Stony Island Arts Bank
Poets, commissioned by Smart Museum of Art and Court Theatre, will activate the Stony Island Arts Bank exhibition with public readings of original or archival poems and prose inspired by the themes of Black Lives, misconceptions, mirrors, and the moon in front of Wilson's sculpture. Commissioned poets include Runako Jahi, Tarnynon Onumonu, rebecca brown, Reginald Rice, and others. 
This event is sold-out. 
---
Gallery Talk + Collage Activity | Saturday, December 18, 2021 – 2:00pm
at Stony Island Arts Bank
Participants will view the Toward Common Cause exhibition, in collaboration with Smart Museum, at Stony Island Arts Bank. The exhibition includes several works focusing on Black identity as well as Wilson's sculpture, Act V. Scene II Exeunt Omnes. A gallery talk will follow to identify themes witnessed in The Tragedy of Othello that resonate with this work. Following this conversation, guests of all ages will participate in a collage activity to make their own art in creative response. 
This event is sold-out. 
---
Learn more about Toward Common Cause
Organized by the Smart Museum of Art at the University of Chicago, in collaboration with more than two dozen partner organizations across Chicago, Toward Common Cause: Art, Social Change, and the MacArthur Fellows Program at 40 uses the idea of "the commons" to explore the current socio-political moment. Questions of inclusion, exclusion, ownership, and rights of access are constantly being challenged across a wide array of human endeavors. 
The Stony Island Arts Bank (SIAB) group show as part of the Toward Common Cause multi-site initiative focuses primarily on the question of race that has been examined by artists for decades and includes artworks by MacArthur Fellows Carrie Mae Weems, Kerry James Marshall, Gary Hill, Whitfield Lovell, Trevor Paglen, Deborah Willis, Dawoud Bey, Fred Wilson and Nicole Eisenman.
---
COVID-19 Protocol
Face mask is required for attendance. This convening is open to all invitees who are compliant with UChicago vaccination requirements and, because of ongoing health risks, particularly to the unvaccinated, participants are expected to adopt the risk mitigation measures (masking and social distancing, etc.) appropriate to their vaccination status as advised by public health officials or to their individual vulnerabilities as advised by a medical professional. Public convening may not be safe for all and carries a risk for contracting COVID-19, particularly for those unvaccinated. Participants will not know the vaccination status of others and should follow appropriate risk mitigation measures.
Related Events
Oct 23 → Othellos in Dialogue

Join Production Dramaturg Jocelyn Prince for this conversation about how actors have approached portraying the character of Othello on stage. Featuring Court favorites Allen Gilmore and Kelvin Roston, Jr. Tickets are free but must be reserved in advance.
Nov 8 → Spotlight Reading: Desdemona

Written by acclaimed novelist Toni Morrison, Desdemona puts the doomed heroine of Shakespeare's Othello center stage to reflect on the events of The Bard's tragedy. Tickets are free but must be reserved in advance.