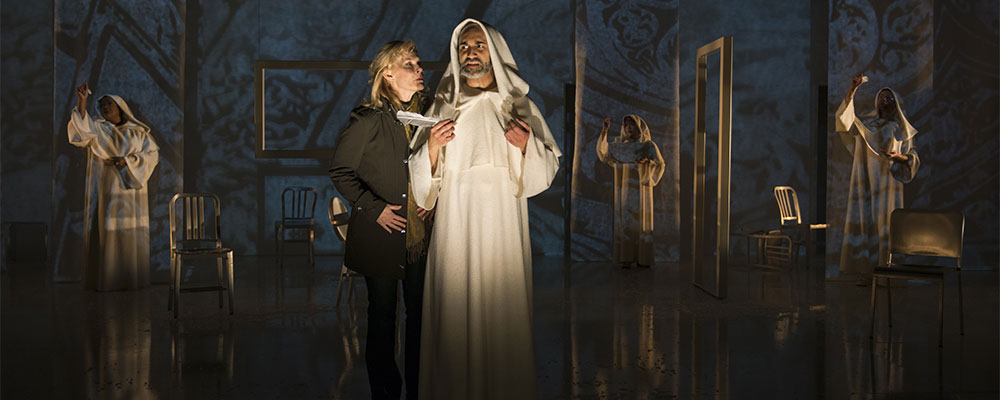 World Premiere
The Good Book
by DENIS O'HARE and LISA PETERSON
directed by LISA PETERSON
Mar 19, 2015 — Apr 19, 2015
"supremely artful … hip yet sophisticated … seven of this city's most virtuosic actors" -Hedy Weiss, Sun-Times
In this highly original world premiere play commissioned by Court Theatre, Denis O'Hare and Lisa Peterson (An Iliad) weave stories of devotion and conflict into their very own creation myth about the place where human faith and divine inspiration intersect: the Bible.
As fifteen year-old Connor struggles to reconcile his identity with his dream of becoming a priest and modern-day Biblical scholar Miriam wrestles to resolve her crisis of faith, they lead us through an incredible exploration on how the Bible was constructed.
From ancient Mesopotamia to medieval Ireland to suburban America, The Good Book is a powerful and exuberant journey through the most influential book in Western history.
---
Supported by the Sundance Institute, a nonprofit organization that discovers and supports independent film and theatre artists.
Supported in part by a Mellon Collaborative Fellowship for Arts Practice and Scholarship at the Richard and Mary L. Gray Center for Arts and Inquiry at the University of Chicago.
Sponsored by Kirkland & Ellis LLP and The Women's Board of the University of Chicago.
Photo by Michael Brosilow.
Videos
Photos