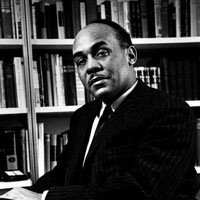 In a 1960 interview, Ralph Ellison argued that the power of the American writer lies in his or her ability to "tell us about the unity of the American experience beyond all considerations of class, of race, of religion." His Invisible Man, published in the late 1940s, provided a critical intervention in black literature of the time in both style and substance. A noted departure from the realistic protest literature of his contemporary Richard Wright, Ellison's novel draws on French Existentialism, African American folklore, and American jazz. Invisible Man ranges wildly in tone, in a jazz-like improvisational style, from realism to surrealism, heartbreaking tragedy to biting satire and slapstick comedy.
In his personal life, Ellison's hobbies were as multifaceted as his literary imagination. He was an accomplished sculptor, jazz trumpeter and composer, and photographer. He also enjoyed fishing, hunting, repairing car engines, and assembling radios and stereo systems. Ellison was born and raised in Oklahoma, to a construction worker father and a domestic servant mother who named him after Ralph Waldo Emerson, the acclaimed nineteenth century American poet and essayist. Critics argue that his upbringing in a frontier state, with no legacy of slavery, influenced his exploration of a fluidity between the races, a seeming impossibility in the rural South and urban North.
Like the protagonist in Invisible Man, Ellison attended Tuskegee Institute on scholarship in the 1930s, before moving to NYC and settling in Harlem. His novel introduced a new kind of protagonist to the landscape of African American literature: an educated, self-aware, and complex figure with an expansive, intellectual curiosity. Invisible Man is an allegory for black Americans' struggle for recognition in a racist, pre-war society. In the midst of the black nationalist and black arts movement, Ellison forced Americans to see race through a different lens via a black everyman character with a universal story. Ellison created a nameless and invisible figure who struggles for identity and to find his place in a chaotic society amid strong forces that seek to pigeonhole him based on racist assumptions about black men.
Ellison spent seven years writing Invisible Man, which won the National Book Award in 1952. Invisible Man remains one of the central texts of the American experience. Although Ellison never completed his second novel, he published other highly acclaimed and transformative essays and short stories. After teaching at various universities, including Rutgers and Yale Universities, he became the Albert Schweitzer Professor in the Humanities at New York University in 1970. He was awarded the Presidential Medal of Freedom in 1969 and died in 1994 at the age of 80. Biographer Arnold Rampersad, the first scholar to be given complete access to Ellison's materials, argues that Invisible Man is a landmark work and "as long as race is a problem in America, the book will offer some guide to the minefield of race relations."  His life and legacy lives on today.
-Jocelyn Prince, Production Dramaturg
Sources:  pbs.org, Spark Notes: INVISIBLE MAN by Ralph Ellison, biography.com, npr.org,
Ralph Ellison: A Biography by Arnold Rampersad, wikepedia.org