Seven New Members Join Court's Board of Trustees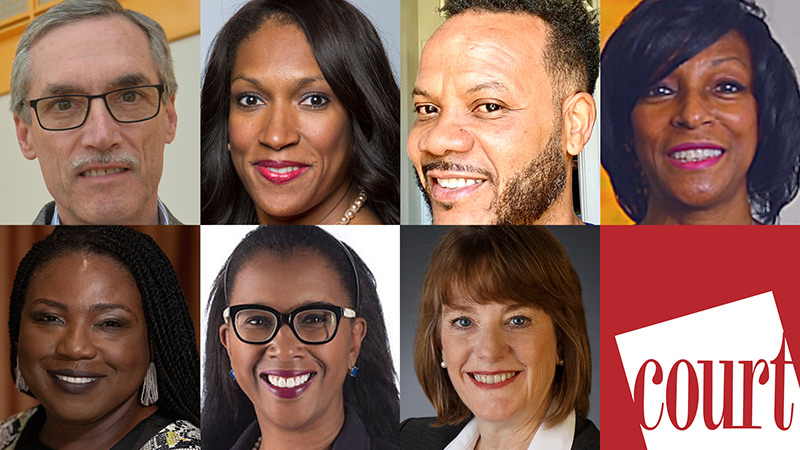 We are thrilled to announce the appointment of seven new members to Court Theatre's Board of Trustees. New appointees include John Culbert, Felicia Davis, Andre Guichard, Frances Guichard, Tracie Hall, Nicole Robinson, and Lise Spacapan. The addition is the largest expansion of Court's Board of Trustees to date.
Executive Director Angel Ysaguirre shares, "I am thrilled that such a committed and skilled group of Chicagoans have agreed to join Court Theatre's board. This group represents remarkable passion for the artform, impressive networks of relationships, and the highest levels of expertise in their fields. That they have decided to serve the theatre in this way is invigorating."
Reflecting on these changes, Court Theatre Board Chair Gustavo "Chip" Bamberger echoes Ysaguirre's enthusiasm, saying, "I am incredibly proud of the hard work members of this Board have done together over these past few months to nominate our largest and most diverse slate of Trustees ever, and so thankful to each of our nominees for sharing their talents and enthusiasm for Court Theatre with the Board. Each of the nominees brings valuable skills, experience and perspective to the Board."
New members will be officially welcomed to the Board on July 1, 2021 and will serve a three-year term.
About the New Trustees:
John Culbert (Scenic Designer and Lighting Designer) is an award-winning Chicago based scenic and lighting designer. In Chicago, John has designed scenery and/or lighting for the Buckingham Fountain, Lyric Opera of Chicago, Goodman Theatre, Northlight Theatre, Lookingglass Theatre, Garfield Conservatory, Field Museum of Natural History, Drury Lane Theatre, Timeline Theatre, Victory Gardens Theater, Chicago Children's Theatre, Chicago Opera Theatre, Writers Theatre, Chicago Shakespeare Theater, and more than forty productions at Court Theatre. Recent Court Theatre productions include Oedipus Rex, The Adventures of Augie March, All My Sons, The Hard Problem, Iphigenia at Aulis, Agamemnon, Man in the Ring, Invisible Man, Satchmo at the Waldorf, The Secret Garden, Misanthrope, Tartuffe and Porgy and Bess.   Highlights from past years include The Triumph of Love, Man of La Mancha, Carousel, Caroline or Change, The Year of Magical Thinking, Travesties, and Hamlet. Other recent Chicago productions include Writers Theater's Twelfth Night and The Importance of Being Earnest, Goodman Theatre's Objects in the Mirror, Having Our Say, and Two Trains Running, Northlight Theatre's Faceless and White Guy on the Bus, Timeline Theatre's Chimerica and Juno. He has received Jeff Awards for the lighting of Court Theatre's The Illusion and for the Goodman Theatre's Mirror of the Invisible World. In June Mr. Culbert stepped down as dean of The Theatre School after 21 years in the role and 33 at DePaul.
Felicia Davis (President and CEO, Chicago Foundation for Women) is a self-described "girl from the South Side." She is deeply committed to community through inclusive service to others. As president and CEO of Chicago Foundation for Women, she leads its strategic efforts in investing in women and girls as catalysts, building stronger communities for all. Felicia is passionate about transforming lives and serves as an educator and mentor through a variety of networks, participating on numerous boards and committees, including as a member of Governor JB Pritzker's Inauguration Committee, the Board of Regents for Mercy Home for Boys and Girls, an appointee to the Illinois Senate Sexual Discrimination, Harassment Awareness and Prevention Task Force, the American Cancer Society, and iHeartMedia Chicago's Local Advisory Board. She has been in public service for the majority of her career. As a member of the Chicago Police Department, she served with distinction for a decade, as a police officer and then as a violent crimes detective. As Interim President of Olive-Harvey College, appointed by City Colleges of Chicago's Chancellor Juan Salgado, Felicia led the College's efforts in developing, maintaining, and evaluating academic programs and enhancing the student learning experience for optimum achievement. She served as the inaugural Executive Director of the Office of Public Engagement in Mayor Rahm Emanuel's administration, where she led efforts to connect communities to resources. As Mayor Emanuel's First Deputy Chief of Staff, she implemented community-focused strategies to increase public safety across Chicago.  Felicia exemplifies leadership in all she sets out to do. She is a Leadership Greater Chicago Fellow and a founding member of the Chicago Foundation for Women's South Side Giving Circle, where she has blazed a trail for supporting Black women and girls through philanthropy and collective giving.
Andre Guichard (Co-owner Gallery Guichard LLC., Guichard Project LLC., & Building Community Foundation Inc.) With over 28 years of experience painting professionally, Andre Guichard is the visionary behind a diverse portfolio of work that can be found in over 2,500 corporate and private collections globally.  He is the co-owner of The Guichard Project which owns the Great Migration Sculpture Garden and partner in the Bronzeville Artist Lofts, a 30,000 square foot artist live work development. Current partnerships include PepsiCo / LIFEWTR, AARP, Blue Cross Blue Shield, Riley Safer Holmes and Sterling Bay Multicultural Art Curation at One Two Pru featuring several Gallery Guichard artists. Guichard was the international curator and spokesperson for the Bombay Sapphire Artisan Series for a decade, an international art contest with 6,000 artists' submissions annually created to provide a platform for artists to connect with collectors. For the years 2011 to 2016, the Chicago Urban League commissioned Andre to create paintings of the prestigious Bill Berry honorees – presented to Louis Gossett Jr., Jessie Jackson Sr., Rev. Willie Burrows, Phylicia Rashad, Patti LaBelle, Timuel Black and Isobel Wilkerson. Six of his original paintings were featured on canvas totes as part of Walgreens Community Corner program in 7,000 stores nationwide, while another two were used to design fine art totes for Alpha Kappa Alpha Sorority, Inc. Andre created a jazz-inspired installation in the Bronzeville Jazz McDonald's restaurant. He was the official featured artist for the Chicago Jazz Festival in 2012 and 2014. In 2012, music legend Prince and Rebuild the Dream Village tapped Andre to create Thirty 8' x 4' abstract paintings for the "Share Your Story Booth" during their Welcome 2 Chicago concert. The concert provided a fun, interactive place to learn about how people can all rebuild vibrant and sustainable communities. In September 2016, Andre became the Mayor of Bronzeville. Under his leadership, the benefits of art will continue to be spread globally, with programs like the annual Bronzeville Mayors Ball and First Lady Garden Party to bring awareness to the pillars working to make a better Bronzeville and providing a donation each year to a worthy nonprofit making a difference in the lives of our youth. He currently serves on the Board of the Better Boys Foundation in Chicago.
Frances Guichard (Co-owner Gallery Guichard LLC, Guichard Project LLC, and Building Community Foundation Inc.), is co-owner of Gallery Guichard LLC, fine art gallery and event space, the Guichard Project LLC, and Building Community Foundation, Inc. Also known as the artist Marlene Campbell, she is an entrepreneur and fine artist. Frances received her master's degree from the University of Illinois in 1996 and worked in government for over 20 years before she ventured into business with her husband. First with Gallery Guichard, in 2005 and then with the Guichard Project, as co-developer of the Bronzeville Artist Lofts, in 2013. Co-owner of The Guichard Project, which owns the Great Migration Sculpture Garden and partner in the Bronzeville Artist Lofts, a 30,000 square foot artist live-work development. Current partnerships include PepsiCo / LIFEWTR, AARP, Blue Cross Blue Shield, Riley Safer Holmes and Sterling Bay Multicultural Art Curation at One Two Pru, featuring several Gallery Guichard artists. As an artist her works have been collected both nationally and internationally.  Her works can be found in corporate and private collections. As a gallerist, with her keen attention to detail, Frances provides artful experiences to future visionaries and collectors. She specializes in aligning artists' works with collectors looking for a specific piece. As a curator and moderator for the Bombay Sapphire's Artisan Series, she is responsible for coordinating and judging over 3,000 submissions. Frances's vast knowledge of art has drawn the attention of dignitaries worldwide. She's the international bridge that inspires global talent and exposes local patrons to art from Senegal, South Africa, and the Caribbean Islands. Influenced by her travels and husband, Frances began painting in 2004 under the pseudonym Marlene Campbell. She received a business certificate from Northwestern University through the Chicago Urban League NextOne program. In September 2016, Frances and her husband organized the nonprofit, Building Community Foundation, Inc. Through the nonprofit, they are able to give back with programs like the annual Bronzeville Mayors Ball and First Lady Garden Party, the Bronzeville Art District Tour, cofounders of the largest African American art districts in the country. The BCF helps to bring awareness to the community pillars working to make a better Bronzeville and providing donations each year to worthy nonprofits making a difference in the lives of our youth. She currently serves on the Board of the Better Boys Foundation in Chicago.
Tracie D. Hall was appointed the American Library Association's 10th executive director in its 143-year history in February 2020. In her new role, Hall oversees the oldest and largest library association in the world, made up of 57,000 members and more than 200 staffers. Hall is the first female African American executive director in ALA's history. Upon Hall's appointment, ALA President Wanda K. Brown observed that "Her unique combination of philanthropy and library know-how position her to be the leader ALA needs today. She is optimistic, energizing, and innovative, qualities that will serve the association well as it continues its investments in advocacy, development, and information technology." Hall is no stranger to libraries, or to ALA. Over the years she has worked at the Seattle Public Library, the New Haven Free Public Library, Hartford Public Library, and Queens Library. In 1998, she was among the first cohort of ALA's Spectrum Scholars, a grant program to diversify librarianship, and she served as the director of ALA's Office for Diversity in the early 2000s and has served on advisory councils for the Institute of Museum and Library Services and written for the field's major publications. She was highlighted as a "Mover and Shaker" in the field by Library Journal early in her career. Most recently, Hall directed the culture portfolio at the Chicago-based Joyce Foundation, developing new grant programs designed to foster greater equity and diversity in arts administration, catalyze and scale neighborhood-based arts venues, cultural programming and creative entrepreneurship. Prior to that she worked as Deputy Commissioner of Chicago's Department of Cultural Affairs and Special Events and as community investment strategist in Global Corporate Citizenship at The Boeing Company. A civic leader in Chicago, Hall was appointed to serve on the City of Chicago's Cultural Advisory Council at the beginning of 2020. Hall has also served in multiple roles in academia, including as assistant dean of Dominican's Graduate School of Library and Information Science in River Forest, IL and as visiting professor at Wesleyan, Southern Connecticut State, and Catholic Universities among others. In addition to her MLIS from the Information School at the University of Washington, Hall holds an MA in International and Area studies with an emphasis on Sub-Saharan Africa from Yale University and dual bachelor's degrees in Law and Society and Black Studies from the University of California, Santa Barbara. Hall has also studied at the Universities of Nairobi and Dar es Salaam in East Africa. Hall was born and raised in Los Angeles.
Nicole R. Robinson serves as Chief Partnerships and Programs Officer for the Greater Chicago Food Depository, a nonprofit organization dedicated to connecting people to food, while striving to end hunger. Nicole builds bridges with communities, individual advocates and organizations all seeking to make nutritious food accessible, while tackling the root causes of poverty, unemployment, and racial inequity. In her role, she is responsible for the partnerships and innovations related to food access, public policy, workforce development and our community response to the COVID-19 pandemic. Prior to joining the Food Depository, Nicole led domestic and international philanthropy for Kraft Foods and Mondelez International. She supported award-winning programs spanning the globe, touching five continents, while reaching underserved and underrepresented neighborhoods. She has worked with the United Nations World Food Programme and variety of multinational NGOs, including CARE, Save the Children and INMED Partnerships for Children. Nicole resides in Bronzeville on Chicago's South Side and is the founding leader of Chicago's first ever South Side Giving Circle focused on reducing inequities faced by Black women and girls.
Lise T. Spacapan (Of Counsel at Scharf, Banks, Marmor, LLP) has practiced law in Chicago for over 30 years. Currently she is Of Counsel at Scharf, Banks, Marmor, LLP, one of the largest woman-owned firms in Illinois. Lise enjoyed many years as a volunteer serving on the Board and in leadership of the not-for-profit nationwide legal association, DRI.  She is a Master of the Bar, Chicago Inn of Court. She serves on the advisory Board of the Jaharis Health Law Institute at DePaul College of Law, where she earned her J.D. and, later, returned in the evenings to earn an LLM in Health Law. From 2017 – 2019, Lise served as General Counsel, Office of the Governor, where she advised both the Governor and members of his senior staff on wide-ranging matters of ethics and compliance, employment, internal investigations, personnel, litigation, and regulatory and legislative initiatives. Lise also served as the General Counsel to the Illinois Department of Children and Family Services, where she was a member of the Executive Staff and briefly served as Interim Director of the Agency. Before joining state government, Lise was a partner at three national law firms: Kirkland & Ellis, Jenner & Block, and Husch Blackwell where she managed litigation throughout the country for her clients, who were predominantly Fortune 50 companies. While an undergraduate at Vanderbilt University, and in high school, Lise performed in theater and in singing groups. She and her husband Ed have enjoyed attending theater in Chicago, and for many years were season ticket holders with Chicago Shakespeare theater. More recently they are thrilled to have become active patrons of Court Theater, where she is a Producers Circle member. Lise and Ed live in Hinsdale, Illinois. They have two grown sons. Lise was most pleased when, after graduating from Vanderbilt, her son John earned his M.A. at the University of Chicago, Center for International Relations in 2019.  Her son Ben attended Princeton and Harvard and now lives in Manhattan with his wife Casey.