New Dining Partner: Nella Pizza e Pasta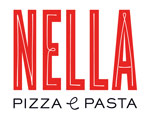 New to Hyde Park and located right next to Court Theatre, we are happy to welcome Nella Pizza e Pasta to the neighborhood. Nella boasts a Neapolitan pizza and pasta-focused menu served in the spirit of a traditional Neapolitan restaurant. Led by Nella Grassano, a classically-trained pizziaola, and her restaurateur husband, Francesco, they are known for authentic pizzas and pastas that are paired with a warm, joyful approach to hospitality. The recipes at Nella have been passed down through generations of Neapolitan family members and they are lovingly executed every day by hand.
We are thrilled Nella is joining Court Theatre as a Dining Partner. Court patrons may present their ticket stub on the day of their performance and enjoy 12% off their bill. See details on our Recommended Restaurants page.
Director of Audience Services Matthew Sitz and his wife, actress Catherine Dildilian, had the opportunity to visit Nella. Read on to learn about their stellar experience.
---
Nella Pizza e Pasta is exactly what I am looking for when I say, "I need pizza."  Thin crust and fire grilled, with fresh and authentic ingredients.
My husband and I came in to Nella early one weeknight having said just that to one another, "I need pizza."  We found Nella to be inviting and warm right from the start.  Their staff was very helpful as we perused the extensive menu.  They had quite a selection to choose from including pizzas, pastas and salads.  We were interested in a pretty basic pepperoni pizza, and while they didn't necessarily have that on the menu, the host was happy to suggest a comparable substitution.
We watched our pizzas go into the oven and while we waited, perused the space. Their outdoor patio was especially pretty, with earthy wooden benches and cozy lights strung up above. We waited about 10 minutes and walked out with a fresh mushroom and sausage pizza and a margarita pizza with salami.
Once home, we dug in. The crust was thin and wonderfully chewy, the toppings fresh and simple. This isn't the place for the 'Meat Lover's Special' or to call in a delivery for the kid's Friday night sleepover.  This is a place for a more elegant pizza, done right.