Interview: Playwright MICHAEL CRISTOFER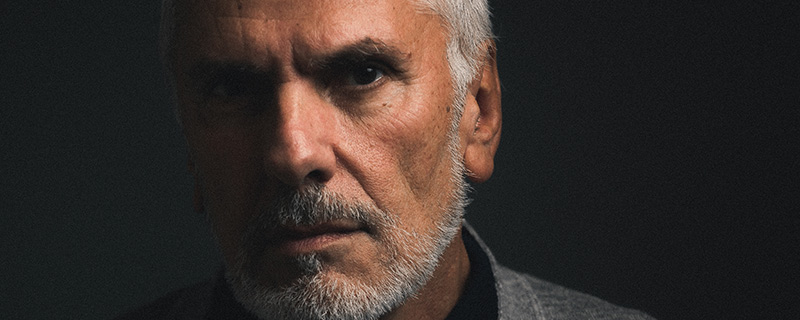 The basic story of the play is a man who is slipping into dementia trying to make sense of his life—in this case, a life that was very dramatic in lots of ways.
You have been director, actor, and writer at different points throughout your career. How do all of the hats you wear come into this project?
What's interesting right now is to go back to being the playwright. I started out working as an actor and then became a playwright. From there I was hired to start writing screenplays, [which I did] for a while [but became] somewhat frustrated with what was going on with that work. I then moved into film directing—I directed three movies, and then slowly moved myself back to the theatre to start acting and playwriting again. I've sort of come full circle, and now the great thing about having done all of those things is that I like to say [I've] sat on both sides of that table. You've been in the director/writer seat and the actor seat. You really do understand what the job is and it's easier to not let things like ego or emotions get in the way of what's going on. Too often I think actors misinterpret what's going on with the playwright and the director because they don't understand that they're struggling to make something happen, and the playwright and director don't understand that the actor is also trying to make something happen. The nice thing about being as experienced and as old as I am is that the process is just much clearer to me.
You've previously written Champion, a libretto about Emile Griffith's life. Why is a stage play the best outlet to tell Emile's story now?
The story of Emile Griffith was first introduced to me by Terence Blanchard, who is a great composer and jazz trumpet player. Terence and I worked on two of the pictures that I directed, he wrote music for them. He was commissioned by the Opera Theatre of St. Louis to write an opera, and he chose the subject of Emile Griffith. He came to me to write a libretto for it, and at that time I didn't know anything about Emile. I did some of the research and realized what an extraordinary story his life is. Having never written a libretto before, when I sat down to work on it I basically wrote a play and then adapted that play into what was needed for the libretto. [But] there was still so much material that I had written in this play form that we hadn't been able to get into the opera because a libretto has to be much shorter than a play and the music is the center. So when Court contacted me and asked me if I was interested in doing the play about Emile based on the libretto, it was really the reverse of that. I already had most of the play and much of the material that I wanted to use—aspects of his life and story that I just couldn't get into the opera. This has been a really great opportunity for me to finish telling the story of Emile's life.
How has being a part of the rehearsal process with director Charlie Newell and the cast helped you think about Emile's story in new or interesting ways?
The basic story of the play is a man who is slipping into dementia trying to make sense of his life—in this case, a life that was very dramatic in lots of ways. One of the words we've been using in the rehearsal process and in the writing process is the word "fractured." Because he is slipping into dementia, his view and his memory are very sharp in some ways [but] not sharp in other[s]. What we see, and what he sees, is a fractured version of his past: people appearing and disappearing, events happening and re-happening, pieces of his own story. This has been the guiding way we've looked at what we're doing in terms of the sound, music, movement. What we're watching is how a man facing all of the fractured pieces of his past is trying to make some sense out of it—trying to come to some peace about his life.
University of Chicago neurologist Dr. Will Harper shared his experience working with patients with similar physical and mental health conditions as Emile Griffith's. Tell us a bit about that experience.
One of the great things about doing the play here [at Court] is the theatre's connection with the university and community here. In this community, we had a neurologist who has dealt with dementia patients for most of his life. He first read the play, and then talked to us about specific aspects of the play as they relate to real life cases. He talked us through a lot of the physical, emotional, and mental stages that a person will go through, which was really helpful because the character of Emile is not in dementia but approaching dementia. He has very lucid times and then has episodes where he slips, he doesn't understand what a word or object is, and we learned from [Dr. Harper] that we were on the right track with telling his story.
What is it about Emile Griffith's experience that drives you to continue sharing this powerful story in new ways?
The important thing about doing the play now is that it's so relevant to what's still going on in the sports world and the damage that's been done to athletes, and also in the world of gay and lesbian rights. This is the story of an athlete who was gay and couldn't come out in the 1950s and 1960s, and I'm not sure how much different it is now in the boxing world. Although Emile's story takes place mainly from 1959-1962, there is a real relevance to what's going on in the world today, and there's a great opportunity to tell this story now.
It's also a tribute to a man who had a really difficult life, and who was a joyful presence through most of it. And that's why the things that I'm trying to get into the play—even though it's a somewhat sad story, it's the story of someone who succeeds in pulling together the fragments of his life, making some sense of it, and coming to some peace. I think it can be a joyful experience for the audience, and that's why we're using all of these old traditional Caribbean children's games that have little songs and proverbs. All of those are interwoven into the structure of the play and how we tell the story. I'm hoping that, finally, it will be not only a satisfying theatrical experience, but also a joyful theatrical experience.
Photo of Michael Cristofer (Joe Mazza).