Arthur Miller's Lucky Break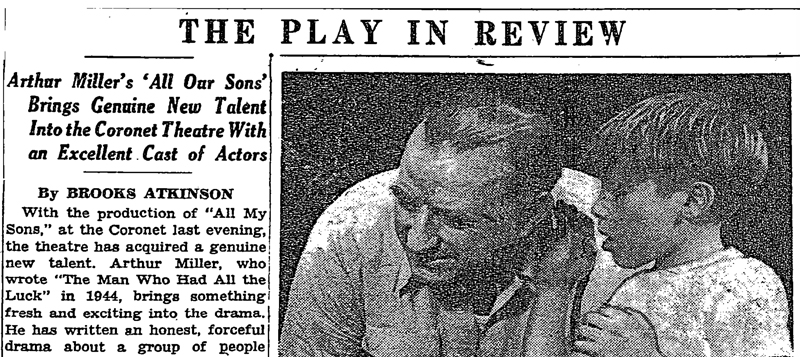 This 1957 New York Times review of All My Sons described Arthur Miller's work as "an original play of superior quality by a playwright who knows his craft and has unusual understanding of the tangled loyalties of human beings." The review is beaming from start to finish, declaring Miller a "a genuine new talent" in theater.
Prior to the opening of All My Sons, however, one may not have expected Miller's second play to garner much critical—or popular—success. After all, his first work, The Man Who Had All the Luck, was a flop in all regards.
The 1944 New York Times review stated that the play lacked "either the final care or the luck to make it a good play." In the Herald Tribune, a reviewer described it as "unpleasant, unexciting, and downright mystifying." Another called it "far from satisfactory." The show closed after just four performances, and its disastrous reception nearly dissuaded Miller from writing any more plays.
Nevertheless, Miller kept writing. He crafted All My Sons as a final attempt at producing a commercially successful play, vowing to "find some other line of work" if it failed. To Miller's delight, All My Sons went on to run for 328 performances. It won the New York Drama Critics' Circle Award and the Tony Award for Best Authored Play, beating out Eugene O'Neill's The Iceman Cometh.
In his Collected Plays, Miller remarks:
The success of a play, especially one's first success, is somewhat like pushing against a door which suddenly opens from the other side. One may fall on one's face or not, but certainly a new room is opened that was always securely shut until then. For myself, the experience was invigorating. It made it possible to dream of daring more and risking more. The audience sat in silence before the unwinding of ALL MY SONS and gasped when they should have, and I tasted that power which is reserved, I imagine, for playwrights, which is to know that by one's invented a mass of strangers has been publicly transfixed.
All My Sons runs until February 11 at Court Theatre.